[AdSense-A]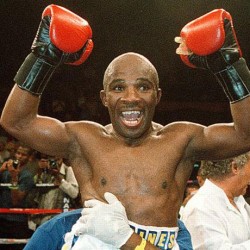 By Donald "Braveheart" Stewart
Being brought up in the UK during the 70's and 80's you would have to be blind, deaf and dumb not to have heard the Afrikaner word, Apartheid. It was all over our news and spat out like the indecent idea it was from the former British colony, South Africa. We were a country awash with protests, boycotts and condemnation of any sport or entertainment star who dared to think it was acceptable to go on tour there or think that politics and sport do not mix.
For any sportsman or woman to make the grade with South African heritage at the time was not just rare but almost unheard of. To make the world level in boxing at what I believe is still the world record for the shortest man ever to so do, is nothing short of astonishing but Jacob "Baby Jake" Matlala, 53-13-2, 26 KO's, managed just that.
Active from 1980 to 2002 and with a fight record of 53 wins – 26 by way of knockout, and 13 losses, with 2 draws he won the WBO (twice), IBA and WBU world titles in 1993, 1995, 1997 and 2001 and was voted in 2004 number 72 in 100 greatest South Africans, by South Africans! After his final fight with Juan Herrera, attended by Will Smith and the President and father of his nation, he presented President Nelson Mandela with his belt – would have done him no harm in the voting!
Matlala made his entrance into this world in 1962, deep in the divided kingdom that wrapped itself around the cape of Good Hope and in a part of that country synonymous with hardship – Soweto. At the tender age of 17, Matlala had turned professional, after an amateur career with 200 fights and only 1 loss and began his professional journey with a number of losses in his first few fights. It was not to be an easy journey though he was a junior flyweight champion in South African after 8 of them! Given where he was fighting he became in 1982 the South African (non-white) flyweight champion. It took less than a year to become the flyweight champion of all of South Africa.
He would always be a pint sized champion due to his size but his heart was the heart of a lion from his homeland – in his first 8 fights there 2 losses and a draw! No matter how many times he was defeated he always climbed back up off the canvass and back into contention. His first attempt to win a world title – the IBF in Belfast against Dave McCauley was unsuccessful in 1991 – he got knocked out in the 10th. He climbed back in the rankings and in 1993 came to Glasgow to face home boy Pat Clinton and took home the WBO title after stopping Clinton in the 8th round.
It was a title he lost in 1995, having defended it successfully once when he faced Alberto Jimenez – he was stopped in the 10th; wonder if 10 was his unlucky number?
In 1995 he was back in Glasgow to face Paul Weir for the WBO title and he won, then defended against Weir in Liverpool the following year.
He then got back into title contention and won the lesser known IBA flyweight title in 1997 against Michael Carbajal before taking on Hawk Makepula for the WBO junior flyweight crown – another loss on the record. He then fought Peter Culshaw for the WBU title in 200 and losing before taking that title in 2001 against Todd Makelim.
Scandal threatened to engulf Matlala when it surfaced that there was a rape allegation against a gospel singer and family friend that ended with payments being made which does sully anyone's reputation. The whole episode was mired in an affair that became public, payments made, claims they weren't, courtroom drama and nothing where anyone walked away without a stain – including the court system.
His boxing career came to an end when in 2002 when he stopped Juan Herrera defending the WBU junior flyweight title in Brakpan and after this that he gave his belt to Mandela.
Earning a business degree and going on to campaign on AIDS and being both motivational speaker and successful business man made Matlala's career one with many highlights, even after the final bell. It is one which shows that fortitude and courage favor those willing to put the hours in. Unfortunately, his retirement was to be cut shot as he died at the age of 51 in 2013; 2 days after Mandela passed on. This was a loss to us boxing fans but one whose bright smile lifted the hearts of many in South Africa and whose career in the ring deserves merit.
At his memorial service former world welterweight champion, Jan Bergman summed it up beautifully, "He taught us never to give up. Baby Jake was defeated several times and still he went on until he became a champion four times. He was super-fit and a very resilient man."
Contact the Feature Writers