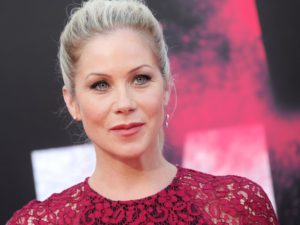 By Geoffrey Huchel
With success in both television and films, Christina Applegate has become one of the most sought-after actresses of her generation, and after nearly 4 decades, the Emmy Award winning actress continues to charm audiences with a variety of roles and as a big fan of her work, I always look forward to seeing what she does next. Let's take a closer look at the actress's long and remarkable career.
Television- Applegate made her TV debut as an infant on the long running soap opera DAYS OF OUR LIVES (1965) when she was just 3 months old. Also, as an infant, she appeared in numerous television commercials, including Playtex baby bottles. In the early 1980s, she won a guest starring role on FATHER MURPHY (1981), and played a young Grace Kelly in the TV movie, GRACE KELLY (1983). She was cast in several episodic TV series, such as CHARLES IN CHARGE (1984), SILVER SPOONS (1982), THE NEW LEAVE IT TO BEAVER (1983) and FAMILY TIES (1982). She also appeared in 13 episodes of the drama series HEART OF THE CITY (1986).
Applegate will be best known to audiences for her role as ditsy blonde Kelly Bundy in the Fox comedy series MARRIED WITH CHILDREN (1986). She stayed with the series its entire run, consisting of 257 episodes. During her time on MARRIED Applegate worked on other projects, including the TV movie DANCE TIL DAWN (1988), featuring an all star cast of popular TV stars such as Alyssa Milano, Tracey Gold, Kelsey Grammar, and a pre-Chandler Bing Matthew Perry, and 21 JUMP STREET (1987). After MARRIED ended, she starred in the short lived NBC sitcom JESSE (1998). In 2001 she starred in the TV movie PRINCE CHARMING (2001), followed by a 2 episode guest appearance on the hit series FRIENDS (1994), playing Amy Green, the sister of Rachel (Jennifer Aniston). Her performance on the show earned her an Emmy Award for Outstanding Guest Actress in a Comedy Series. She returned to episodic TV to star in two more short-lived series, SAMANTHA WHO? (2007), and UP ALL NIGHT (2011). Her most recent credits include WEB THERAPY (2011), with Lisa Kudrow, THE MUPPETS (2015) and THE GRINDER (2015). Her next project, DEAD TO ME, is in development and will be a streaming series on Netflix.
Film- Applegate was just 7 years old when she made her debut in the film JAWS OF SATAN (1981). After JAWS OF SATAN, Applegate steadily worked primarily in television, and then in 1991, she was cast in the coming of age comedy DON'T TELL MOM THE BABYSITTER'S DEAD (1991), in the leading role of Sue Ellen Crandall. Although the movie wasn't a box office success, over time it has reached cult classic status. Throughout the 1990s she appeared in several films including the comedies MARS ATTACKS (1996), and MAFIA (1998).
In the early 2000s she starred in the comedy JUST VISITING (2001), the raunchy comedy THE SWEETEST THING (2001), also starring Cameron Diaz, Tom Jane and Selma Blair, the drama WONDERLAND (2003), with Val Kilmer and Kate Bosworth, the comedy A VIEW FROM THE TOP (2003), with Gwyneth Paltrow, the holiday comedy SURVIVING CHRISTMAS (2004), starring Ben Affleck, James Gandolfini and Catherine O'Hara, EMPLOYEE OF THE MONTH (2004) with Matt Dillon and ANCHORMAN; THE LEGEND OF RON BURGUNDY (2004), also starring Will Ferrell. She also voiced the character of Brittany in ALVIN AND THE CHIPMUNKS: THE SQUEAKQUEL (2009), and ALVIN AND THE CHIPMUNKS: CHIPWRECKED. In 2013, she reprised her role of Veronica Corningstone in ANCHORMAN 2: THE LEGENDOF RON BURGUNDY (2013). The following year she starred in the comedy VACATION (2015), as Debbie Griswold, the wife of Rusty Griswold, played by Ed Helms. She returned a third time to voice Brittany for ALVIN AND THE CHIPMUNKS: THE ROAD CHIP (2015). Most recently, she co-starred as Gwendolyn in the comedy BAD MOMS (2016), starring Mila Kunis, Kristen Bell and Kathryn Hahn, and reprised her role in A BAD MOM'S CHRISTMAS (2017), making a cameo appearance.
Applegate is a cancer survivor. After being diagnosed in early August of 2008 she underwent a double vasectomy, and a few weeks later, it was announced that she was cancer free. Following her diagnosis with breast cancer, Applegate appeared in the television special Stand Up To Cancer, designed to raise funds for cancer research. The special was broadcast on CBS, ABC and NBC networks on September 5, 2008.
In addition to her Emmy win, Applegate received Golden Globe nominations for her work on SAMANTHA WHO? and JESSE.
Contact the Feature Writers