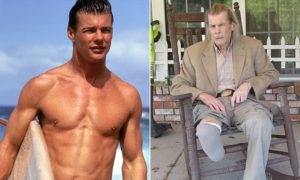 By Brian "The Beret" Young
On February 10th Jan-Michael Vincent succumbed to Bradycardia at the age of 73 thus ending the life of a prolific television and film actor who also had a life long struggle with addiction.
He was born July 15th, 1945 in Denver Colorado into a family of criminals where his grandfather and four uncles were all bank robbers. His father, Lloyd, however, avoided his "family business" and became a B-52 bomber pilot during WWII and married Doris, who in 1945 gave birth to Jan-Michael, the first of the couple's three children.
Jan-Michael graduated high school is 1963 and attended Ventura College for three years until he took his registration money for his fourth year to Mexico for some fun. After his party he joined the California Army National Guard and completed his service in 1967.
Vincent would begin his acting career immediately after his service, beginning in 1967, with a role in Robert Conrad's, The Bandits. Over the next four years he worked steadily in both TV and films, appearing on such shows as Lassie, Dragnet, Bonanza and a recurring role as Link on The Banana Splits Adventure Hour. Vincent was even nominated for a Golden Globe Award for Best Supporting Actor in Herbert B Leonard's Going Home staring alongside Robert Mitchum.
After Disney cast Jan-Michael as Nanu in The World's Greatest Athlete, his phone rang constantly the remainder of the 1970's and he worked alongside some of the biggest stars. Appearing with Charles Bronson in The Mechanic, Gene Hackman, James Coburn and Candice Bergen in Bite the Bullet, Burt Reynolds in Hooper and both Rock Hudson and John Wayne in The Undefeated.
Jan-Michael Vincent is probably best remembered as Stringfellow Hawke in the series Airwolf co-starring Ernest Borgnine. At the time, Vincent was the highest paid actor in American television, but his struggle with drug and alcohol addiction was getting out of control. Having already three prior arrests for cocaine possession in the 1970's, he was arrested in both 1984 and 1985 for bar brawls and again in 1986 for felony assault. In 1988, he was picked up for drunk driving but opted for rehab instead of jail.
Through the 1990's Vincent was seemingly in constant trouble due to his addictions. He was also involved in multiple near fatal car accidents and was arrested again for drunk driving in 1996. In 2000, Vincent served 60 days in the Orange County jail for probation violations including appearing in public drunk and assaulting his fiancée.
Even with all his problems Jan-Michael stayed busy in both film and television, albeit in much lower budget films and productions. In 2012, he had to have his right leg amputated after an infection due to peripheral artery disease.
Jan-Michael Vincent's death was not made public until 26 days after it happened. He leaves behind a daughter, Amber Vincent, and his third wife Patricia. He also leaves behind a cautionary tale of the dangers of addiction. Jan-Michael Vincent was able to become a star based on his talent. Imagine how much brighter that his star would have shined if not for his demons.
Rest in peace, Mr. Vincent.
Contact the Feature Writers