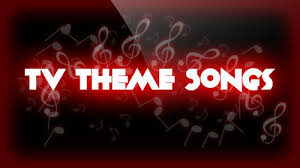 By Geoffrey Huchel
Whether they're an original composition that explains the show's premise, instrumental arrangements or songs performed by an established artist, TV theme songs are a key component to any TV series, as they set the tone and level of energy the show represents. Show intros have slowly changed over the years.
In the early days of television, and into the 1990s, theme songs were often comprised of fun, catchy tunes with clever lyrics heard over the opening credits. Theme songs today however, are much more condensed, usually being a short into of music followed immediately by a quick jump into the action. This may be the new normal, and some may actually prefer it to a 1-2 minute musical ditty.
For me, I personally miss the theme songs of the past. They're nostalgic. They remind me of a simpler time filled with great memories and that always brings me great joy. It would be nearly impossible to choose the best TV theme song of all time but we all have our own personal favorites.
I've compiled a list of shows throughout television history with theme songs that once you hear them you can't help but get your toes tapping and sing along. Do you see any of your favorites listed? What are some others that you remember?
Show and Theme
ALL IN THE FAMILY (1971-1979)
Those Were the Days
THE ADDAMS FAMILY (1964-1966)
The Addams Family
THE BEVERLY HILLBILLIES (1962-1971)
The Ballad of Jed Clampett
THE BRADY BUNCH (1969-1974)
The Brady Bunch
CHEERS (1983-1993)
Where Everybody Knows Your Name
DIFF'RENT STROKES (1978-1986)
It Takes Diff'rent Strokes
THE DUKES OF HAZZARD (1979-1985)
Good Ol' Boys
THE FACTS OF LIFE (1979-1988)
The Facts of Life
THE FLINTSTONES (1960-1966)
The Flintstones
THE FRESH PRINCE OF BEL AIR (1990-1996)
The Fresh Prince of Bel Air
FRIENDS (1994-2004)
I'll Be there for You
FULL HOUSE (1987-1995)
Everywhere You Look
GILLIGAN'S ISLAND ( 1964-1966)
Gilligan's Island
THE GOLDEN GIRLS (1985-1992)
Thank You For Being A Friend
THE GREATEST AMERICAN HERO (1981-1983)
Believe It Or Not
GREEN ACRES (1965-1971)
Green Acres
HAPPY DAYS (1974-1984)
Happy Days
THE JEFFERSONS (1975-1985)
Movin' On Up
THE JETSONS (1962-1963)
The Jetsons
LAVERNE & SHIRLEY (1976-1983)
Making Our Dreams Come True
THE LOVE BOAT (1977-1987)
The Love Boat
MARY TYLER MOORE (1970-1977)
Love Is All Around
MARRIED…WITH CHILDREN (1986-1997)
Love and Marriage
THE PATTY DUKE SHOW (1963-1966)
The Patty Duke Show
PUNKY BREWSTER (1984-1988)
Every Time I Turn Around
SCOOBY-DOO WHERE ARE YOU (1969-1970)
Scooby-Doo Where Are You
SAVED BY THE BELL (1989-1992)
Saved By The Bell
THAT '70S SHOW (1998-2006)
In The Street
THREE'S COMPANY (1976-1984)
Three's Company
WKRP IN CINCINATTI (1978-1982)
WKRP In Cincinnati
WONDER WOMAN (1975-1979)
Wonder Woman
THE WONDER YEARS (1988-1993)
With A Little Help from My Friends
Contact the Feature Writers