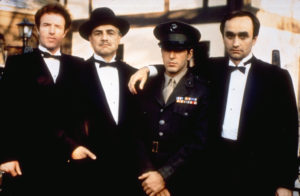 By Geoffrey Huchel
Although the early 1970s experienced a financial slump it proved to be a benchmark decade, as an art form and as a business, which tremendously affected the development of movie making. The restrictions that were put in place decades before on language, adult content, and sexuality have loosened, allowing filmmakers to experiment and take greater risks. In addition, the hippie movement, the civil rights movement, free love, the growth of rock and roll, and drug use has certainly impacted filmmaking during the decade.
The 1970s brought a rebirth of the gritty crime film. THE FRENCH CONNECTION (1971), starring Gene Hackman and SERPICO (1973), starring Al Pacino, were two noteworthy ones. It's widely known that the 1970s gained lucrative success in the horror genre, especially with films like the terrifying THE EXORCIST (1973), starring a young Linda Blair. Other notable horror films of the decade included THE OMEN (1976), ALIEN (1979), CARRIE (1976), BLACK CHRISTMAS (1974) and HALLOWEEN (1978), which was a pre-cursor to the classic slasher flicks of the 1980s and 1990s. Cult horror films were also popular in the 1970s, such as THE LAST HOUSE ON THE LEFT (1972), THE HILLS HAVE EYES (1977) and THE TEXAS CHAINSAW MASSACRE (1974), all of which got the remake treatment years later.
In 1975, the blockbuster was born. The first film to be given this distinction was Steven Spielberg's JAWS (1975), starring Roy Scheider and Richard Dreyfuss. Another legendary blockbuster of the decade was George Lucas's STAR WARS (1977), starring Mark Hamill, Harrison Ford and Carrie Fisher. Both films raked in massive box office numbers and were part of an elite group that would be considered some of the most successful movie franchises in history.
Disney released numerous animated and live action feature films including THE ARISTOCATS (1970), BEDKNOBS AND BROOMSTICKS (1971), starring Angela Lansbury, ESCAPE TO WITCH MOUNTAIN (1975), FREAKY FRIDAY (1976), starring Jodie Foster, PETE'S DRAGON (1977), THE RESCUERS (1977) and RETURN TO WITCH MOUNTAIN (1978).
The 1970s also introduced us to some of the greatest musical classics including CABARET (1972), FIDDLER ON THE ROOF (1971), SATURDAY NIGHT FEVER (1977), GREASE (1978), THE ROCKY HORROR PICTURE SHOW (1975), and one of my all time favorites, WILLY WONKA AND THE CHOCOLATE FACTORY (1971), starring the legendary Gene Wilder.
The decade produced an enormous amount of successful and popular films, all of which are great in their own ways. With such a large number, it was extremely difficult to select which ones to highlight. I did my best to choose the ones I thought made an impact on the decade. As I previously mentioned in my 1960s tribute, if some of your favorite titles didn't make this list, they may appear in a future piece.
THE GODFATHER (1972) Running Time 2 hr 55 min
Directed by Francis Ford Coppola
Starring: Marlon Brando
Al Pacino
James Caan
Diane Keaton
Plot: The aging patriarch of an organized crime dynasty transfers control of his clandestine empire to his reluctant son.
THE STING (1973) Running Time 2 hr 9 min
Directed by George Roy Hill
Starring: Paul Newman
Robert Redford
Plot: Two grifters team up to pull off the ultimate con.
AMERICAN GRAFFITI (1973) RUNNING Time 1 hr 50 min
Directed by George Lucas
Starring: Richard Dreyfuss
Ron Howard
Harrison Ford
Plot: A couple of high school grads spend one final night cruising the strip with their buddies before they go off to college.
THE GODFATHER PART II (1974) Running Time 3 hr 22 min
Directed by Francis Ford Coppola
Starring: Al Pacino
Robert De Niro
Robert Duvall
Diane Keaton
Plot: The early life and career of Vito Corleone in 1920s New York City is portrayed, while his son, Michael, expands and tightens his grip on the family crime syndicate.
DOG DAY AFTERNOON (1975) Running Time 2 hr 5 min
Directed by Sidney Lumet
Starring: Al Pacino
Charles Durning
Plot: A man robs a bank to pay for his lover's operation; it turns into a hostage situation and a media circus.
ONE FLEW OVER THE CUCKOO'S NEST (1975) Running Time 2 hr 13 min
Directed by Milos Forman
Starring: Jack Nicholson
Louise Fletcher
Plot: A criminal pleads insanity after getting into trouble again and once in the mental institution rebels against the oppressive nurse and rallies up the patients.
TAXI DRIVER (1976) Running Time 1 hr 54 min
Directed by martin Scorsese
Starring: Robert De Niro
Jodie Foster
Cybill Shepherd
Plot: A mentally challenged unstable veteran works as a nighttime taxi driver in New York City, where the perceived decadence and sleeze fuels his urge for violent action by attempting to liberate a presidential campaign worker and an underage prostitute.
ROCKY (1976) Running Time 2 hr
Directed by John G. Avildsen
Starring: Sylvester Stallone
Talia Shire
Plot: A small-time boxer gets a supremely rare chance to fight a heavyweight champion in a bout in which he strives to go the distance for his self-respect.
NETWORK (1976) Running Time 2 hr 1 min
Directed by Sidney Lumet
Starring: Faye Dunaway
William Holden
Robert Duvall
Plot: A television network cynically exploits a deranged former anchor's ravings and revelations about the news media for its own profit.
ALL THE PRESIDENT'S MEN (1976) Running Time 2 hr 18 min
Directed by Alan J. Pakula
Starring: Dustin Hoffman
Robert Redford
Plot: "the Washington Post" reporters Bob Woodward and Carl Bernstein uncover the details of the Watergate scandal that leads to President Richard Nixon's resignation.
THE DEER HUNTER (1978) Running Time 3 hr 3 min
Directed by Michael Cimino
Starring: Robert De Niro
Christopher Walken
Plot: An in-depth examination of the ways in which the U.S Vietnam War impacts and disrupts the lives of people in a small industrial town in Pennsylvania.
SUPERMAN (1978) Running Time 2 hr 23 min
Directed by Richard Donner
Starring: Christopher Reeve
Margot Kidder
Gene Hackman
Plot: An alien orphan is sent from his dying planet to Earth, where he grows up to become his adoptive home's first and greatest superhero.
APOCALYPSE NOW (1979) Running Time 2 hr 27 min
Directed by Francis Ford Coppola
Starring: Martin Sheen
Marlon Brando
Robert Duvall
Plot: During the Vietnam War, Captain Willard is sent on a dangerous mission into Cambodia to assassinate a renegade Colonel who has set himself up as a god among a local tribe.
KRAMER VS KRAMER (1979) Running Time 1 hr 45 min
Directed by Robert Benton
Starring: Dustin Hoffman
Meryl Streep
Plot: Ted Kramer's wife leaves him, allowing for a lost bond to be rediscovered between Ted and his son, Billy. But a heated custody battle ensues over the divorced couple's son, dispensing the wounds lefty by the separation.
Contact the Feature Writers