Ringside Report Is Looking For Talented Boxing, Entertainment, MMA, World News and Political Writers – Apply Now!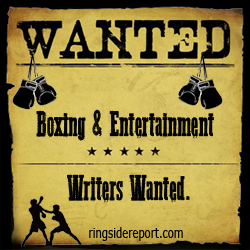 RSR Press Release
Ringside Report "The Heart of Boxing & Entertainment" has been on the net now for 15 years. During that time, we have become the go to website for boxing and entertainment, with a great team of very diverse and talented writers.
Our CEO/Publisher "Bad" Brad Berkwitt is always on the lookout for new talented writers to cover boxing, entertainment, MMA, world news, politics and just about anything else a creative writer would like to cover for RSR.
If you're interested in joining our elite team of writers, use the form box below to send an introduction to "Bad" Brad who will always get back to you right away.
[si-contact-form form='1′]