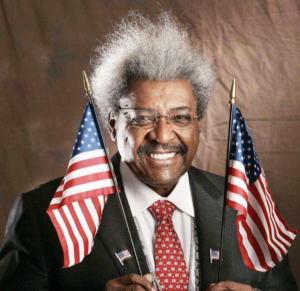 By Brian "The Beret" Young
While talking boxing with a group of guys at Virgil Ave. Tobacconist, my favorite cigar shop and lounge located in Buffalo, NY, something shocking happened. This group consisted of guys ranging in age from mid-60's down to early 20's, all fight fans. One of the men asked yours truly, "Hey, what ever happened to Don King?" and before I could answer, the youngest among us piped in with, "Who's Don King?"
Yes, you read that right, who is Don King? That question alone got me thinking about how much our beloved sport has changed in the last decade. There was a time, and not that long ago, where the name Don King was synonymous with boxing. And everyone, boxing fan or not, knew who the wild haired, flag waving, "Only in America" shouting promoter was.
King was larger than life, loved and hated at the same time by many people who knew him. He was parodied in both film and TV (particularly wonderfully on the Simpsons as Lucius Sweet) and was as famous as the men he promoted.
Don King almost single handedly ruled boxing for 30 years (with all respect to Bob Arum) and was often as famous, if not more so, than the men he promoted. He put on some of the biggest fights in history. The Rumble in the Jungle (Ali Vs Foreman), The Thrilla in Manilla (Ali Vs Frazier III) and Holmes Vs Cooney to name just a few. He also promoted just about everyone who was anyone in the 1970's and 1980's.
Terry Norris, Julio Cesar Chavez, SR., Wilfredo Benitez, Alexis Arguello, Azumah Nelson, Salvador Sanchez, Roberto Duran, Mike McCallum, Ricardo Mayorga, Marco Antonio Barrera, Felix Trinidad, Evander Holyfield, Aaron Pryor, and on and on. But King is probably best remembered for the man who ruled Mike Tyson. True, he was sued by Tyson for 100 million dollars (he settled out of court for 14 million) but King and Tyson are forever locked in the memories of millions of boxing fans.
And Tyson wasn't the only fighter who had legal issues with Mr. King. Muhammad Ali, Larry Holmes, Tim Witherspoon, Chris Byrd, Terry Norris and Lennox Lewis are just a few of the men who also took issue with some of King's "business practices".
Don King was born in Cleveland, Ohio on August 20th, 1931. After dropping out of college he began an illegal bookmaking business and was twice charged with killing a man. The first was in 1954 when he shot a man in the back who was allegedly robbing one of his gambling locations. King was found not guilty by means of justifiable homicide. But in 1967, Don King was convicted of 2nd degree murder for stomping to death Sam Garrett, an employee of King's who owed King $600.
Upon release, King entered the world of boxing by convincing Muhammad Ali to put on an exhibition for charity for a hospital in Cleveland. There was no turning back now. King had the ear of the most famous boxer of all time and was going to parlay that into a lucrative career. By 1974, Don King promotions staged the biggest fight possible. The Rumble in the Jungle, Ali getting a crack at the new, young, fierce heavyweight champion George Foreman.
Foreman didn't just beat but destroyed Ali's greatest rival Joe Frazier. Every promoter on the planet wanted to stage this fight, but it was this relatively unknown newcomer who negotiated a deal with the government of Zaire that would guarantee the unheard-of sum of 10 million dollars as the purse. As we all know now, Muhammad Ali did the impossible that night, he used the Rope-a-Dope to not only beat, but knockout the most feared man in boxing.
David had slain Goliath, but this time it was Don King at David' side. The very next year, King and Ali staged what may be the greatest heavyweight fight in history when Ali faced Joe Frazier for the third time. For this, King took his show on the road once again, to Ferdinand Marcos' Philippines. Ali's hand was raised that night in a fight that was savage beauty. Both men left the best of themselves in the ring that night and neither would ever be the same. The real winner that night was Don King. King was now the biggest and most sought after promoter in the sport and he was able to sign just about anyone he wanted.
And when Don King signed a fighter, he controlled them. From placing a manager with them (often his own son), to getting them "in" with governing bodies (most notably the WBC, where King and Jose Sulaiman had formed an interesting friendship). Don King not only moderated but often took over press conferences. He was loud, brash, funny and charming, but also cunning, devious and calculating. King was part P.T Barnum and part King Midas. King was a huckster and a con-man but he was also so charismatic we couldn't take our eyes off of him, even when we wanted to gouge our eyes out. And everything he touched seemingly turned to gold.
Don King is now 87 years old and has lost his stranglehold on boxing, due in part to ex fighters turned promoters (especially Oscar De La Hoya's Golden Boy Promotions). However, King isn't gone just yet. Recently, King announced a fight card he is promoting in Kazakhstan where Beibut Shumenov will defend his cruiserweight title against Arsen Goulamiriam. Ali Vs Frazier it isn't, but in Kazakhstan, where boxing is bigger than ever, this is a guaranteed money maker. And as we all know, King was never afraid to take his circus on the road.
So, who is Don King? Don King is a criminal, a promoter, a business man, a Boxing Hall of Famer, a con artist, a cheat, a character, a caricature, an American success story and, yes, an icon. Larry Holmes once said, "Yeah, Don King stole millions of dollars from me, but he made me millions more than any other promoter could have." Don King is both a hero and a villain, but sadly, it also appears that to this generation, Don King is also forgotten.
Remember to submit your questions/comments to me via the form box below by selecting Brian "The Beret" Young and follow me on Twitter @BoxingGuyBrian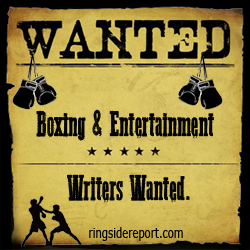 Contact the Feature Writers