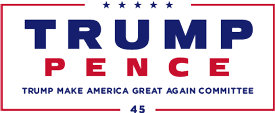 Friend,
Let me be clear. Since the day I took my famous escalator ride in 2015 to announce my presidential campaign, the Democrat harassment, fake news attacks, and blatant lies have never been about me…
Their target has always been you.
The liberal swamp hates the idea of people like YOU being in charge of America, and there is no line they won't cross to prevent that from happening. Just look at the Phony Witch Hunt – NO COLLUSION.
In 2016, I was simply your voice, but YOU were the one that took our country back and made the liberal swamp and political insiders FURIOUS.
Now headed into 2020, we have to remind them that this is your country, not theirs.
Since you've been such an important part of our movement, I wanted to give you this exclusive opportunity to become an Official 2019 Trump Executive Member and receive your PERSONALIZED membership card.
Please contribute to activate your Official 2019 Trump Executive Membership by 11:59 PM TONIGHT and we'll send you this beautiful PERSONALIZED card. >>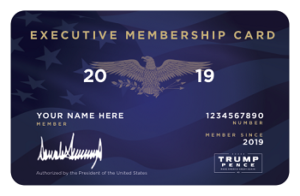 Executive Membership Card
CONTRIBUTE $100
CONTRIBUTE $50
CONTRIBUTE $42
CONTRIBUTE $35
CONTRIBUTE OTHER AMOUNT
The one thing that keeps our movement alive is our members. I need you on my side to fight back against the lies and attacks.
Please make a contribution to activate your Official 2019 Executive Membership before 11:59 PM TONIGHT to get your Official card.
Thank you,

President Trump Signature Headshot
Donald J. Trump
YOUR President