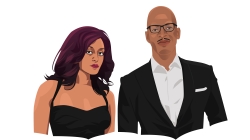 The World Premiere screening of the episodic series "Mr. and Mrs. Jackson." Hosted by the dynamic Billy "Mr. Apollo" Mitchell. A studded red carpet affair at the renowned SVA Theatre in Chelsea New York City. Featuring a multi talented cast and crew as well as an in depth Q and A session with the creators and stars Daniel Danielson and Josie Webb, moderated by Habiba Alcindor.
Screening: World Premiere of Mr. and Mrs. Jackson TV Show; Up Front Event SVA Theatre NYC New York, NY, (PR.com) The 2019 Television Up Front's Season; Family styled Mini-series "Mr. and Mrs. Jackson" NYC Screening

DFC Media Group LLC announced the official screening of their first production as content creators. The showcase will kick off with a "fabulous" red carpet. Guest celebrity appearances, models and sponsors on May 19th. The event is designed to inform, provide connectivity and entertain media, press, content producers, buyers and network executives. While introducing to the world NYC's newest "Power Couple" in the fields of entertainment, media, fashion and film. The event will be hosted by Billy "Mr. Apollo" Mitchell, followed by a Q and A with the show's creators moderated by Habiba Alcindor.
The one-day event will bring together members of the artistic communities. Focusing on minorities, women and LGBTQ in relation to all aspects of TV and film creation. The creators will share their experience as minority first time producers as it relates to all aspects of film and TV production. The Q and A will give audience members the opportunity to critique, comment suggest and listen. The rest of the program will consist of networking opportunities crafted to bring attendees together. More information on each session can be found here: https://svatheatre.com/events/world-premiere-mr-and-mrs-jackson/
As the event grows, DFC Media Group LLC looks forward to seeing new viewers, sponsors and media support from new regions. Currently "Mr. and Mrs. Jackson" (The Mini-Series) has had network offers from Africa (Nigeria and Kenya), Indonesia (Jakarta), Australia and Canadian television stations. This event takes place days before the studios present their U.S. TV networks upcoming lineup.
Registration is open for the general public.