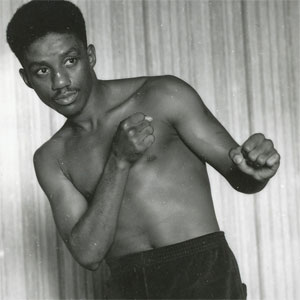 By Donald "Braveheart" Stewart
The man known as the "Dancing Machine" was as elusive as a soft shoe shuffle in a 1950's dance hall in my search for his history. There is little written about him and given his record – that is a very great pity – for Johnny Carter, 33-8, 21 KO's had a tremendous amount to give as a contributor to the legacy of the ring.
Active between the years of 1977 and 1989 we got to see him in the UK live, once. It was in his final fight – in Paul "Hoko" Hodkinson's 14th professional fight at the beautiful surroundings of the Royal Albert Hall.
Carter was knocked out in the first round which was a pity as it was not, by any means, his whole story; nor a fitting end to it.
Five fights later, Hoko fought for a world title whilst Carter's world title ambitions had come some years earlier, in 1982.
Carter's road to the world title was however not a totally straightforward one.
Carter was from that fighting city of Philadelphia. Born in 1957 he took 20 years before he climbed into a ring professionally. 17 professional fights later he was undefeated and included wandering over to Los Angeles in the late 70's to take the Nevada State title. Crossing the county lines having been a success he also found out about losing as he suffered his first loss, against Sergio Castro in 1980.
By now though, Carter's nickname was, gaining momentum and his reputation was not gilded but was something that quoted him for better fights. Carter was pleasing to the eye for both fight fans and the general public. He could move, boy could he move… his jab was effective, his footwork swift and straight after his first loss he won the USBA bantamweight title against Mark Pacheco.
He followed that win up with a split decision defense of the title, another 4 wins, mostly by stoppages and he found himself facing another Philly fighter in a world title fight.
He had found his way, his pathway to glory. Problem was, who was blocking his path…
In 1982 he was across the ring from another Philly fighter he had fought in the amateurs for the WBC title; Jeff Chandler. In the amateurs Carter had won – repeat or revenge time…
Carter was confident – yes. Cocky – perhaps? Beaten – certainly.
This world title battle was being held at home for both – Philadelphia.
The scene set all we needed was the action.
Chandler waited out the starting tango from Carter until he could pick him off at will. It was by the third round that Chandler was starting to take over. It was not long before – the 6th – Carter was floored. Once up and off the canvas, Carter was vulnerable and Chandler needed no invitation as he was not letting him off the hook and swarmed him – the TKO was recorded in the 6th round.
The rise had been impressive, noteworthy and certainly Carter got his shot on merit.
After the Chandler loss he struggled to find his rhythm and it ended up all sounding blue.
Despite the fact he got through the next 3 fights by stoppages he was in 1983 facing Oscar Muniz to regain his USBA bantamweight title; he lost.
Five more wins against 5 unfancied opponents followed though it was becoming clearer that the past was his best time. Despite winning the Pennsylvanian title three times thereafter he found himself with four final losses in his four final fights – ending up in the UK for the only time against Hodkinson.
By that point his "name" was not what it could have been. March 27th 1982, was when he got his chance. He started it well but got caught by a better man. For the man he faced for the final time, Hoko, he too would go onto world glory and find himself caught short – a year later. For both though, we kinda are glad that we saw their glory as well as their story.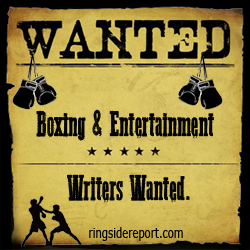 Contact the Feature Writers