[AdSense-A]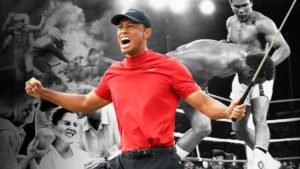 By Brian "The Beret" Young
When Tiger Woods won the 2019 Masters in impressive fashion 11 years after his last victory at Augusta the media went crazy. Rightfully so, I might add. However, I heard more than one sports talking head say that it was the greatest comeback by an athlete in sports history. Really? The greatest ever? Hmmm, perhaps these "experts" forgot the name George Foreman!
George Foreman was the Heavyweight Champion of the world from Jan 22nd 1973 thru Oct 29th 1974 only to regain the Championship Nov 5th 1994… yes 21 years after winning it the first time. And to be fair, Foreman accomplished this feat while being punched in the face all the way.
In 1968, a young, 19-year-old power punching fighter from Texas stepped into a ring in Mexico City to face The Soviet Union's Jonas Cepulis.
A man a decade older and far more experienced than the American, but when the bell rang you would never have guessed it. Cepulis, battered and bleeding, was knocked out by Big George who upon winning walked around the ring waving a small American flag and bowing to the appreciative crowd. A legend was born. And when he turned pro in 1969 he racked up 13 wins (11 KO's!!) in that first year.
1970 showed no signs of slowing, Foreman fought 12 more times that year, scoring 11 more knockouts. He slowed down a tad in 1971, fighting a mere seven times, but winning all by knockout. By Jan 1973 George was 37-0, 34 KO's and had earned a shot at the Heavyweight title against Joe Frazier. Foreman was a 3-1 underdog against the respected Frazier, who had solidified his claim to the title after defeating Muhammad Ali the year before.
George Foreman, however, would defy the odds and dominated, knocking the champ down six times within two rounds. The game Frazier did manage to rise after each knockdown but referee Arthur Mercante, SR. mercifully stopped the fight and the 24-year-old George Foreman was now the baddest man on the planet!
After two defenses of his crown against Jose Roman and fellow hall of famer Ken Norton, Big George traveled to Zaire to face Muhammad Ali. This time Foreman was the heavy betting favorite, but it was Ali (thanks to a little something called the Rope-a-dope) who would floor and stop the tank that was Foreman.
Foreman would remain inactive for nearly two years when he came back to face Ron Lyle in an all-time classic give and take fight. After that, Foreman again fought Joe Frazier, this time knocking the ex-champ out in the 5th. Foreman racked up three more wins before facing Jimmy Young, a more skilled fighter than Foreman gave him credit. An out of shape lackluster Foreman was knocked down and eventually outpointed by the smaller and lesser known Young.
It was in the locker room after this fight that Foreman collapsed and had what he describes as a near-death experience and re-birth as a Christian minister. The ex-champ became a street corner minister before taking over the Church of the Lord Jesus Christ in Houston, Texas. If this were the end of his story it would already make for a great movie, but it was only the beginning.
In 1987, 10 years after the Young fight, George Foreman, now 38 years old, announced he was coming out of retirement. The goal was to raise money for his church and youth center. The "new" Foreman was a bit more "round" than before, still he fought four times in 1987, and nine times the following year. With each fight he looked in better shape and he even defeated the great Dwight Muhammad Qawi in this span. The new George Foreman was also different in personality than the old snarling, frightening monster he once was.
This time he was always smiling and even funny. Big George even became a pitchman for mufflers, burgers and some grill that nobody remembers (admit it, you and everyone you know has a George Foreman lean mean fat grilling machine!). But aside from selling grills, George also continued to win, and win, until he earned a shot at the Heavyweight Champion, Evander Holyfield. At age 42, Foreman went the distance with the champ and all the "silly fat George" jokes about his comeback stopped. He came up short but gave the Heavyweight Champion of the world one hell of a fight! In 1993 he was granted another shot, this time against Tommy Morrison for the vacant WBO title. The younger Morrison refused to engage Big George and out boxed the old slugger to win a unanimous, yet boring decision.
By 1994, Evander Holyfield had lost his title to southpaw Michael Moorer, who thought he would use Foreman's name recognition and popularity to help sell a title defense. It was to be easy, on paper anyway, a no lose situation. Moorer was too fast and young for the slower 45-year-old pitchman, and for 9 rounds he was right. In his corner, Moorer's trainer Teddy Atlas, begged his champ to stay away from the old man and just coast to a victory, but the young champion figured this was so easy he was going to entertain the crowd.
Then, in the immortal words of HBO's Jim Lampley, "IT HAPPENED" Big George landed a perfect short right hand to the chin of the now unconscious champion. At age 45, 20 years after losing the Heavyweight Title, George Foreman had his arm raised once again, and was the legitimate Heavyweight Champion of the World!!!
I don't want to take anything away from Tiger Woods, what he did was amazing, and something very few thought he could accomplish. And it was something only a very special kind of an athlete could have done. But the most impressive in history, sorry folks, I'm going to go with big George on this one.
Remember to submit your questions/comments to me via the form box below by selecting Brian "The Beret" Young and follow me on Twitter @BoxingGuyBrian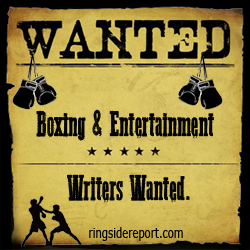 Contact the Feature Writers