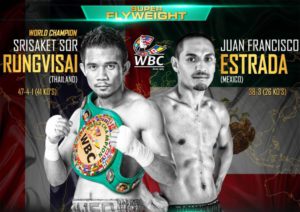 By Rich "Lite It Up" Lopez
After two big weekends of boxing action, we have yet another big weekend of boxing to look forward to. As much of the attention has been focused on the lightweight and welterweight divisions, it's time to give some love to the smaller weight divisions again. The fight I'm talking about is the rematch between Juan Francisco Estrada Vs Srisaket Sor Rungvisai in the Super Flyweight division.
Srisaket Sor Rungvisai, 47-4-1, 41 KO's, of Thailand, bursted on the scene in 2017 with his victory over former pound for pound king Roman "Chocolatito" Gonzalez. The 1st fight was controversial. Most observers felt Gonzalez did enough to win the fight, but Rungvisai gave Gonzalez all he can handle in the fight. With the win, Rungvisai became the WBC Super Flyweight champion. To erase all doubts, the hard punching Thai fighter scored an explosive knockout of Gonzalez in the fourth round of their rematch. After this, it was safe to say that Rungvisai was a top pound for pound fighter. Instead of Rungvisai taking an easier bout afterwards, he went to challenge the next best fighter in the division which is Estrada.
Juan Francisco Estrada, 38-3, 26 KO's, of Mexico, is probably the division's most underrated fighter. The former junior flyweight and flyweight champion also had fought Roman Gonzalez about seven years ago and gave Gonzalez a tough fight as well but he came up short in the scorecards. Since that loss Estrada, became a world champion and beat top fighters such as Brian Viloria, Giovani Segura, Hernan Marquez, and Carlos Cuadras. Estrada served as the best opponent for Rungvisai.
The first fight occurred last year as part of HBO's Superfly 2 card and it lived up to the hype. Both fighters gave a hell of a battle and it was a very close fight. Both fighters showed their strengths in the fight. Rungvisai was the aggressor and was landing his power shots looking for the knockout. Estrada was the counter puncher and made Rungvisai pay when he missed his power shots. As the fight ended, Rungvisai was awarded a majority decision over 12 rounds. I scored the fight a draw and according to punch stats, it showed a close fight that could of gone either way. Both fighters stayed busy since then and both have won two fights.
Now we have the anticipated rematch on DAZN this Friday to hopefully end the controversy.
The rematch will once again be held at the Forum in Inglewood, California and we should expect a war again. Since both fighters are familiar with each other, I expect more action this time around. Rungvisai is looking to maintain his status as a top pound for pound fighter in the world. Estrada is still looking for that big signature win to put him as one of the top fighters in the world. It's a 50-50 fight and I believe Estrada wants this win more. I believe he will win a hard fought unanimous decision in a war. This fight kind of reminds me of Manny Pacquiao Vs Juan Manuel Marquez but in a smaller weight division. Rungvisai is like Pacquiao as the aggressive fighter and Estrada is like Marquez as the counter-puncher. Even though I'm picking Estrada to win, he would have to fight the perfect fight. So far in close fights, Estrada has lost close decisions and I believe he would have to take more chances in the rematch to secure a victory.
My prediction is in. Who do you have?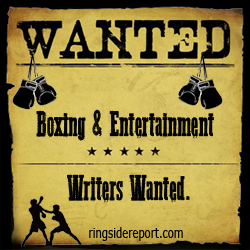 Contact the Feature Writers