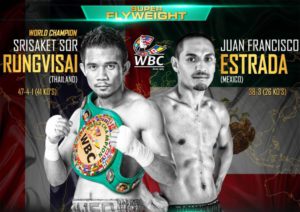 By Anthony "Zute" George
Srisaket Sor Runvisai is the WBC Super Flyweight Champion. Verbalizing such words is like breathing a gigantic breath of fresh air because Sor Runvisai is a boxing treasure. He reminds of a southpaw version of Marcos Maidana, with more discipline. Like Maidana, this giant, lower-weight champion from Thailand, has one punch, game-changing knockout power.
Srisaket burst onto the scene in 2017 when he squared off against the legendary Roman "Chocolatito" Gonzalez. When I say 'burst onto the scene' I simply mean the American fans were made aware of him, as Srisaket, and his impressive pop, were well known internationally way before he showcased his skills in Madison Square Garden in New York City.
In that fight, Runvisai won a majority decision over Gonzalez. It was a tough fight, as "Chocolatito" tasted the canvas in round one, and a vicious headbutt from the Thai challenger in round six; costing the challenger a precious point on the scorecards. That penalty costed Sor Runvisai a unanimous decision. A decision most boxing observers took issue with.
The dissention of the scorecards, as well as "Chocolatito's" star power, led to an immediate rematch in 2017. Now the champion, Sor Runvisai left no doubt in the rematch, as he thrashed Gonzalez in the fourth round. Of course, now, Roman Gonzalez, the man who just a few short months ago won in many people's eyes, was now 'washed up.' As goes boxing.
So, rather than being celebrated for beating a legend twice, Sor Runvisai's accomplishments have flown under the radar here in America. And in some ways discredited. In the first fight many people think Sor Runvisai, the clear B-side fighter, was given a gift-while in the rematch, he took advantage of a fighter who 'had nothing left.'
The great news, for true boxing fans, is that the Thai champion did not let such a response deter him. Runvisai immediately became a fighting champion and fought three times in 2018, defending his title twice. First, in a hard-fought decision against Juan Estrada, and then against Iran Diaz, where he won a more decisive twelve-round fight.
It was the Estrada fight that caught the attention of the boxing world. It was one of the best fights of 2018, as well as one of the last great fights aired by HBO. Runvisai won a majority decision. But many fans were not satisfied with the decision and were begging for more.
Boxing fans get their wish, as the more is now. Juan Estrada, 38-3, 26 KO's gets his shot at redemption Friday night, at the Forum, in Inglewood, California. Srisaket Sor Runvisai, 47-4-1, 41 KO's looks to defend his title for the fourth time, the second against the man they call "El Gallo".
This is Sor Rungvisai's first fight under his 'multi-fight' contract with Matchroom Boxing and DAZN; a popular sports application that has boxing as its centerpiece. Sor Rinvisai's contract is evidence that boxers can get rewarded when they approach the sport the right way, regardless of the negative evaluation of their accomplishments. Subscribers of DAZN are sure to get their money's worth when these two proud fighters square off Friday night.
Prediction: Another sizzling fight that goes to a decision and divides the opinion of the boxing world. With a third stanza as the natural outcome.
Indeed, if there is a clear winner, that fighter can look to unify his belt against either Khalid Yafai, 25-0, 15 KO's, or, Jerwin Ancajas, 30-1-2, 20 KO's, the respective WBA and IBF super flyweight champions. There is plenty to get excited about at the lower weight classes in boxing and Friday night should kick off the start to a phenomenal sequence of fights on DAZN.
Check out "Zutes Boxing Talk", which airs every Wednesday live from 7PM to 9PM ET. The show is dedicated to discussing the sweet science straight up with no twists. "Zute" has interviewed boxing legends such as Carlos Palomino, Mike McCallum, Buddy McGirt, Mark "Too Sharp" Johnson, Marvin Camel and Eddie Mustafa Muhammad. As well as today's stars like Danny Garcia, Sergey Kovalev, Regis Prograis, Teofimo Lopez and Gary Russell, JR.
Follow the link to listen live or catch archived shows on demand.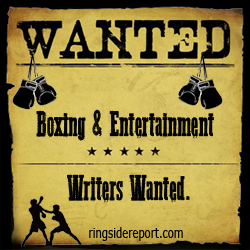 Contact the Feature Writers