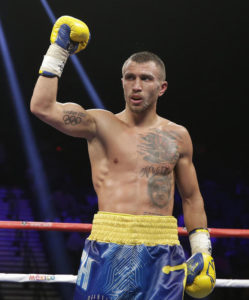 By Brian "The Beret" Young
While watching the Vasyl Lomachenko vs. Anthony Crolla fight on April 12th with my brother, he turned to me at one point and said, "I finally figured out who Lomachenko reminds me of…Bruce Lee". And I have to say, once again he was dead on. Not since the late martial arts master have I seen a combat athlete so in total control of his body. Sure, there have been great boxers we have all seen who had great footwork, or defense, but what Loma brings is something different, something rarely seen, a perfect fighting machine.
In the Jeet Kune Do, Bruce Lee's masterpiece of martial art and philosophy he said:
"Be like water making its way through cracks. Do not be assertive, but adjust to the object, and you shall find a way around or through it. If nothing within you stays rigid, outward things will disclose themselves. Empty your mind, be formless. Shapeless, like water. If you put water into a cup, it becomes the cup. You put water into a bottle and it becomes the bottle. You put it in a teapot, it becomes the teapot. Now, water can flow, or it can crash. Be water, my friend."
And this is exactly how Lomachenko fights. Always in position to be most effective, he moves with his opponent, almost as if he can read their minds. His eyes always focused on his target, his entire body able to flow with whatever it needs to, be it an opening where he can utilize his blistering hand speed, or the ability to dip and roll in a manner that I can't even describe as defensive, because, it isn't "defense" in the normal boxing sense, it is more a movement that somehow puts him into an offensive stance, so subtle it takes watching replays, usually slow motion, to actually notice how subtle.
People who have never seen him fight see a record of 13-1, 10KO's and think, "How good a fighter can a guy who lost his 2nd pro fight actually be?" What they don't understand is that fight (split decision loss to the rugged veteran Orlando Salido) was a learning tool used by his handlers at that early point of his career. Not that they wanted a loss, but they wanted to put their man in with someone with far more experience, who knew all the "tricks" of the art of prizefighting. Experience he couldn't get in the amateur ranks (where Lomachenko was an amazing 396-1, yes you read that right, 396-1). Experience he couldn't get with a lesser fighter. No, he needed a hard, dirty, experienced man in front of him to truly test the mettle of the Amateur superstar to see if he had what it takes to be as good a professional as he was in the unpaid ranks. Sure, he lost a split decision, but he won far more. He learned more in that loss than 30 wins against lesser opponents and 10,000 hours in the gym. Lomachenko emerged from that loss with the potential to be the best pound for pound fighter in the world. And he lived up to it. And as Bruce Lee said:
"Don't fear failure. – Not Failure, but low aim is the crime. In great attempts it is glorious even to fail"
Since that loss, in only 12 fights he has become a three-weight division champion (Featherweight, Super Featherweight and Lightweight). He also did it going thru some of the very best in those weight classes, not 2nd tier fighters. Fighters named Gary Russell, JR., Guillermo Rigondeaux, Jorge Linares and now Anthony Crolla. Lomachenko is always able to stay calm and in total control, no matter the opponent or event, one could almost say relaxed in the ring. Almost as if he were following the directions of Master Lee who said
"Everything you do, if not in a relaxed state, will be done at a lesser level than you are proficient"
Currently, even with only 14 fights as a pro, it is hard to not say Vasyl Lomachenko in the #1 pound for pound fighter in the world. His options are vast, he could fight as early as September, and at this time it looks as though his opponent may be the WBC mandatory Luke Campbell. If that doesn't happen he has plenty of challengers to choose from including Mikey Garcia, who should return to lightweight after his venture into Welterweight where he was soundly beaten, but was game, against Errol Spence, JR. (possibly the only competition for Lomachenko as #1 P4P). But there is also undefeated Devin Haney, 21-0, 13 KO's, IBF Champ Richard Commey, 28-2, 25 KO's to unify the title, Robert Easter, JR., 21-1, 14 KO's or even 21-year-old Teofimo Lopez who is making a name for himself and is promoted by Bob Arum so a deal would not be difficult to make.
No matter who Lomachenko picks as his next test, I know I will be watching. It isn't often we get to see a true artist in any sport, let alone one that can be as brutal as boxing. But that is what we have him this young Ukrainian, a master, an artist, a legend in the making? Possibly, and as my brother said, the closest thing I have seen to Bruce Lee. And if Master Lee were alive, I am sure he would be a fan of Lomachenko, because Loma has mastered his craft, and to quote Bruce Lee one more time.
"Art calls for complete mastery of techniques, developed by reflection within the soul"
Remember to submit your questions/comments to me via the form box below by selecting Brian "The Beret" Young and follow me on Twitter @BoxingGuyBrian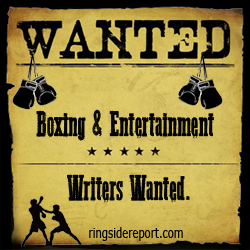 Contact the Feature Writers