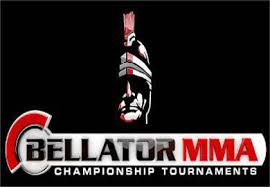 By Rich "Lite It Up" Lopez (At Cageside)
Bellator MMA made its return back to the Allstate Arena in Rosemont, Illinois and the event was streamed live on DAZN. Last year when Bellator was at the Allstate Arena, we saw a knockout when Fedor Emelianenko stopped Frank Mir in the 1st round. Would the fans be treated for another 1st round stoppage in the main event? They sure did. With a 14 fight stacked card the night ended with an explosive knockout in the co-feature and a surprising ending in the main event but a controversial one.
Main Event:
In the main event, it was champion vs champion. Bellator Lightweight Champion Michael Chandler, 19-4, of Nashville, TN faced off with Bellator Featherweight Champion Patricio "PitBull" Freire, 28-4, of Brazil. Throughout the promotion there was bad blood between the two fighters, especially that Chandler had beaten his older brother Patricio twice (one ended in a knockout). In most cases, in combat sports a good big fighter usually beats a good smaller fighter. This was not the case on Saturday night. As most observers figured a firefight was going to take place between the two fighters, no one expected it would be a short one. As the bell sounded, both guys were ready to go and started to feel each other out. Less than a minute into the fight, Pitbull landed a right hook that hurt and dropped Chandler.
Pitbull jumped on Chandler and landed a few shots to the side of the head on Chandler. This promoted referee Rob Madrigal to stop the fight. As the ref was stopping the fight, Chandler was in the process of getting up and seemed ok, but it was too late. It was a controversial stoppage for sure, since this is a championship fight and you should give the other fighter the benefit of the doubt. Either way it was a good win for Pitbull. It was a TKO win at 1:01 for Patricio Pitbull.
Pitbull now holds the Bellator Featherweight and Lightweight titles. He is the second fighter in Bellator to do this. Ryan Bader holds the Light Heavyweight and Heavyweight titles. Afterwards in the post fight conference, Pitbull stated he is not sure if he will go back down to Featherweight or stay at Lightweight and he will talk with his manager. When asked about a rematch with Chandler, he said he would like to see his brother get another shot with Chandler instead. Chandler on the other hand stated he would like a rematch and felt the stoppage was too quick. However, Chandler was not going to complain too much about the quick stoppage and he will move on.
Co-feature:
In the co-feature, it was an anticipated showdown between Douglas Lima, 30-7, of Brazil and Michael "MVP" Page, 14-0, of London, England. This was the semi-final in the Welterweight Grand Prix. The 1st round started off with MVP showing some flashy footwork and movement. He was switching stances to confuse Lima. During the process, Lima was scoring some low leg kicks to slow down the movement of MVP. As MVP attempted a punch, Lima grabbed MVP and took him down. While Lima was in top position, he tried to throw some punches but MVP grabbed his wrists and prevented anything to come down on him while on his back. The round finished and the second round was underway. In round two, MVP came out fast. He did land a right hand that backed up Lima, but Lima kept his composure.
As MVP came forward, Lima shot a low kick to the right leg of MVP which dropped him. As MVP tried to get up, Lima nailed a right hook that knocked out MVP out cold. Lima landed a few hammer fists before referee Mike Beltran called the fight off. It was a great finish to a great matchup. Lima showed why he is one of the best fighters in Bellator today. With this victory, Lima advances to the final of the Welterweight Grand Prix and will meet the winner between Rory MacDonald and Neiman Gracie.
Other main card bouts:
In his biggest test up to date, undefeated A.J. McKee, 13-0, of Long Beach, CA faced off with local favorite Pat Curran, 23-7, of Crystal Lake, IL in a Featherweight fight. The fight was very tactical and even drew some boos from the crowd. McKee was able to score the 1st takedown in round one, where he was able to score some punches on Curran. Curran managed to get up on his feet. In the second round, both fighters were just waiting and not scoring much. In the last minute of the round, Curran was able to score a takedown on McKee. McKee defended himself well off his back with elbows and cut Curran on top of his head. The last round, was more of the same with both fighters being tactical and not doing too much, McKee scored a takedown towards the end. McKee won by unanimous decision with scores of 30-27 (twice) and 30-26.
Former WWE superstar Jake Hager AKA Jack Swagger, 1-0, of Perry, OK fought his 2nd MMA fight. He took on TJ Jones, 1-1, of Dodge City, KS. This was in the Heavyweight division. Hager wasted no time and took down Jones. Hager got in top position and worked his way to a head and arm choke. As referee Mike Beltran was stopping the fight, Hager showed bad sportsmanship by holding on longer to the choke for a few more seconds. This was very unpopular and drew boos from the crowd. Hager won at 2:32 by submission in the 1st round.
In a Featherweight bout, James Bennett, 4-1, of Gages Lake, IL faced off with Tywan Claxton 4-0, of Cleveland, OH. Claxton took control of the fight from the start and scored takedowns. In the 1st round, Claxton beatdown Bennett, although Bennett showed his toughness and did not give up. At times, Bennett was smiling during the fight to show nothing was affecting him. The second round was more of the same with Claxton scoring takedowns and landing effective elbows in top position. In the final round, Claxton scored another takedown and Bennett got a hold of Claxton's neck and attempted a rear naked choke. Claxton slipped out of it and came down with more hard elbows. The ref saw enough and called the fight off. The time was 2:09 of the 3rd round due to unanswered strikes.
Prelim Card:
Bryan Bautista, 1-0, Milwaukee, IL Vs Rob Fenicle, Rockton, IL 1-0 at Bantamweight
Fenicle won by submission via heel hook at 1:42 in the 1st round
Amartuvshin Khuukhenkhuu, 9-4, Mongolia Vs Adam Ward, 18-11, Chicago, IL at Lightweight
Khuukhenkhuu won by unanimous decision with all scores of 29-28
Jose Leon, Rockford, IL Vs Christian Rodriguez, Milwaukee, WI at 140 lbs. (pro debut for both fighters)
Rodriguez won by submission via armbar at 4:39 in the 3rd round
Robert Morrow, 28-24-1, Lockport, IL Vs James Bochnovic 9-4, Kenosha, WI at Light Heavyweight
Morrow won by knockout (punches) at 1:18 in the 1st round
Charlie Radtke, 2-1, Salem, WI Vs Chris Gonzalez, 1-0, Chicago, IL at Lightweight
Gonzalez won by unanimous decision with all scores of 29-28
Cris Lencioni, 4-2, Canby, OR Vs Adil Benjilany, 5-2, Chicago, IL at Featherweight
Lencioni won by submission via triangle choke at 4:55 in the 1st round
Jason Belyew, 0-1, Chicago, IL Vs Dave Latoria (pro debut), Chicago, IL at Heavyweight
The fight was ruled a no contest as Belyew could not continue after an unintentional low blow
Jesse Bazzi, 9-6, of Detroit, MI Vs Joey Diehl, 12-9, of Algonquin, IL at Flyweight
Bazzi won by unanimous decision with all scores of 30-27
Josh Streacker, 5-2, of Chicago, IL Vs Scott Writz, 2-0 of Wausau, WI at Welterweight
Streacker won by knockout (punches) at 3:33 of the 2nd round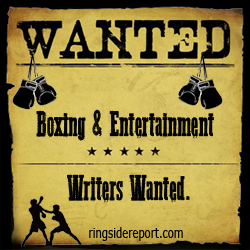 Contact the Feature Writers