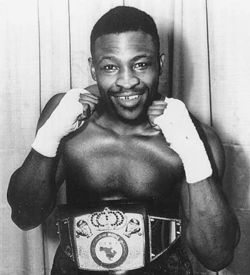 By Donald "Braveheart" Stewart
May 2019 saw the deaths of two giants of the boxing world which have sent more than mere shockwaves through the sporting world. One was a fighter who was much more than a scrapper, he became an institution. The other was a judge and commentator who was as well-known round small halls in New York and New Jersey as he was at massive events.
It served as a reminder that we are a fighting fraternity built on more than bright lights and big nights. Whilst other writers may strive to laud a Lomachenko, pay homage to a Pacquiao or moon over Mayweather, JR. I am more likely to get my search engine out for an interesting story and a fascinating profile. Bert Cooper, 38-25, 31 KO's, and Harold Lederman were both far more than both of those things.
"Smokin" Bert Cooper, so called because he was trained by "Smokin" Joe Frazier in the beginning of his career, became a gatekeeper of the Heavyweight division. That was no small feat back in his day as the types of guys he would face were both fearsome and able. Names like Moorer, Bowe, Foreman, Mercer and Holyfield found themselves in his opposite corner so that title was not a light one.
One thing you knew, of course, was that if Cooper was in the opposite corner to you, somebody thought you were a likely contender and secondly, you were in a bit of trouble. If you got out of that trouble, then you really were a serious contender. The previously mentioned fighters all got through their fights with Cooper and progressed but not one of them did so without knowing they had proven themselves in a serious contest.
After a big fight with Ray Mercer, Cooper was most proud apparently of the job he did on Mercer's broken jaw saying that it looked like the 1988 Olympian was holding a grapefruit in his mouth.
Cooper had become a heavyweight by dint of not getting a cruiserweight world title shot. He had won the NABF title and managed to beat Olympic Gold Medalist Henry Tillman and future world champion Tyrone Booze. Clearly tired of waiting around he made the step up in weight; the step up was one of some controversy and left a bitter taste in one former world champion's mouth.
Despite both he and Frazier being Philly natives their relationship though sound at the start did not remain sound and together. Cooper was an addict and his problem led to a rift between them. Cooper began by blaming his fall from the top of his profession on Joe. Cooper had been hiding his addiction and the spat was worsened after his move to heavyweight. Despite the clear evidence that he was unable to get the world title fights he craved, he blamed Joe because he claimed that Frazier had wanted him to move up and follow in his footsteps. Frazier's son Marvis, confirmed the rift, saying that Frazier never forgave Cooper.
Hiding from his trainer was one thing but hiding form the public was never going to be an issue and when he tested positive for cocaine, did 2 months in rehab and was arrested in 1992 he was out in the public eye as a man with a drug problem; his issues were now the problem and not him in a ring.
It is however in the ring we want to most remember him and the most notable of his heavyweight fights which has been mentioned much in the profiles all over the place was the November 1991 fight with Evander Holyfield. It was a world title fight for the WBA and IBF titles in Atlanta which Cooper had taken at short notice due to not one but TWO of Holyfield's opponents withdrawing – Oh AJ it was just like that back then too!
Cooper tasted the canvas in the first round but hit Holyfield so ferociously in the 3rd with an overhand right that the crowd sense the possibility of an upset as Holyfield took an 8 count. It was a false dawn as the referee was forced to step in and stop the fight in the 7th round but by then both boxers had given so much for the fight and for the fans.
One headline in memory of Cooper told it beautifully when it said, "For heavyweight underdog, Bert Cooper, "almost" was pretty damn memorable.
Two fights later he faced Michael Moorer for the WBO title. Cooper went down twice, Moorer was also down twice and the referee once again intervened and stopped the fight with Moorer the victor – and it was only the fifth round!
Cooper himself was never seriously considered by many to be a major contender despite having been in the world title fights with Holyfield and Moorer. This is not because he lacked ability, agility or punch power.
Cooper as we know form previously, liked to party. He played the fighter and became the fighter when needed but when he was away from the ring, he let too many of the good times roll.
He did win a version of a world title when in 1997, the 29th of July, at Madison Square Garden he knocked out Richie Melito in the 1st round to take the WBF heavyweight title. It was a title he had put on a t shirt which he wore when he was, in later life, a painter and decorator.
To give him his due, Cooper was always up front about his issues and his drug addiction, especially when, at the ripe old age of 44 he made a comeback. He was to comment around that time that he was going to fight right until a bitter end, ""I will fight until the commissions stop giving me a licence. What else is there for me to do? I work a little bit here and there, but it is what it is. I've still got some fight in me. I want to go out right."
It was after losses to current heavyweight prospect and "veteran" Luis Ortiz and then Chauncey Weaver and Carl Davis in 2012 that Cooper finally hung up the gloves.
His health had begun to suffer by then and he admitted, "I have early-part dementia. I was diagnosed in Vegas by neurologists. Symptoms are I'm good but sometimes I get tripped up on my words, I can't think and my equilibrium is off a little bit."
Cooper was at the age of 53, to lose his last fight – with pancreatic cancer, a month from the diagnosis.
Cooper though could still tell a tale and tales were something of which he had plenty but his was a career that could be categorized in many ways but the principal one would be that he managed to entertain, provide substance to the sport and show that as he fought he was brave, humble and troubled. His redemption, was in a brutal combat that tested him, tested his opponents and gave us things to watch with fire in our eyes, hope in our hearts and that moment when we realize we are alive, standing, shouting and screaming for a win, like in that 3rd round against Holyfield when the unlikely seemed to be almost certain.
The other loss suffered by the boxing world was a man whose face was seen as much round the small hall show as it was at the side of the rings with cameras. Legendary boxing judge and the man who came up with the idea of having an unofficial scorer in each broadcast, Harold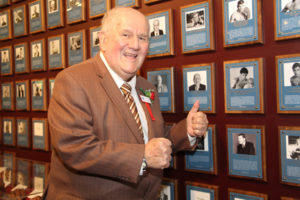 Lederman died at age 79.
Whilst Cooper's death at only 53 years of age shows the dangers of the boxing arena, Lederman had enough time to truly show us how influential people who have an interest and a different visions from a fighter can be for the sport.
Lederman, also lost a battle with cancer, though his fight had been going on for years. He gave 30 years to the sport of unbelievable service, starting as a judge in 1967, he joined the televisual world in 1986, quickly becoming a voice and a presence that was firmly trusted by those in the know and those who casually happened upon the sport – not an easy feat for anyone.
In a world filled with charlatans and foxes, this was one guy that had a universal approval rating. I am quite sure that if he had run for any office in politics, you would have been hard pressed to find an opponent, never mind anyone minded to vote against him. This certainly was influenced by his love of boxing.
A gentleman in a field devoid of many sharing those gentlemanly qualities, he stuck out. His induction, in 2016, into the International Boxing Hall of Fame in Canastota New York, was well deserved as his knowledge of the sport was vast – often gathered first hand as he was round the lesser known fighters in their small shows as much as hobnobbing with the famous at the big events.
Lederman retired from judging in 1999 but kept his HBO gig going. Lederman's explanations punctuated the 3rd, 6th, 9th and final rounds with his scores. He would also explain for the casual – and more likely – for the experienced fan how the rounds ought to be scored.
His voice and his presence was more than a comfort; it meant that fans knew that someone with experience, knowledge and who represented the fanatic and the casual fan was there making notes and talking sense.
Like many in the boxing world who are in the support business, Lederman combined his affection or the sport with his business – pharmacy.
The true chemistry that he achieved was his relationship with HBO's Jim Lampley which endeared him to millions and as he was the "expert commentator" hired by a boxing institution, HBO, that has now called its own time on their boxing experience. His voice was so distinctive that he was probably the most imitated voice of boxing for many years.
Lampley's tribute was perhaps the most heartfelt as he said, Lederman was "The greatest boxing fan of all time. What people most loved about him was his unbridled passion and love and spirit for the sport," he said. "He knew everybody in the arena who had anything to do with the fight. He knew every local governing body official, he knew every timekeeper, he knew every undercard referee. There was nobody of any operational significance in the sport whom Harold didn't know. Within the boxing world, that I think is the most important part of his legacy."
And so in the early months of 2019 we know that with HBO gone, OK Jim will no longer be heard, and we can say after a lifetime of true dedication to the sport, he left it in a better place for his time with it and the sport is now better than OK, Harold, because of you.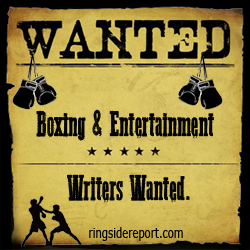 Contact the Feature Writers