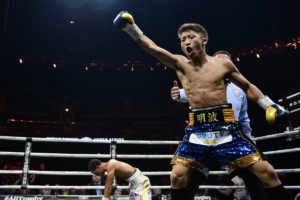 By Anthony "Zute" George
Godzilla, King of the Monsters, returns to the cinema in just a few short weeks. But, Naoya Inoue, Japan's other monster, terrorized and thrilled the boxing world last weekend.
Inoue, the WBA bantamweight champion, faced Emmanuel Rodriguez, the IBF 118-pound champion. The bout was also the semifinal of the World Boxing Super Series bantamweight tournament, with the winner to face the other WBA champion, veteran Nonito Donaire; yes, the WBA has two champions. The winner of that fight takes home The Muhammad Ali Trophy, a bunch of belts, and a whole lot of prestige.
Needless to say, there was a lot on the line in Saturday's matchup in Glasgow, Scotland. Glasgow was the selected venue because Scotland's Josh Taylor, fought in the main event. With that said, there was a solid representation of Japanese fans to support their Monster, and they were not disappointed.
Rodriguez was undefeated going into this fight and is a solid fighter. He went right at Inoue at the opening bell, showing that he was not afraid of "The Monster's" killer reputation. So often we see fighters get beat against a guy with such a reputation before the contest even begins, Alex Stewart against Mike Tyson is a classic example. But Inoue was in there with a guy who was not afraid and wanted to be the boss. Rodriguez' early brazenness seemed to surprise the undefeated Inoue at the onset.
Inoue did not panic however, and he let his skills take over. He boxed beautifully in round one, measuring Rodriguez for his big blows. Indeed, Emmanuel Rodriguez tasted Inoue's power in that first round, and early in round two he digested it.
A crushing left-hook, delivered with lightning quick precision, dropped Rodriguez and hurt him. "The Monster" does not do flash knockdowns. The fight was halted soon after by referee Michael Alexander. Inoue is a great finisher.
"The Monster "has only 18 professional fights, but he already has more highlight reel, stoppage victories, than most fighters have in an entire career. His one-round knockout of Juan Carlos Payano in 2018, the undisputed knockout of the year, is still being talked about. Rivaling Sugar Ray Robinson's one punch knockout over Gene Fullmer as boxing's "perfect punch".
"The Monster" is the best thing in boxing right now. He is the epitome of the sweet science, he could hit you, but you can't hit him. Inoue is typically first, and when he makes his opponent miss, he does not hesitate to make him pay, with perfect punches. He is smooth as silk yet delivers punches like a sledgehammer. Scary combination.
His fight with Nonito Donaire, presumably sometime during the last quarter of 2019, has classic written all over it, as The Filipino Flash earned his right to fight for the Muhammad Ali Trophy with his own highlight reel knockout over Stephon Young.
Donaire is a veteran of forty-five fights. Indeed, The Monster has never faced anyone as good, or as seasoned as, Donaire. However, it can be argued that Donaire has never fought anyone quite like Inoue, and this is a pugilist who has fought the likes of Vic Darchinyan, Nicholas Walters, Jorge Arce, Carl Frampton and Guillermo Rigondeaux.
The bantamweight division is often a forgotten one. As many boxing fans do not go below the lightweight division with real enthusiasm. Which is unfortunate because the history of boxing suggests that the 118-pound division takes a back seat to no division. Such greats like Panama Al Brown, Eder Jofre, Ruben Olivares, Carlos Zarate, Orlando Canizales, Terry McGovern, George Dixon, Jeff Fenech and Jimmy Barry, have made the 118-pound division one of unprecedented skills and thrills.
Naoya Inoue reminds me a little bit of each of these great bantamweights. This is an opinion that is based on extensive research and/or viewing of the aforementioned fighters, as well as viewing virtually all of "The Monster's" fights; his one-round knockout of Bunnam Thammakhun, his second pro fight, is the lone fight of Inoue's I have not been able to study. Unfortunately, most American boxing fans have not had the opportunity to see Inoue fight a whole lot. The fact that he is not listed in the top ten of various P4P lists is an indication that this wonderful, unique fighter, has yet to get his just due. Hall of famer Jeff Fenech recently told me he felt that Inoue was far and away the best fight in the world today.
Of course, Inoue must first have a full career before he can fully be evaluated and properly placed amongst the best in boxing history. Right now, all we should do is sit back and enjoy.
He will be a sizeable favorite against Donaire. If he gets passed that test, fighters like WBO bantamweight champion Zolani Tete; a fighter who had to pull out of the WBSS, could be next. WBC bantamweight champion Nordine Quabaali, Luis Nery, Joshua Greer and Guillermo Rigondeaux, are also viable options for the future. If Inoue decides to move up, great talent like Daniel Roman and Emanuel Navarrete own hardware that "The Monster" could try and gobble up.
The future is yet to be told, but the future appears just grand for Inoue. All he has to do is, Fight! Monster, Fight!
Check out "Zutes Boxing Talk", which airs every Wednesday live from 7PM to 9PM ET. The show is dedicated to discussing the sweet science straight up with no twists. "Zute" has interviewed boxing legends such as Carlos Palomino, Mike McCallum, Pernell Whitaker, Jeff Fenech, Buddy McGirt, Mark "Too Sharp" Johnson, Marvin Camel and Eddie Mustafa Muhammad. As well as today's stars like Danny Garcia, Sergey Kovalev, Regis Prograis, Teofimo Lopez and Gary Russell, JR.
Follow the link to listen live or catch archived shows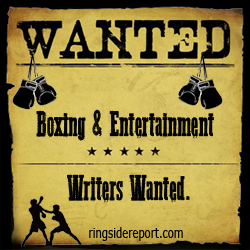 Contact the Feature Writers