By Vinny "Glory Days" Lucci
Some fights are easier to promote by media than others with the rare commodity of an excellent match up needing no build up at all as fans buzz by word of mouth gets the job done free. Rarer still are the fights that are just fights or as my Father used to say, "It is what it is."
The Event:
On June 1st Match room Sport presents Anthony Joshua defending his WBA, (super) WBO and IBF heavyweight belt collection against "available" contender Andy Ruiz. Promoter Eddie Hearn had to maneuver from behind the 8 ball to preserve the event at Madison Square Garden in New York City. Ruiz replaces Jarrell "Big Baby" Miller who came up dirty two weeks ago on steroid use by VADA, (Voluntary Anti-Doping Association.)
When it was first announced Miller was being privileged with title shot over more worthy contenders it appeared after inquisition to be a log jam of upcoming bouts with scant availability of quality opposition. Miller who is an undercard fighter has yet to beat a ranked contender but is enough of a novelty being a colorful character to promote the bout on the "what if" notion he possessed a punchers chance within his huge frame. If you're related to Ruiz you just might be crossing your fingers he possesses the same chance. In United States event to be shown on DAZN live stream.
The Stats:
Anthony Joshua stands an imposing 6'6" with a herculean frame that appears chiseled in stone. The orthodox boxer who hails from Watford, Hertfordshire, England has an 82" wingspan and owns a ledger of 22-0, 21 KO's. Joshua is 29 years old and will be defending the IBF title for his 8th defense.
Andy Ruiz is an American boxer who hails from Imperial Valley California and sports a record of 32-1, 21 KO's. The lone loss came at the hands of Joseph Parker in December of 2016 by MD for vacant WBO title. Fifteen months later Joshua relieved Parker of his belt by UD. Standing 6'2" with a 74" reach the only comparison on paper is age, as the challenger known as the "Destroyer" carries a heavy bag for a gut into the ring.
What to look for fight night:
Their styles will match up nicely for best result possible considering the pairing. Joshua makes former champion Mike Weaver look like a middleweight while Ruiz bears no resemblance to a heavyweight contender at all. With Andy's short arms that concede a 10" deficient in reach he must eat a lot of leather in hopes of getting his punches off. Ruiz is terribly flat footed but his hand speed is better than one might expect as his boxing skills.
Sometime early in the fight Joshua will jab to the body and follow up with a right hand realizing when Andy's guard is in place his elbows simply are far too short to protect his ample gut. Joshua will dictate the pace removing Andy's will one punch at a time.
Ruiz has one chance and one chance only as he has appeared quite resilient up to now against the "competition" he has faced most notably against Parker. If he can absorb the onslaught of constant punches until deep into the second half of the bout he just might be able to switch gears If Joshua's huge arms get weary needing oxygenation into the blood. There have been noticeable moments we have witnessed this but he has shown the resiliency to fight through pain as in defense against former champion Wladimir Klitschko in 2017. That one chance may be slim to none but both hardcore and casual fans will tune in to either see the huge upset or the amusing sight of Ruiz hearing score cards read. I can't imagine any Joshua fans thrilled about this defense or Joshua being pleased with having to settle for a decision victory.
Odds:
Vegas has installed Anthony Joshua the favorite at -2000, with Andy Ruiz at +800.
Prediction:
Joshua by stoppage.
Stay tuned…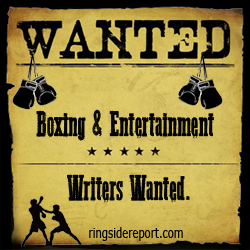 Contact the Feature Writers