By Anthony "Zute" George
Since Anthony Joshua has turned professional, he has had 22 fought, fought 83 rounds, is undefeated and has had only one of those victories decided by the judges. Impressive.
What is even more impressive about AJ is the large crowds he has fought in front of. Indeed, whether it is the O2 Arena, Principality Stadium, or Wembley Stadium, the eyeballs come in abundance to watch AJ fight. Making him the Pride of the UK.
But Joshua knows he must move his act to the United States if he really wants to be relevant. Matchroom Boxing's Eddie Hearn is aware of this as well. Bottom line, if the Pride of the UK can make it in America, he will make some serious coin and build a lasting legacy.
And by make it, winning will not be enough. Indeed, many fighters can win, but do so inside of half-empty arenas. Not too relevant in the grand scheme of things. For AJ to really be relevant, he must, as they say, 'sell out the joint' and get a whole lot of streams on DAZN.
After all, AJ's American debut against Andy Ruiz, JR., as far as most boxing pundits are concerned, is all but a forgone conclusion. While that assumption may be a mistake, that is the reality of the situation.
AJ certainly has faced the better opposition between he and Ruiz. He also has stop and drop power that could turn a fight around in heartbeat. His last fight against Alexander Povetkin is an example of just how much of an equalizer AJ's power can be.
Along with his freakish power, AJ knows his way around the ring, and, thanks to his war with Wladimir Klitschko, AJ has also proved he can dig down to the deepest well of fortitude and snatch victory away from defeat.
The only fight where AJ was not at his crowd-pleasing best was when he went the full distance with Joseph Parker. Ironically, Parker is the big common opponent between he and Ruiz, JR.
But for all his power and massive attendance, the need to succeed in the United States is essential, and it is here.
On June 1st, that move takes place at the famed Madison Square Garden in New York City. Proving that Eddie Hearn and AJ are well aware that his first, needs to be grand. Sportsbooks Reviews is a great place to find out the odds on Joshua Vs Ruiz, JR. and all your top fights on the boxing schedule.
AJ and the Big Apple seems like a natural marriage. The hustle and bustle, the Manhattan lights, the huge media, are all elements that a charismatic guy like AJ should respond well to. He should also have a decent representation of UK fans cheering him on, as such passionate fans will think nothing of buying a plane ticket to catch their favorite son in the city often referred to as Gotham.
Will AJ, UK's superhero, have success in America? Will his beloved fans be singing Sweet Caroline in unison before he takes his first big steps into a larger future? Will Andy Ruiz, JR. do his part to make it more of a fight than an event? Will the promotion be successful enough to produce impressive streaming numbers on DAZN? In such a few shorts weeks we will find out.
Check out "Zutes Boxing Talk", which airs every Wednesday live from 7PM to 9PM ET. The show is dedicated to discussing the sweet science straight up with no twists. "Zute" has interviewed boxing legends such as Carlos Palomino, Mike McCallum, Pernell Whitaker, Jeff Fenech, Buddy McGirt, Mark "Too Sharp" Johnson, Marvin Camel and Eddie Mustafa Muhammad. As well as today's stars like Danny Garcia, Sergey Kovalev, Regis Prograis, Teofimo Lopez and Gary Russell, JR.
Follow the link to listen live or catch archived shows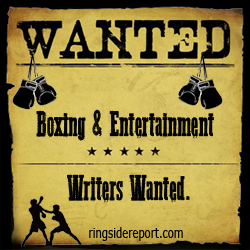 Contact the Feature Writers