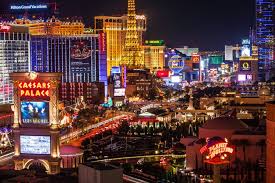 By "Bad" Brad Berkwitt
Las Vegas for decades has been a gamblers and boxing fan's paradise where some of the biggest fights in boxing history have taken place. For this article, we are going to look at three such fights.
Sugar Ray Leonard Vs Tommy "The Hitman" Hearns Caesar's Palace Las Vegas, NV (September 16, 1981)
Promoted as "The Showdown". Sugar Ray Leonard 30-1, 21 KO's was the WBC Welterweight Champion a title he held from 1979 – 1980 when he lost to Roberto Duran in a 15 round unanimous decision on June 20, 1980, only to win it back a little over 5 months later when Duran echoed the words "No Mas" in the 8th round that would haunt him for years to come.
Tommy "The Hitman" Hearns, 32-0, 30 KO's was the WBA Welterweight Champion a title he had won the previous year against then champion Pipino Cuevas on August 2, 1980 by a destructive second round knockout. "The Showdown" took place at Caesar's Palace in Las Vegas, NV to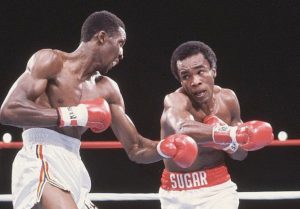 unify the world welterweight championship in a scheduled fifteen-rounder.
They fought before a live crowd of 23,618 and a worldwide TV audience of some 300 million. It was a fantastic fight that saw Hearns winning early by being the boxer and Sugar Ray Leonard down on the cards coming back in an all out war to have his hand raised when referee Davey Pearl stepped in ending the fight via TKO in the 14th round when Hearns was badly hurt.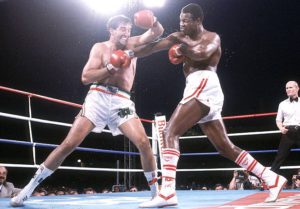 Larry Holmes Vs Gerry Cooney Caesar's Palace Las Vegas, NV (June 11, 1982)
Going into this fight, WBC Heavyweight Champion Larry "The Easton Assassin" Holmes, 39-0, 28 KO's had defended his belt successfully 11 times. His opponent "Gentleman" Gerry Cooney, 25-0, 21 KO's was billed as "The Great White Hope". The fight was massive at the time and pitted many on both sides of the racial fence against each other. Holmes dropped Cooney in round two, but Cooney got up and landed a damage-causing shot to the body by the end of round four. Holmes and Cooney fought closely from rounds five to eight, trading punches in mid-ring. This was the point where Cooney's inactivity started really hurting him. Starting in round ten, Cooney's punches began landing low, and this caused him to fall further behind on the judges' scorecards, when referee Mills Lane deducted three points from him for the infractions. Cooney didn't have the skills to really keep Holmes off of him and by the 13th round wilted in the ring and was stopped by TKO when his cornerman Victor Valle stepped in the ring saving Gerry.
The fight was televised live on closed-circuit and pay-per-view television all over the world. A week after the bout, it was re-broadcast on HBO, and later still, on ABC-TV.
Floyd Mayweather, JR. Vs Manny Pacquiao MGM Grand Las Vegas, (May 2, 2015)
Billed as the "Fight of the Century, it grossed more money than any other fight in boxing history from the fighter's purses, to the ticket sales and PPV. But it didn't live up to the hype one bit and went down as one of the worst fights in boxing history when Floyd Mayweather, JR. won an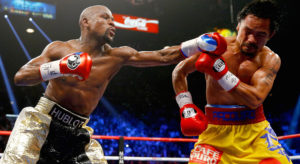 easy unanimous decision in a fight with zero action over Manny Pacquiao by scores of 118-110 & 116-112 (twice).
Online Casino Bluebook can be your source to find all the best online casinos and sports books. Check out the odds before placing a bet on an exciting match.
Contact the management team