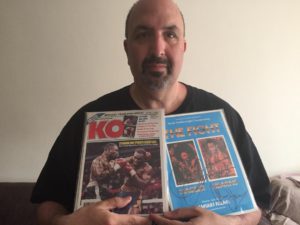 By Anthony "Zute" George
It appears that Bob Arum did not take my advice. Not one hundred percent, anyway. Part of my suggestion was executed, as Vasyl Lomachenko will indeed face Luke Campbell for the vacant WBC lightweight title. Good fight.
However, Top Rank Boxing has extended the other side of the lightweight round robin. Ray Beltran will face IBF lightweight champion Richard Commey, and Teofimo Lopez is slated to take on Masayoshi Nakatani for an IBF light title eliminator, with the winner to face the winner of the Commey Vs Beltran fight. The hope is the winner of this mini IBF round robin takes on the winner of the Lomachenko Vs Campbell fight. At least I think that is what the plan is.
I still like my way better; with Teofimo facing Commey, then that winner faces the Lomachenko Vs Campbell winner, as my way trims the fat so to speak. With that said, this way is not bad, as it includes some pretty good fights. Arum's way is probably the better business move as well. More television dates and live gates.
Speaking of business, it has just been reported that DAZN now has four million subscribers. That sounds pretty good to me. And why not? DAZN is a wonderful product, it showcases boxing, baseball and MMA, my three favorite sports.
Speaking of DAZN, how great has the WBSS been? Not only do we get to see The Japanese Monster, Inoue, the 140-pound tournament features two of the best fighters in the world, Regis Prograis and Josh Taylor. Thanks to this tournament, they should be fighting each other later this year. Hopefully, boxing fully embraces this great match up of undefeated champions. We certainly know how to complain when we do not get the fights we want. Which should make it more important to applaud the gems when they come our way. Prograis Vs Taylor may be the gem of the year.
Speaking of undefeated champions, I wish I had a dollar every time I had to correct someone when they misspoke by saying the Thomas Hearns Vs Ray Leonard's unification fight was a battle of undefeated champions. Ray had already lost to Duran. Might seem obvious, but you would be surprised how many knowledgeable boxing fans have made that mistake in conversation. Which just supports what I have said for a long time, Ray Leonard is overrated. Now, I am not saying he is not a great talent., but I do not know too many boxers who have gotten more false credit than him.
Speaking of false credit, why do so many people think Canelo was dominant against Jacobs? At best, he won a close decision. Remember, the science of boxing is to hit and not get hit. I did not see that so much from Canelo. What I saw more from him was not get hit and back away.
Doing nothing to make Danny pay when he missed. That is not boxing, that is avoiding a fight. The pugilist who is trying to make the fight should always get the benefit of the doubt on the scorecards, and from what I saw that was Jacobs. Making a guy miss loses its luster when you do not make your opponent pay for missing. That is what I saw a lot from Canelo. Sorry I was not that impressed.
Speaking of a fighter trying to make a fight, Harry Arroyo indeed always fit that mold. Ringside Report recently featured Harry's fight with Vinny Paz. Classic stuff. Did anyone else throw more lead left hooks than Harry Arroyo?
Speaking of classic stuff, "Smokin" Bert Cooper was responsible for a ton of that in his career. From his great performance against Henry Tillman, to his brawl for it all fights with Ray Mercer, Michael Moorer and Evander Holyfield, to his solid victories over Orlin Norris, Joe Hipp and Cecil Coffee, to his defiant performance against Richie Melito; no Bert would not lay down, Bert is without question a boxing treasure. Unfortunately, "Smokin" Bert recently passed away at the age of 53. Way too soon. I got to know Bert a little bit before he died. We were in the process of starting his biography. All I can tell you is that Bert was in a great place at his time of death, probably the best he has been since his childhood. If I can get people who knew Bert, worked with Bert, and fought Bert, to go on the record, I will still go forward with his book. I have a decent amount of audio footage of Bert on the record, but obviously not nearly enough as I would have liked. I miss his voice already. However, his fights will live on forever.
Speaking of leaving us way too soon, I had to do a double take when I read that Nick Adams died at the age of thirty-six. If you are not familiar with Nick Adams, he was an Academy Award nominated actor who starred in the horror classic, Die, Monster, Die! Which I recently found inspiration for with my article on Nayoa Inoue, Fight, Monster, Fight! As far as I know, Nick Adams never boxed, but he sure looked the part of a prize fighter.
Speaking of looking the part of a prize fighter, I was ecstatic to hear that actor Holt McCallany was announced as the Parade of Champions Grand Marshall at this years International Boxing Hall of Fame. Holt did a great job portraying boxer Patrick Leary on the short-lived television series Lights Out. Many boxing fans campaigned to get Lights Out back on the air after its cancellation, but to no avail.
Speaking of 'to no avail', how hard did Charlie "White Lightning" Brown try to beat Harry Arroyo in their classic lightweight title fight? Brown would have eaten those lead left hooks for thirty rounds if it was up to him. "White Lighting" is another example of a fighter leaving us way too soon. Proving once again that every day is a gift and time is nothing to waste.
Live life and keep on punching…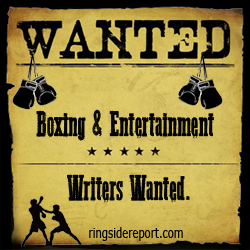 Contact the Feature Writers