By Vinny "Glory Days" Lucci
Back on January 26th WBA welterweight champion Keith Thurman survived getting pelted around the ring in the seventh round by challenger Josesito Lopez and held onto his title by MD. Regardless of high volume of punches thrown he labored through most of the bout looking extremely ordinary. The media wrote off a bad performance due to lack of inactivity following his slim SD victory over WBC champ Danny Garcia in March 2017 where he suffered a shoulder injury which later required surgery and 22 months off to heal. Fans of rival champions Errol Spence, JR. and Terence Crawford were not so kind and vocally let it be known on social media that Thurman was just another alphabet champion.
Oddly as the late hour waned into January 27th Keith used the post-fight victory speech to call out a forty year old senator from the Philippines who had been fighting no less than twenty years instead of one of his unbeaten rivals. You know what they say, "Be care for what you wish for you just may get it."
The Event:
On July 20th TGB Promotions will be presenting Keith Thurman defending his WBA (super) welterweight title against WBA welterweight champion Manny Pacquiao. FOX PPV is covering the cable exposure with the MGM Grand in Las Vegas to host event. PPV price is $70.00.
The Stats:
Keith Thurman is an American fighter who hails from Clearwater Florida. At thirty years of age his undefeated ledger reads 29-0, 22 KO's but is as misleading as his moniker of "One Time" because he does not possess the power of suggested single punch knockout. Standing 5'7" with a 69" wingspan Keith has upped his ring generalship and boxing acumen once he realized the upper echelon of division could handle his best power shots.
Manny Pacquiao is a future hall of famer who has a stellar resume of ring legends adoring the loss column that currently reads 61-7-2, 39 KO's. Of those seven losses two were of the most corrupt decision robberies over last decade to Tim Bradley and Jeff Horn. The forty year old southpaw sensation is adoringly known as "Pac man" or simply "Pac" the world over. Standing 5'6" with a 67" reach he has fought his way up from junior lightweight two decades ago to having sampled the Junior Middleweight division. Over that span he has faced Marco Antonio Barrera 2 x's, Erik Morales 3 x's going 2-1, Juan Manuel Marquez 4 x's going 2-1-1, David Diaz, Oscar De La Hoya, Ricky Hatton, Miguel Cotto, Joshua Clottey, Shane Mosley, Antonio Margarito, Brandon Rios, Timothy Bradley 2 x's going 1-1, Floyd Mayweather, JR. loss by UD, Chris Algieri, Jessie Vargas, Lucas Matthysse and Adrien Broner.
Last Fight:
Thurman defended his title against Josesito Lopez on January 26 at Barclay's Center in Brooklyn N.Y. with a shaky MD victory. Lopez record fell to 36-8-0-1, 19 KO's. His generous shot at the title was widely considered a tune up for Thurman to remove ring rust but event turned out to be a spirited challenge where the champion was rocked several times and forced to retreat.
Pacquiao defended his title the week before at the MGM Grand in Las Vegas winning a UD over perennial crybaby Adrien Broner who does his best fighting with a microphone in his hand. When the score cards of 117-111, 116-112 2x's was read Broner pitched a spectacle of a hissy fit claiming he was robbed. Post-fight interviewer Jim Gray asked Broner how he thought he could have won when he never landed more than 8 punches in any round bringing his total punch count landed to a mere 50. Pac shut down Broner completely. The challenger cursed Gray as he stormed off into the crowd claiming bout was fixed in order to promote a non-existent Floyd Mayweather rematch.
When it comes to styles and what to look for fight night expect perpetual motion. Thurman likes to glide to his left using entire perimeter of ring behind a constant jab that he uses for both offense and defense as he tries to dictate the pace of bout as well as exacting distance outside pocket.
Pacquiao is a southpaw whirlwind who terrorizes his opponents with sudden bursts inside the pocket with rapid combinations then exits gate underneath his foes counters from either side. His ability to glide out, back up and then pivot to new punching angle has given him the most unique defense for a generation until the arrival of Vasyl Lomachenko.
The Vinny Factor:
A wise old sage once coined the phrase, "The first thing to go on a boxer is his legs," something for pundits to comprehend before they handicap this bout on their own volition predicting Manny Pacquiao's epitaph. This past week Thurman has publically stated that "Manny is beatable because what he does in ring is predictable" but nothing can be further from the truth. Every welterweight who signed a contract to trade leather with him all got more they bargained for when faced with his speed, movement and power. Pacquiao has simply forgotten more than Thurman ever learned and defeated a much higher caliber of opponents.
Add the fact that Thurman doesn't react well to body shots and now his chin is looking vulnerable also. The Pacquiao haters who love to point to his one punch KO loss to Marquez seven years ago fail to acknowledge that it took Juan Manuel 42 rounds to catch lightning in a bottle and refused a fifth match knowing full well it would have been the biggest payday of his career. Judges and fans must not get frenzied over punch counts but rather punches landed.
Every punch that doesn't score either way is a tip of the hat to other boxer's defense. This brings us to Lopez bout where challenger stood right in front of Thurman chasing him all night. Thurman's best defense of running doesn't scratch the surface of how truly difficult it is to hit Manny cleanly and even at the advanced age of forty has better whiskers than Keith.
Odds:
The first betting odds to hit the Vegas boards opened with Thurman at -150 with Pacquiao at +130. The possibility of a draw is 18/1. More than any fight this year so far it is expected there will be betting action both ways that will sway the odds several times before fight comes off.
Prediction:
Manny Pacquiao by decision. It's quite possible he won't be fully appreciated for his ring exploits until he walks away from the sport forever to pursue the presidency of the Philippines.
Stay tuned…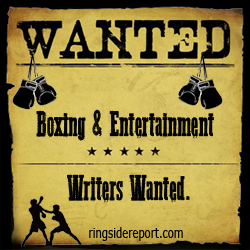 Contact the Feature Writers