By Anthony "Zute" George
Anthony Joshua, 22-0, 21 KO's takes on Andy Ruiz, 32-1, 21 KO's, Saturday night at Madison Square Garden in New York City. Joshua is defending the WBA, IBF and WBO versions of the heavyweight title. Deontay Wilder holds the WBC heavyweight title. However, there is a whole lot more at stake than just hardware in this fight.
Saturday's fight marks Anthony Joshua's first fight on American soil. Indeed, there will be a great representation of fans from the United Kingdom in the Big Apple, and apparently in the press box as well. While Ruiz is born in the USA, it is expected that AJ will have a sizeable advantage in fanbase. However, winning will not be enough for Joshua, he needs to look spectacular in doing so. Expectations are always high when there is a big fight in Gotham. AJ must live up to those expectations in his American debut. Or else.
What else can we expect Saturday night? While this fight is not pay per view, you can be sure Matchroom Boxing and DAZN, where the fight will be seen in the United States, are expecting a jump in subscriptions, as well as gargantuan live streaming numbers. With that said, the actual expectations for this matchup to be a good, competitive fight are low. Will that translate to disappointing numbers? Maybe not. AJ is one of boxing's biggest stars and the caveat of him fighting in New York City should be intriguing enough for this fight to do strong numbers.
Will the fans be pleased with what they see Saturday night? Boxing has a long history of heavyweight fights at Madison Square Garden, with both epic and awful results: Jack Dempsey's close call against Bill Brennan , Rocky Marciano's tear jerking dismantling of the legendary Joe Louis, Joe Frazier's title winning massacre over Buster Mathis, Mike Tyson's drubbing of Mitch 'Blood' Green, Razor Ruddock's crushing knockout over Michael Dokes; I still cannot believe Arthur Mercante, JR. wasted time counting, Andrew Golota's disqualification against Riddick Bowe and the ensuing riot, the blatant robbery of Lennox Lewis, when he faced Evander Holyfield in their first fight, the absolute snoozer between Wladimir Klitschko and Sultan Ibragimov. Of course, the gold standard of heavyweight fights took place on March 8th, 1971, making Joe Frazier the best heavyweight performer in Madison Square Garden, despite the fact he lost the rematch to Muhammad Ali at the world's most famous arena in 1974.
Where will Joshua Vs Ruiz fall in this potpourri of heavyweight bliss and miss? Let us first take a look at the fighters:
Andy Ruiz
The Pros:
Fast hands. Cuts off the ring well. Works his way inside by slipping the jab. Good inside fighter. Feints well. Good body puncher. Can be first with a variety of punches. Better than average defense.
The Cons:
74-inch reach. Does not appear to have that second gear, as a result he has gone the distance with guys he probably should have stopped. Does not fight well backing up, his work rate virtually disappears when backed up. Despite having thirty-three professional fights, weak competition.
Anthony Joshua:
The Pros:
Great one punch power that carries late into fights. Strong competition. Strong jab. Can fight backing up. Good counter puncher. Great finisher.
The Cons:
Is vulnerable to straight rights and left hooks. Stops to take a picture when he lands too much. Does not use feints effectively. Not diverse with his attack, always leads with a jab, unless he smells blood. Appears to be preoccupied with a Deontay Wilder unification fight.
The last con is telling because it has been rumored that Deontay Wilder will be in attendance. If that is the case, AJ might be tight.
This fight has a chance to be really competitive. A lot will all depend of the chin of Andy Ruiz. Since Ruiz has only one gear, forward, AJ will have a chance to test his chin. If Ruiz passes that test, he has the right skill set to give Joshua fits and will take advantage of AJ's lack of creativity. Ruiz will be able to cut off the ring, get inside and confuse AJ with his diverse choice of punches. AJ is not hard to find, and Ruiz will score often. While it is unlikely that Ruiz will have the kind of firepower to stop Joshua, but he throws the kinds of sharp, blistering combinations that could cause a cut.
In his only fight where he did not depend on his great power to win, against Joseph Parker, AJ looked lackluster and his confidence was sapped out of him. He won a dull fight because Parker was even more tentative than AJ was, and fought backing up a lot. Parker would feint, but not let his punches flow when it appeared like he could work off his feints. Andy Ruiz will take more chances in this fight. Indeed, such a tactic will leave Ruiz vulnerable to Joshua's powerful counters, bringing us back to the original point of Ruiz's chin. Unfortunately, Ruiz has not had enough top tier fights to have had his chin adequately tested, and very few heavyweights can crack like AJ anyway. Therefore, we will have to wait for the answer, and AJ will make sure Ruiz has to answer that question.
Prediction:
Andy Ruiz has the skill set to pull off the upset. No question. He will have to answer a major question that is separate from that toolbox if he wants to win this fight, however. And of course, he will have to benefit from honest judging, something he has zero control over. Therefore, assuming the judges will be on the up and up (which is dangerous considering what is at stake in this fight), Andy Ruiz will escape those tense moments, a seasoned professional like Anthony Joshua will force upon him, and pull off the major upset with a majority division.
The biggest winner of this fight, however, will be the fans. As it should be a spectacular fight.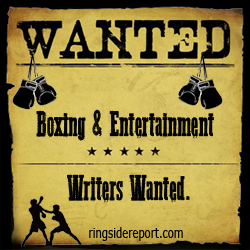 Contact the Feature Writers