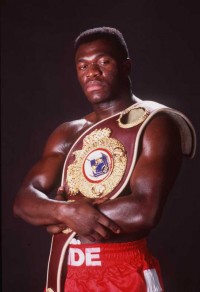 By Donald "Braveheart" Stewart
We currently live in a world of sport and boxing where the phrase, badly behaved is gaining new meaning. The cheating of people who have been caught using PEDS or banned substances include world champions and many are questioning the validity of their performances though we are catching people – it's the ones that get away with it that should worry us.
Often fighters are also getting themselves tied into knots of trouble thanks to running their mouths as much as running away from a fight. It is one reason why I was intrigued to be reminded of a man who was a WBO world heavyweight champion, served a prison sentence and now has his son making waves in the amateur game.
His was not the career that was lauded by the press; there were better names to be shouted. His name was not to bring droves of people out of the woodwork and buy tickets. His name though was one that has left a legacy.
With 53 fights, only 4 of which he lost, that should assure the former WBO heavyweight title holder (twice) of an assured nod in the street or positive recognition in some manner but it doesn't.
Born in Nigeria and moving to the UK as a very young child, Herbie Hide, 49-4, 43 KO's, was based in Norfolk, away from the bright lights and big city noise of London. "The Dancing Destroyer", as he liked to be known, began his professional journey in 1989 and what followed was a devastating and impressive 24 wins in a row before he got his first world title shot.
In the opposite corner was a surprised champion, Michael Bentt.
Bentt had beaten Tommy Morrison in one round for the belt and was now in the Millwall Football Stadium to defend it.
You really couldn't make this up but the strength of the promotion team around Frank Warren was so strong that it was far from unusual to see world title fights in unusual British venues.
It was 19th March 1994 and with the weather holding, Herbie Hide ripped the belt from Bentt's waist with a 7 round stoppage. The fight had been heightened thanks to Hide and Bentt getting into a ruck – not quite in the Paulie Malignaggi level – at a pre fight meeting where they ended up rolling about outside a hotel. In the fight Hide was clearly the better boxer and retired Bentt permanently from the sport.
One year on it was the far more dangerous Riddick Bowe that faced him in his very first defense. This time it was at the MGM Grand, Las Vegas. There is no disgrace in losing to Bowe and hitting the canvas 6 times during the fight, Hide was knocked out in the 6th round. It was a creditable performance – often forgotten when people are writing the history of British world heavyweight champions – but Hide did not have enough to beat the bigger and far more experienced Bowe.
On 28th June 1997 he got another crack at the title, this time against Tony Tucker in his home town of Norwich. Tucker was a former IBF champion, but his best days were a far further memory than his last meal – he was overweight and Hide got rid of him in 2 rounds.
Hide got to defend twice – against Damon Reed and Willi Fischer – in 1988 making his legacy more secure but these were hardly premium fighters.
In 1999 Hide was to face a 6 foot 8 inch Ukrainian who was to go and dominate the support with his brother – Vitali Klitschko. Hide was actually the favorite going into the fight but lost by knockout in the 2nd round. Around 4,000 watched the fight in Kiev in a square whilst the promoter, Frank Warren, bemoaned the fact that he had got Hide home advantage but he, "never had a plan."
It could have been worse, Frank. Lennox Lewis was still active…
Hide never fought at elite level again in the heavyweight division.
Hide made the unusual decision to come down in weight in 2006 to cruiserweight and having managed to bag some training with Floyd Mayweather, SR. he won the WBC international title. Now based in Germany he managed a creditable 14 wins prior to getting his hands on that belt. By now the British public had moved on and mainly forgotten him.
Until 2008 that is when he was mentioned as a possible WBO cruiserweight contender against Enzo Macarinelli; the fight never materialized.
His further fighting battles saw him take on the Prizefighter format where he won his quarter final but got badly cut, withdrawing in case it affected his WBC ranking.
Personally the name of Herbie Hide was one well known to his adopted Norwich as he had conviction for carrying a knife in 2003 after a night club fight, in 2008 he was threatened with jail because of outstanding motoring fines – nearly £4,000 worth – in 2008 he was successfully sued by promoter Frank Warren over a claim that Warren had "dishonestly and corruptly bribed Johnny Nelson to retire and give up his WBO cruiserweight title". In 2011 he was charged and prosecuted for rape that ended with a not guilty verdict and in 2012 someone was murdered in his home – Police believed Hide was not present at the time!
A colorful history indeed and was bettered in 2013 when Hide was sentenced to 22 months in prison after he was caught on conspiracy to supply cocaine. Caught in a newspaper sting, Hide was now front page news for all the wrong reasons and we had reason to remember him well, if not fondly.
Redemption though could be upon him as Herbie Hide has a son who is also a boxer. For now, he is making waves in the amateur ranks but it has seen his profile raised as he has such a "famous" dad. His debut was a victory, the guy he beat wanted a rematch, his second amateur fight was a repeat and a 3rd round stoppage… There is clearly something of the fighter in his water!
He certainly has the words to convince and in a recent interview with a local paper he reflected on how having a former world champion as father can be uplifting and positive remarking that, "Pressure can turn dirt to diamonds."
Father has eschewed being involved as a coach in his son's career, though he did get Mayweather Sr to talk to Henry. Had he been more sensible earlier in his life, this might have been a better story to tell, as it is the cocaine offence which tends to dominate headlines which is really unfair. He may not have been a Bruno or a Lewis but he was Britain's heavyweight champion and with such a tremendous record should be given the credit he so richly deserves.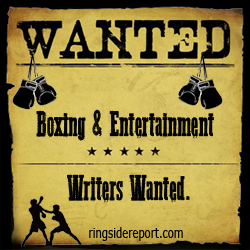 Contact the Feature Writers