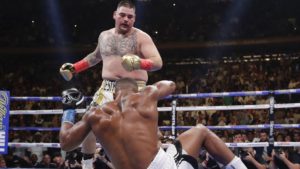 By Rich "Lite It Up" Lopez
Madison Square Garden has hosted many iconic fights over the years such as: Muhammad Ali Vs Joe Frazier I, Roberto Duran Vs Ken Buchanan, and Prince Naseem Hamed Vs Kevin Kelley. On Saturday night, we can add another one to the list. That was between Andy Ruiz, JR. Vs Anthony Joshua.
The star of the show is the New Heavyweight Champion of the World: Andy Ruiz, JR.
Ruiz, JR., who was a 20-1 underdog, pulled off the major upset by stopping Anthony Joshua in the 7th round and silenced the critics. Most importantly he became the first heavyweight Mexican champion.
Back in 2016, Ruiz attempted to become a world champion but lost a close majority decision to Joseph Parker. Most observers thought Ruiz won but Ruiz fought Parker in his hometown. After about a year off, Ruiz came back with two wins in 2018 and then signed a deal with Al Haymon to be part of PBC. For his first fight on PBC this year, he defeated Alexander Dimitrenko by stoppage in the 5th round back in April. Then Ruiz got the call of a lifetime, earning another title shot against WBA/IBF/WBO World Champion Anthony Joshua. Ruiz got the shot as Jarrell "Big Baby" Miller had failed drug tests. Ruiz for sure made the most of this opportunity.
Ruiz was bashed by the media and by some fight fans. This was due to his chubby appearance and some felt Ruiz was not a real threat to Joshua. I guess you can say, some people didn't even know who Ruiz was. However, Ruiz had other plans. If you listened to Ruiz during the promotion of this fight, he told everyone he was going to win the fight. His confidence was soaring and he believed in himself and wanted to silence the critics. This was supposed to be Joshua's coming out party to America but it turned out to be Ruiz's introduction for people that didn't know him.
In front of a sold-out crowd at Madison Square Garden, Ruiz put on a performance for the record books. From the start he was confident and started to back up Joshua with his pressure. Everything went down in the 3rd round, when Joshua dropped Ruiz with a left hook and it seemed this might be the end for Ruiz. Ruiz got up and didn't back down. Both guys traded and Ruiz landed his own combination to drop Joshua. It was Joshua who was more hurt but more in shock. Ruiz ended the round by dropping Joshua again with a nice right cross. Joshua got up and was saved by the bell. Ruiz came out strong in the 4th round but kept his composure. As the round ended, it seemed Joshua got himself back together. It was still Ruiz doing a great job putting the pressure and backing up Joshua for round five. In the 6th round, Ruiz went to the body which took the energy out of Joshua. In the 7th round, Ruiz landed a flurry of punches that dropped Joshua for the third time. Joshua got up and went down again with a Ruiz combination. Joshua spit his mouth piece out and got up. He didn't want no more and the referee stopped the fight.
Andy Ruiz, JR scored one of the biggest upsets in Heavyweight boxing and accomplished history by becoming the 1st Mexican Heavyweight Champion.
Joshua's Promoter Eddie Hearn did say Ruiz was a more dangerous opponent than Big Baby Miller and he was right. I do get the sense that even though Joshua and Hearn might of thought Ruiz was dangerous, they still underestimated Ruiz at the end of the day. Don't judge the book by its cover!
The power, hand speed, heart, and also the chin of Ruiz was too much for Joshua. Bottom line, Ruiz executed the perfect game plan and shocked the world.
Now the potential mega fight between Deontay Wilder Vs Anthony Joshua is put on the shelves thanks to Ruiz. The Heavyweight division just got more interesting. With Ruiz winning the world titles and being Mexican-American, this will bring more attention to the Heavyweight division in America and also with the Mexican community. If some people did not know Andy Ruiz, Jr they do now.
Felicidades Campeon!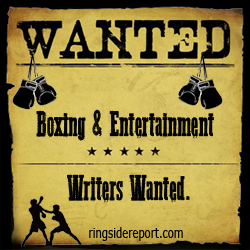 Contact the Feature Writers