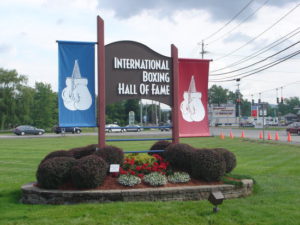 By Anthony "Zute" George
This Thursday kicks off another year of gatherings and celebrations at the International Boxing Hall of Fame, in Canastota, New York. This years IBHOF class is an impressive one. Oozing with class, skills, power, guts and plenty of setbacks. The modern category consists of Donald Curry, Buddy McGirt and Julian Jackson. While Tony DeMarco was voted in as the candidate for the old timer's category. All four inductees are living and expect to be attending the ceremonies. A rare occurrence. I am intentionally leaving out the record of the boxers who have been inducted, because I feel these gifted pugilists are much more than their records. And save for possibly Buddy McGirt, their records were not the major reason why these fighters were voted in.
Take a look at Donald Curry. He was not voted in because of his record, as his overall record in championship fights is bleak. The reason why the voters chose Curry was because he was at one time considered the best technical fighter of his day. A skill set that was just about perfect-good enough to be considered the eventual conqueror of Marvelous Marvin Hagler-until it was not. During Curry's dominance took him all the way to the undisputed welterweight championship, with an amazing performance against the capable Milton McCrory, crushing the Kronk champion in two rounds. However, there was not much from Curry after that. Donald was upset against the underrated Lloyd Honeyghan and was pretty stale since. Losing in every fight against top tier talent and typically in knockout and/or stoppage fashion. But the clear dominance and skill set of Curry from 1980-1986 warranted a vote into boxing royalty as the voters saw it. And for that reason, Donald Curry deserves his day.
Take a look at Julian Jackson. He was not voted in because of his record either. Like Curry, Jackson has lost his fair share of fights against tough competition. Also, like Curry, he lost in knockout fashion. Looking at both Curry and Jackson through a critical lens, has there even been a combination of fighters who were inducted in the IBHOF that were knocked out in big spots more than them? With that said, knockouts are the exactly the reason why "The Hawk" was favored by the voters. Double J was one of the hardest punchers in boxing history, his bone crunching knockouts over Terry Norris, Ismael Negron and Herol Graham have provided boxing fans with timeless knockout reels. The Graham fight was most impressive because he was losing that fight. Jackson's memorable stop and drop power in both hands warranted a vote into boxing royalty as the voters saw it. And for that reason, Julian Jackson deserves his day.
Buddy McGirt did have an impressive record, and that probably had a lot to do with his favorable showing with the voters. Buddy was only stopped twice, once against the fantastic Meldrick Taylor, and again much later in his career against Andrew Council. At his best, McGirt had a fantastic skill set. A combination of a slick boxer who can crack you with brute force when need be. McGirt's signature win was the huge upset win over Simon Brown for the welterweight title. McGirt's performance on that day belongs in a time capsule, as it rivals any single performance of any great boxer in the long history of this sport. The Brown victory was the cherry on top of a formidable career and warranted a vote into boxing royalty as the voters saw it. And for that reason, Buddy McGirt deserves his day.
Tony DeMarco was another example of the voters looking past a fighter's record to secure a check mark in his favor. "The Boston Bomber" had his fair share of loses against tough competition in stoppage fashion as well. However, in those loses, DeMarco provided us thrills that many pugilists never manage to do in their victories. Twice losing to Carmen Basilio in classic battles. The kinds of fights were a fighter gets an L on his record but is in no way seen as a loser. Demarco's title winning effort against Johnny Saxton also showed that he has the kind of fortitude required to be on the winning side of these kinds of fights. The unquestionable blood and guts DeMarco spilled, sprinkled in with above average ability, warranted him a vote into boxing royalty as the voters saw it. And for that reason, Tony DeMarco deserves his day.
So much can be said, and has been said, about whether or not these four pugilists actually deserve to be inducted into the IBHOF. The voters have spoken and debating the results is futile in my opinion. While everyone has a right to their opinion, it is much harder to try and accept and understand a decision you might not agree with.
Indeed, I have very strong opinions about this IBHOF class, however, studying these fighters makes it easy to understand why the voters sided with them. Also, these men should be honored so close to their day of enshrinement. Men who risked their lives for our entertainment. Men who competed in the hardest sport there is and at the highest level. A level most of us cannot even obtain in our wildest dreams. They deserve our respect.
Having said that, based on the tone of the grapevine, most of these guys might not have been voted in without the benefit of heavy campaigning on the part of certain voters. I am not sure campaigning on behalf of a fighter should be allowed by those who have a vote. Voting for the IBHOF should be an individualized process, where all persons who have earned the right to vote should do so privately, behind closed doors, without any outside influences. Based on their own extensive research and criteria. If a voter wants to campaign to get a fighter on the ballot who is not indeed on there, that is fair game. But every voter should be responsible for their own check marks and however, the voter should still adhere to a certain criterion that decides their checkmarks and not be subjected to the strong opinion of other voters.
Also, as much as I enjoy reading how some voters decided to vote, what their process and reasoning was, I am not sure voters revealing their ballot is the best thing either. Perhaps ballots should remain secret. My opinions might not be for everyone, but it is one I do feel strong about. Let us be honest, what benefit does it serve to reveal your ballot or brag about how you campaigned hard to get a fighter in, other than bringing attention on yourself? And that is not what it should be about.
The International Boxing Hall of Fame is a place and an event I cherish more than most things that are not my family. Regardless of how I feel about the results, I respect all fighters who earned their way on the ballot and/or the hall itself. The ceremonies of hall of fame weekend are always stellar and the fact that this is going to be the IBHOF's 30th anniversary, and all the 2019 Hall of Fame Class will be on hand, gives me, as Marvelous Marvin Hagler once said at the hall of fame banquet, chill bumps.
Congratulations to Donald Curry, Julian Jackson, Buddy McGirt and Tony DeMarco, much love for what you have done for all of us. Many have tried to do the same, but few have done it better.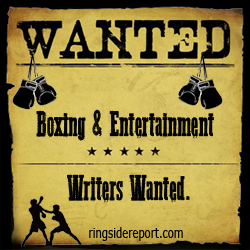 Contact the Feature Writers