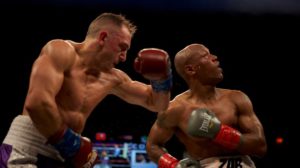 By Brian "The Beret" Young (At Ringside)
When 6-time former champion Zab Judah was stopped in the 11th round Friday night by Cletus "The Hebrew Hammer" Seldin two things became clear. One, father time catches up to even the fastest fighters. And two, it will be better to see Zab Judah in 5 years being inducted into the International Boxing Hall of Fame than to ever see him step into the ring again.
Judah almost looked like a prime Zab in the first, a round in which most everyone in attendance will agree may be the only round in which the former superstar was able to take this evening.
Seldin, now 24-1, 20 KO's did exactly what he needed to do to a 41-year-old fading Judah. The Long Island native kept the pressure on and never gave ground. It wasn't always pretty, but it was effective. Judah, for his part, showed that he still had the heart of a champion, if no longer the reflexes.
Judah was rocked in the third round, causing him to look off balance and ready to fall, but he bravely stayed on his feet. It was clear by now that this would be a long night for him. From the 4th round on Seldin controlled every bit of the action, finding it easy to get inside and land at will, something you would have thought impossible to a prime Judah. By the 11th round, when referee Charlie Fitch stepped in to call a halt, it looked as though Judah's corner was going to beat the referee to it.
Seldin does deserve credit. He had a game plan, was disciplined and again relentless. Even in his prime pressure fighters gave Zab Judah trouble, and Seldin read that book and was able to become that kind of fighter. And for his efforts he is now the NABA Super lightweight champ. Hopefully, Zab Judah sees the writing on the wall, and in 5 years' time can return to town, this time as a Hall of Famer.
In the co-feature James Buddy McGirt JR. faced France's David Papot for the WBO International and WBC Intercontinental belts. McGirt, JR used his height and reach advantage to take an early lead but by the 5th the Frenchman became the aggressor. The two men kept adjusting to each other's styles making it a difficult fight to score resulting in score cards all over the board. Glen Feldman had it 117-111 for Papot. 115-113 McGirt, JR. was the score turned in by Tom Schreck and John McKaie scored the fight 114-114 making it a draw. From my seat in press row I overheard one of the judges actually say when he handed his card in "these scores are going to be all over the place" and he was right. This was not as a result of poor judging but more of a mismatch of styles and rounds that were hard to score from any angle. A fair draw in my opinion as I had it scored 115-113 for Papot, but can't argue it going either way.
On the undercard we saw some great action and were introduced to a man they are trying to make a star. The first fight saw Boubacar Sylla vs Marquis Hawthorne in a 6 round Welterweight fight that saw Sylla, now 10-0, 7KO's come out strong, throwing powerful shot and got the better of Hawthorne for the first round and 2 minutes when Hawthorne managed to close the gap. The third round played out like the second, Sylla dominating until late when Hawthorne mounted a serious comeback. By the 4th, Sylla was no longer throwing combinations and was visibly tired, clinching more than fighting. Hawthorne came out for the final two rounds like a man on a mission, taking total control of the fight, but it was too little too late. When the final bell sounded Sylla had built up enough of a lead to take a unanimous decision by the scores of 59-55 and 58-56 twice, all for Sylla.
The next fight of the evening saw cruiserweights in action as much hyped Alex "Lights Out" Vanasse took on heavy underdog Eric" Caution" Abraham. For two rounds the unorthodox southpaw, Vanasse, was throwing wild punches from odd angles. They weren't effective except for having Abraham afraid of the power. That all changed when Abraham took a clean shot and realized he wasn't hurt. Then he threw "Caution" to the wind and went at the power punching favorite and with a powerful hook stunned Vanasse. Abraham followed up with a series of unanswered punches that put the stunned Vanasse down. He was able to beat the count but was on unsteady legs when Abraham landed a three punch combination that sent Vanasse down and out for a frightening amount of time. Thankfully, Vanasse was able to gesture to us at ringside he was ok as they, for precaution sake, took him out on a stretcher.
The third fight saw Wendy Toussaint improve to 10-0, 4 KO's Vs Lucius Johnson, 4-6-1. 3 KO's. Toussaint scored a shutout in the 6 round Jr. Middleweight affair whose highlight was when Lusius "Bull Dog" Johnson began barking at Toussaint. Unfazed, Toussaint barked back, causing several people in the stands to also begin barking. Hey folks, it's boxing, you never know what may happen.
Finally, the fight I was waiting to see, a 4 rounder featuring Roberto Duran, JR Vs Jonathan Pierre. This was to be the showcase for the son of a legend, who came into the fight 2-0 with 2 KO's. What we saw was far from impressive. If Pierre was intimidated by the Duran name, he didn't show it. Pierre fought a totally defensive 1st round, but Duran didn't seem to want to mount much of an offensive. The 2nd round Duran showed he does have some hand speed and was able to land several clean shots. On the down side, these punches didn't seem to bother Pierre, and where Duran won the round, Pierre gained confidence. The 3rd and 4th rounds, to me, appeared to be Pierre rounds. He was calm, poised and sharp. Duran, JR. was desperate, relying on that one clean shot that would end the fight. It never came.
Duran was throwing the harder shots, but in my opinion, Pierre was the better fighter thru 4 rounds. But again, in boxing anything can happen. Where Tom Schreck agreed with my card and had it 39-37 for Pierre, judges Glenn Feldman and Don Ackerman scored it 39-37 for Duran, giving the legend's son the nod.
Overall, a great night of boxing during a great weekend at the Turning Stone Resort and Casino in association with the International Boxing Hall of Fame.
Remember to submit your questions/comments to me via the form box below by selecting Brian "The Beret" Young and follow me on Twitter @BoxingGuyBrian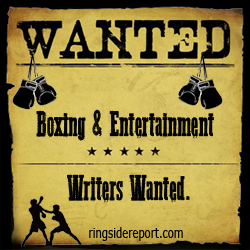 Contact the Feature Writers