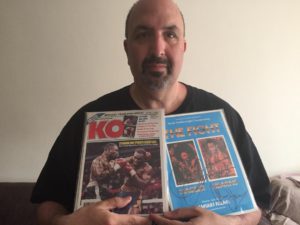 By Anthony "Zute" George
Andy Ruiz, JR., Heavyweight Champion of the World. That has such a great sound to it. Does it not? And what a fight. As expected, Andy was going to have to pass the Anthony Joshua power test in order to take the victory, and boy did that power test come early. What a left hook that AJ nailed Andy with. What happened next was a treat for all the fans at Madison Square Garden and those watching at home on DAZN. Or on the bus, or in their car, you can stream DAZN just about anywhere, you see.
Speaking of DAZN, has it proved its worth yet? The fights have been tremendous, the talent signed is growing, and we still have the Regis Prograis Vs Josh Taylor WBSS 140-pound final to look forward too. All with the benefit of no extra PPV charge, like you get with Top Rank and ESPN, as well as the PBC.
Speaking of PPV's produced by Top Rank and the PBC. Good luck. The price tags are now 75 to 80 bucks. Now, the price for PPV in it of itself is not horrendous. Disagree? In 1988, the going price for Mike Tyson's showdown with Michael Spinks was around 50 dollars, adjusted for inflation that price is equivalent to 108 dollars; for a fight that many people considered a mismatch. I know what you are going to say, Tyson was one of the biggest stars in boxing.
True. But the fight with Spinks was his first PPV/Closed Circuit fight. Considering what they charged for that fight, 75 dollars is not that bad today. The problem is that households are struggling. I do not care what is said about the economy, or the fact that the jobs report has been very good in most months, the big problem is that most jobs have stagnant salaries. Wages are not going up and everything else that a family needs is going up in price. Bigly. And it is only going to get worse. I do not say this to get political, I just want to point out the fact that when a family budgets for the summer, PPV boxing may not make the cut. Let see, 'Do I take my family to go see Spiderman Far From Home, or am I going to pluck down 75 bucks for Thurman Vs Pacquiao?' A lot of families are not going to be able to do both. In most cases dad is going to the movies.
Speaking of Mike Tyson, did he not have a rematch clause in his contract with Buster Douglas? If not, why? If he did, why did the fight not happen? Since a fight with Evander Holyfield was scheduled in June, I am guessing that there was no rematch clause with Buster, as it obviously was believed not to be needed. With that said, can we now declare Joshua and Eddie Hearn as more business savvy than Mike and Don King, as there was indeed a rematch clause with Andy Ruiz, a guy most people thought had no chance. Thought, being the operative word.
Speaking of this rematch clause, Andy appears to be fixing to shred up the original agreement for more money. Now part of me understands why Andy wants to renegotiate and get a king's ransom for fighting the rematch in the UK. But my better part of me says Andy should just honor what is in the contract. I am hearing around fifteen million for Andy, a far cry from the fifty million he is seeking now. Andy has to realize he signed that contract because at the time Anthony Joshua was the man, and he was willing to agree to any terms to get his chance. Well you got your chance and shook up the world, now it is time to make good on what you originally agreed to.
Speaking of Michael Spinks, why do so many people fail to see what a great light-heavyweight he was? The only thing keeping him from being considered better, or at least as good as, Archie Moore, Gene Tunney and Ezzard Charles, is the fact that he fought during a time that is automatically considered not as good as the eras the aforementioned fighters fought in. The dreaded Old Man Card. It has nothing to do with skill set or accomplishments. Spinks is right on par with anyone in his weight class. I recently saw a fan make a comment in a thread on social media that Ezzard Charles would have no trouble with Michael Spinks. Really? Where does Mr. Charles keep his undisputed light-heavyweight titles? How many title defenses did he have at the weight? Let me save you time, none.
Speaking of comments on social media, I am dumbfounded by the amount of people who are posting that Manny Pacquiao is going to beat Keith Thurman. Really? Does anyone actually watch fights anymore? This year I saw many people say Christina Hammer was going to handle Claressa Shields, Mikey Garcia was going to beat Spence, JR. and Andy Ruiz had no chance. The same people who were way off with those fights are now calling for Pacquiao to school Thurman. I do not get it. I want to believe that people who make these claims do not actually believe it, they want it to happen so if they say it out loud, they hope it will become reality. Otherwise there is some insanity going on in the boxing world.
Check out "Zutes Boxing Talk", which airs every Wednesday live from 7PM to 9PM ET. The show is dedicated to discussing the sweet science straight up with no twists. "Zute" has interviewed boxing legends such as Carlos Palomino, Mike McCallum, Pernell Whitaker, Jeff Fenech, Buddy McGirt, Mark "Too Sharp" Johnson, Marvin Camel and Eddie Mustafa Muhammad. As well as today's stars like Danny Garcia, Sergey Kovalev, Regis Prograis, Teofimo Lopez and Gary Russell, JR.
Follow the link to listen live or catch archived shows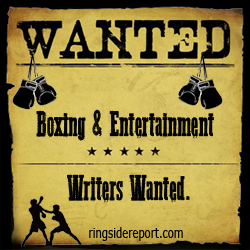 Contact the Feature Writers