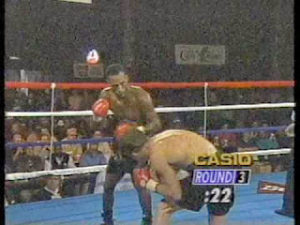 By Daniel Sisneros
Nicknames: "Untouchable", "The Warrior"
Anthony Stephens opened his career Sept. 27, 1986 with a victory over Terry Parnham at the Bluebonnet Convention Center in Victoria, TX. He then ran his record to 10-0-1, 4 ko's before tasting his first defeat at the hands of undefeated Oscar Ponce at Bally's in Las Vegas, NV nearly 3 years later.
May 27, 1993 he won the IBC Jr. Middleweight title by decision over Lee Fortune. That win put him in line for a shot at Felix Trinidad for the IBF Welterweight title. Anthony was stopped in round 10 of a good fight. Stephens won the USBA Welterweight Championship by decision against Harold Brazier. He became a fan favorite and headlined a few espn fight cards. He tried twice to win the IBF Jr. Middleweight World Championship losing to Raul Marquez, and Yori Boy Campas in those efforts.
His last pro bout was Oct. 24, 2006 where he ended his pro career with a 3rd round knockout over Glen Brown at the Petroleum Club in Shreveport, LA. Anthony Stephens final career tally was 33-19-2, 18 ko's.
Purchase Dan's Hit Boxing Book Mat Tales: True Stories From The Bizarre, Brutal World Of Pro Boxing by Clicking the Image to ORDER it Now.