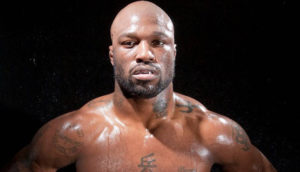 He has been on the circuit for 11 years but Muhammad Lawal has announced that he is retiring from the sport, and in fact, he has gone as he left on Monday. There will be many disappointed fans, but all good things must come to an end as bonusbets.com reports.
During his career, Lawal, also known as King Mo as fought 31 times and has become something of a legend. He is now 38 years old and cites his reasons for retiring now as primarily based on health concerns. He has been plagued with various issues and has been under the knife loads of times to repair damage to his hips and knees as well as other areas, so we can kind of understand where he is coming from.
He started fighting in college where he was making quite a name for himself, which opened the door to MMA. In college, he was a Division I All-American and a Division II National Champion so you can understand why they were keen to take him to the next level. In MMA he quickly became a respected top-prospect fighter who lifted the Strikeforce light heavyweight champion title in his seventh professional fight against Gegard Mousasi.
Speaking to MMAFighting, he explained the thinking behind his decision making. "It's been on my mind for a while. I just put it in the back of my head. It was the pain from the injuries that was messing me up and my lack of range of motion from my hip and my knee. I've been fighting most of my career with no legs, a messed up knee or a messed up hip and after I had that hip surgery where they put titanium metal in my hip, it kind of made me think — I'm going to need a knee replacement, I'm going to need an elbow replacement, I'm going to need a hip replacement. I was like I'm getting old, I'm 38, I've got kids. I can't even run right now. I can't even jog really. I'm that bad. It's to the point where if I can't jog or sprint or be explosive, then I've got to stop."
The injuries he sustained and the subsequent surgeries have certainly taken their toll and recovery has also been hard with a recent hip resurfacing leaving him struggling to get to his feet or bend to fasten his shoelaces. "I had so many surgeries. Probably 30 or 40 surgeries. I remember the first time I had anesthesia when I had my ACL done, I went right to the movies and watched a movie after that. Now, as I've gotten older when I get the anesthesia, I don't know where I'm at. I look all jacked up. My last surgery, I was like this is my last surgery because my body don't act the same. "We know that fans will be sad to see him go, but it does seem like the right decision on a personal level, and we wish him all the best for his future.