Vinny's Views: That's Right, Andy Ruiz, JR Kicked Anthony Joshua's ASS – Get Over IT!
[AdSense-A]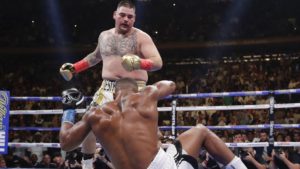 By Vinny "Glory Days" Lucci
It was the shot heard round the world, one that will reverberate through the annals of sport's history much like the Giants Bobby Thompson's game winning Polo Grounds home run off the Dodgers Ralph Branca in 1951 to win the National League Pennant. While the exploits of newly crowned heavyweight champion Andy Ruiz, JR. is no longer cutting edge news the June 1st seventh round TKO over 20/1 undefeated champion Anthony Joshua still hasn't settled in.
The Madison Square Garden spectacle was supposed to be nothing more than a sanctioned tune up with Ruiz a late substitute for Jarrell "Big Baby" Miller who himself hadn't earned a title shot but was brought in as a sacrificial lamb with a pulse nonetheless. Miller came up dirty by VADA in three separate tests for Endurobol, Erythropoietin and Growth hormone and was denied a license by New York State Athletic Commission. Enter Andy "The Destroyer" Ruiz, JR. the American boxer of proud Mexican heritage who was a coin toss of beguiling proportions. His respectable ledger of 32-1, 21 KO's gained the respect of boxing alphabets WBA, IBF and WBO elevating him four steps onto the world stage at Madison Square Garden. The lone loss came at the hands of Joseph Parker by MD in 2016.
On the other hand his unsightly port belly which lacked anything resembling muscle tone had fans laughing aloud when he weighed in at an unsightly 268 pounds. His body by comparison to the undefeated British champion had media questioning what round he'd fall as Joshua's physique is of Herculean proportions. Nowhere on the boxing landscape did any handicappers including yours truly foresee the stunning debacle about to unfold or the humorous carnage of banter at how inept the former champion would look when faced with a short armed adversary who lives for the pocket.
The moment referee Michael Griffin stopped the bout with 1:26 remaining the internet lit up like Fourth of July skies as the impossible came to fruition; Andy Ruiz, JR. became heavyweight champion of the world. While many were quick to compare the lopsided loss to the historic 1990 matchup of James "Buster" Douglas over "Iron" Mike Tyson the action did little to resemble the classic in which the 49/1 underdog literally beat the living hell out of the champion for ten brutal rounds before Tyson caved and is still considered the greatest upset in boxing history. Joshua put up no such battle.
So with weeks to digest the news what did go wrong on June 1st? The instant theories of complacency and not taking the challenger seriously won't hold water. Neither will the lame ass excuse by the champion's father and corner that Joshua had a panic attack in his dressing room and asked promoter Eddie Hearn to call off the bout. If fighting outside of United Kingdom for the first time in his career actually brought on a bout of anxiety than Joshua is in the wrong business. With the belts gone along with his reputation and proposed mega fight with WBC champion Deontay Wilder down the drain Joshua quickly asked Hearn to enforce the immediate rematch clause in order to get a shot at redemption.
What's fascinating here is how quickly Ruiz, JR. has picked up the business acumen to accompany his aggressive ring style and is demanding 50 million for the rematch if it's held in England knowing full well Eddie Hearn has made Joshua a rich man and is now in the driver's seat. The return bout is already in negotiations and targeted for November.
The Vinny Factor:
I'm quite sure the former champion is navigating dire straits and has an urgency to get his conqueror back inside the ropes and redeem himself to the world. Juxtapose you can bet the mortgage that Ruiz, JR. is twice as eager to get rich beyond his wildest dreams and prove his win wasn't a lucky fluke all the while planning to put the chiseled gorgon down for the count.
For all the fan frenzied handicappers who like everyone else were fooled the first go round they need to go back to the future to understand the dynamics of the rematch. There is a great line from Rocky 3 where his trainer Mickey Goldmill tells the champ, "The worst thing that could happen to you happened, you went and got civilized." While Anthony Joshua came into the ring in what looked like his usual magnificent shape he simply wasn't prepared to do battle. With each of his four trips to the canvass including a partial trip halfway through the ropes he had the intestinal fortitude to smile for the cameras as if this was just a bad day at the office. In reality what was unfolding was a sharp contrast in hunger between himself and his challenger. With a hundred million riding on future bouts with Wilder and Tyson Fury, Joshua's head and heart were not wired together.
In round three he attacked Ruiz, JR. with a sizzling right hand then stepped inside the pocket with a right uppercut followed by a short crisp left hook that both found the mark and dropped Ruiz, JR. on the seat of his pants. Epically Ruiz came storming back refusing to give ground and returned fire. A sloppy left hook hit the champion on the right temple causing a leg to buckle and another ugly combination floored the champion. Slow motion revealed punch was not behind the head as Joshua claimed causing him to lose his equilibrium.
The following knockdown a minute later and two more in the seventh revealed more than what was long suspected as being a suspect chin. Whether he was hit on temple or jaw Anthony was unable to ride out the pain and compose himself. These were not the guided missiles of Lennox Lewis but rather just faster than expected arm punches of Andy Ruiz, JR.. The challenger was constantly off balance leaning forward where his ample girth loomed ahead of his knees leaving no room for proper balance or leverage yet he was able to land almost at will throwing his punches inside Joshua's arch from his elbows.
Which journey takes us to the rematch and possibly across the pond? Once there what can Joshua do to change the winds of fortune? Much like former British challenger Frank Bruno of the eighties huge muscle bound heavyweights need four times more oxygen in the blood than normal which causes fatigue to set in as one's own arms become anvils. It is highly unlikely that at 29 years of age this fact is finally going to sink in on the former champion and train differently. Weight lifting to sculpt for Mr. Universe simply doesn't equate to boxing. Point being, handicappers from all walks of life will be paying better attention to Andy Ruiz, JR. this time around.
Stay tuned…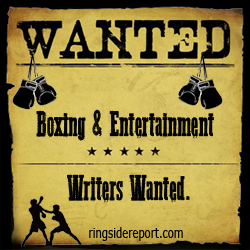 [si-contact-form form='2′]