By Rich "Lite It Up" Lopez
Last night on DAZN, Golden Boy Promotions provided another fun filled action card at Fantasy Springs Resort Casino in Indio, California. The main event was a rematch between WBA Junior Lightweight Champion Andrew Cancio, 21-4-2, 16 KO's, of Blythe, CA Vs Alberto Machado, 21-2, 17 KO's, of Puerto Rico.
Like Andy Ruiz, JR's win over Anthony Joshua, Cancio scored an upset himself when he stopped Machado in their first encounter in February. Cancio, who goes by the nickname of Chango, was a big underdog going into the first fight and was also known as a fringe contender. In the past, Cancio performed well in fights but when he stepped up in class, he would lose.
His last defeat was against Joseph Diaz back in 2016, where he was stopped in the 9th round. After that, Cancio left boxing but came back to resume his boxing career after a year and a half layoff. He did have two solid wins in 2018 which setup him up with the Machado fight. So when Cancio stopped Machado in the first fight by a 4th round KO, it was a major upset. You have to remember, it was only two years ago when Machado was being talked about as one of the best fighters in the junior lightweight division.
Going into last night's rematch, there were questions that needed to be answered. Was Cancio's win a fluke? Did Machado have an off night? Well those questions were answered right away.
It was apparent that Cancio was more confident than ever. As the fight started, Cancio showed no fear and put the pressure on Machado. Machado was doing a good job of counter punching, but Cancio was also doing a good job in the inside landing hard punches. In the second round, Cancio suffered a cut from an accidental head butt, but it didn't stop him from pounding the body and head of Machado. Towards the end of the round, Machado looked ready to go and was on shaky legs. In the third round, Cancio landed a nice left hook to the body which brought Machado down to one knee. Machado could not continue and Cancio stopped Machado again. Like in their first fight, Cancio knocked out Machado with a body shot but this time the fight ended a round earlier.
Cancio proved all the doubters wrong the first time. Now he proved to everyone that this was no fluke and he's a force to be reckon with in the junior lightweight division. Cancio brings an action packed style and he would make great fights with the likes of Miguel Berchelt, Tevin Farmer, and Gervonta Davis in the near future. Maybe a possible rematch with Joseph Diaz can be in the works as well and that would be a good rematch as well. Diaz did beat him the first time, but with the comeback that Cancio has been showing, I believe we would see a different fight.
What is there not to like about Cancio? He went from underdog to world champion and now to one of the top junior lightweights of the division. On top of that, he is just a blue collar worker who will be reporting back to work on Monday with his construction job.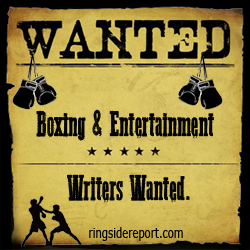 Contact the Feature Writers