By Anthony "Zute" George
Keith "One Time" Thurman fell victim to injury, shelving him for nearly two years, he was on top of the boxing world. In winning back to back fights against top contenders Shawn Porter and Danny Garcia; both high octane, competitive fights, there was no question that Thurman was the top welterweight in boxing. Now in 2019, not many people rank Thurman ahead of WBO champion Terence Crawford, or IBF champion Errol Spence, JR. In fact, if Thurman rematches WBC champion Shawn Porter in the near future, it is possible many fans and pundits would favor Porter to come out victorious this time around.
For whatever the reason, Thurman is a grossly underrated pugilist. When fans and some scribes comment on and/or analyze Thurman, there is a certain disrespect attached to their tone.
It is downright peculiar. Indeed, Keith Thurman is a peculiar guy himself. It has been reported that he has a bit of an odd personality that can be perceived as arrogant, the type of person that feels like they are above the fray. Perhaps that is why some folks cannot bring themselves to put Keith on the kind of tier his boxing skills equate to. Thurman gets under the skin of most boxing purists for many reasons. One being the fact that he has admitted that he did not grow up watching a lot of boxing, as he found it boring to watch, "Growing up, it was may more fascinating to be a participant than a spectator," Thurman said. As a participant, Thurman is special.
As a boxer, Keith is right on par with the best of his day and will be a problem for anyone he fights. Keith has better than average pop in both hands and is very diverse in his attack. Whether using lateral movement or closing distance, Thurman appears comfortable and is fluid. While Thurman is a fairly short guy at 147, with an undesirable reach of 69 inches, he can fight tall. To present as taller and with a much longer reach than you actually have, as Thurman does, is a skill most boxers do not have and has probably gone overlooked by most observers. Thurman can control a fight with his jab, using feints that allow him to sprinkle in lead left hooks during the bout. Thurman is also a solid counter puncher, has above average defense and can handle himself when against the ropes. Keith Thurman is the total package and the most talented boxer to come along since Floyd Mayweather, JR.
Thurman first became interested in boxing when he and his dad would sit around the television watching Bruce Lee and Jackie Chan movies. "I remember being like four or five, watching my dad going through martial arts kata's, and he would show me a few moves. So, I was interested in martial arts, but never had an opportunity to do anything. When I was seven years old, in my elementary school, I was participating in a YMCA after school program, and the head janitor, Ben Getty, put on a boxing exhibition…when I saw that exhibition, I wanted to sign up…that is how I got started," Thurman explained. Mr. Getty worked with Keith up until the age of 20, guiding Keith to a tremendous amateur career that saw him win six National Championships. Ben Getty passed away when Keith was just twenty years old, but he will always remain in One Time's heart and mind. Thurman explained that despite his great success, it was not easy to get where he was at, "I wasn't talented right away, but I stayed on my grind," Thurman explained.
Thurman took that amateur pedigree with him when he turned professional in 2007 and has compiled a professional record of 29-0, 22 KO's. Thurman captured the World WBA welterweight title in 2015, with a dominate performance against Robert Guerrero. Prior to that fight, Thurman held the interim title for four fights. Indeed, alphabet soup can be complicated.
What was not complicated, was choosing Keith Thurman as the headlined fighter for boxing's return to primetime television against Guerrero, "It was a dream come true," was how Thurman described that moment, saying that fight was the true start of his legacy.
That legacy continues July 20th, when he faces Manny Pacquiao, the regular WBA welterweight champion. There is plenty of criticism to sling at the WBA and their multiple belts, however, this time some credit must be thrown their way because their 'World' and their 'Regular' champions are actually fighting each other this time around. Which is supposed to be the reason why the WBA creates two belts.
Besides a couple of belts being on the line, Thurman's litmus test as a pay per view fighter is also at stake. Indeed, he has the benefit of a great leading man in Manny Pacquiao, which could skew the numbers some. However, if this fight can best Manny's reported PPV buys against the Jessie Vargas and Adrien Broner's of the world; which ranged from 300,000 to 400,00 buys, Keith Thurman should get credit for that. The undercard for this fight appears stacked as well. How many more buys that will generate is hard to tell at this time, however.
However, will Keith Thurman ever get the credit he deserves from the boxing world? The bashing has already begun. As many boxing pundits and fans have slung a fair amount of heat Thurman's way for fighting Pacquiao instead of welterweight juggernauts Crawford and Spence. At the same time, most boxing threads on social media show many people picking Manny Pacquiao to win this fight. Allow a moment to absorb and appreciate how those are conflicting thoughts that expose the warped thinking connected to Thurman.
As July 20th comes near, the predictions will come rolling in and the insults will churn out; as Keith Thurman's personality on a big promotion stage such as this will no doubt catch the ire of the boxing purists who somehow cannot get passed the long hair and tranquil demeanor of Thurman. He has already upset many people by insinuating he should be the coveted A-side of this fight.
It should make for a fun Summer.
Note: All quotes by Keith Thurman are taken from the podcast, Zutes Boxing Talk.
Check out "Zutes Boxing Talk", which airs every Wednesday live from 7PM to 9PM ET. The show is dedicated to discussing the sweet science straight up with no twists. "Zute" has interviewed boxing legends such as Carlos Palomino, Mike McCallum, Pernell Whitaker, Jeff Fenech, Buddy McGirt, Mark "Too Sharp" Johnson, Marvin Camel and Eddie Mustafa Muhammad. As well as today's stars like Danny Garcia, Sergey Kovalev, Regis Prograis, Teofimo Lopez and Gary Russell, JR.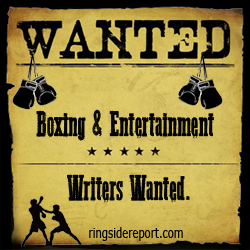 Contact the Feature Writers