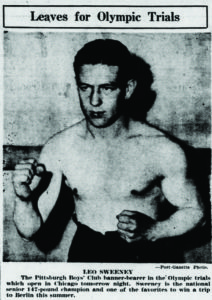 By "Hammerin" Harry Otty
As a fight town, Pittsburgh has a rich and colourful history. Harry Greb, Billy Conn, Fritzie Zivic, Billy Soose, and Charley Burley are all names familiar to most boxing history buffs. Yet none of the aforementioned would have had a chance to hone their craft had the city not had more than its fair share of good, fighting stock.
In the 1930s the city had a great depth of amateur and professional boxing talent, drawn from the Italian, Jewish, African American, and Irish immigrants that made up its diverse culture. Some did OK for themselves, most of them are but single threads in the tapestry of Pittsburgh's fighting history.
Edward Wirkowski was the third of five children born to Clemence and Mary Wirkowski. His father was a Polish immigrant who left Warsaw and landed in Pittsburgh, where he worked as a carpenter, his mother was also of Jewish ancestry, but born in Pennsylvania.
Clemence died when Edward and his younger brother, Walter, were mere boys. With their eldest brother, Chester, in the armed forces and their mother unable to care for them and their infant sister, the boys were in a desperate financial situation. Eventually they were sent to The Holy Family Institute, an orphanage operated by the church of St. Stanislaus in Emsworth Pa.
When Chester got out of the army he took his brothers out of care and looked after them until they were old enough to look after themselves. Chester, who had done some boxing prior to his military stint, was part of the Fort Humphrey's Boxing Squad and passed some of his knowledge on to his brothers. Their interest in the sport piqued, Edward and Walter Wirkowski joined the Willow AC, located on 46th Street in Lawrenceville. The club was famous locally as it had turned out many great boxers and an equal number of good, solid, respectable members of society. It was also the former stomping ground of the fighting Zivic brothers; Eddie, Pete and Fritzie.
Edward further developed his skills under the guidance of Terry McManus and Jack Metz. McManus, a former city, state and national champion, took to coaching like a duck to water and was instrumental in the club's success—he even got to represent the city as head coach. Walter slowly drifted away from the gym, but Edward stuck it out—especially when he learned he could make money competing at local events.
Edward—boxing as 'Eddie Wirko'—had his first victory for the club at a tournament in Coaldale, Pa in August, 1935. He may have thought he would have been better off losing to his opponent, Chick Harbell of Cumberland, Md. as he was paid just $1:00 for his winning performance; in his previous two outings in July he had lost a couple of decisions, but made $5:00 for one and won a wristwatch for the other—which he promptly sold back to the promoter for $5:00 (this was a common practice back then as promoters were not allowed to pay the amateurs).
Things rapidly moved on for young Eddie Wirko and he won his next four bouts against local opposition; earning $14:00 in the process. In bout number eight, Eddie ran into a local amateur sensation from the city's Hill District by the name of Charley Burley. Eddie gave a pretty good account of himself, but lost a three round decision at the South Side Market House (October, 29, 1935), This time he took home $3:00 for his efforts.
Eddie bounced back with a decision win and a $5:00 purse against Billy Wagner at the North Side Arena in November. Following the Christmas and New Year break he entered the 147lb class in the Allegheny Mountain Association Boxing Championships on January 31, 1936. Two opening-day victories—against Benny Bartle of Elwood City (via decision) and Sol Laskey of Schenley AC (via TKO)—put him in the following day's final where he lost a close decision to Billy Wagner (Pittsburgh Boy's Club). As these three bouts were in a local championship tournament, there was no prize money.
A week later, at the North Side Grotto, Eddie gained some measure of revenge over Wagner by virtue of a second-round stoppage; he also collected $6:00. It is a pretty safe bet that Eddie would have preferred the Junior AMA title that Wagner had beaten him out of six days previous, but six bucks was six bucks. Three wins out of four bouts put Eddie in pretty good shape to beat New York Golden Gloves finalist John Markell at the Syria Mosque on April 6, 1936.
In the 1936 Senior AMA champs Eddie defeated Mickey Vann (Monosson Valley AC) then lost to John Geedle (Duer AC). He then lost one and won one before squaring off against Charley Burley again, this time in the Variety Club Golden Gloves. Burley, by virtue of his national AAU finals appearance in April, was up for consideration for the Berlin Olympics via a Box-off event in Chicago later in May. Burley declined the invite, but chose to remain active on the local scene. He took a three-round decision over Eddie (who was paid $6:00) and would go on to win four fights in two days to eventually take the Golden Gloves title.
Six wins out of eight fights, with two stoppages (and $30:00 in prize money) saw Eddie through the rest of May, all of June and most of July—the two defeats coming against Charley Burley (again) at Washington, Pa, and Tommy Adamo at New Castle, Pa. On July 25 he lost a decision to national welterweight champion Leo Sweeney, but beat him in a rematch just three weeks later (August 15). The win over Sweeney was significant (as was the $4:00 pay day). Considered one of the best amateurs the city ever produced the Lawrenceville battler had won multiple regional titles and was also the reigning national AAU welterweight champion.
After his short professional boxing career fizzled out at 13-9-2, 2 KO's, Leo Sweeney became a well-respected cop in charge of Number 5 lock-up in the Strip District of Pittsburgh. His biggest claim to fame would always be that he fought the uncrowned champion, Charley Burley, five times as an amateur and won them all. Burley once told friend and protégé, Bobby Lippi that Sweeny had "the best damned left hand you ever wanna' see."
Eddie's final appearance as an amateur was September 10, 1936. His opponent was another Pittsburgh star amateur, Billy Soose of Farrell, Pa. A future world middleweight champion, Soose boxed as an amateur while attending Penn State. Eddie received a career-high $13:00 for his losing effort—not a bad night's work for a part-timer.
In November, 1936, following a two-year amateur career—and a record of 23-12, 10 KO's—Eddie turned to the professional ranks. Given his previous performances at the top level, manager Cuddy De Marco matched him with Charley Burley. Burley was two for two as a pro and had too much for Eddie—scoring a 5th round TKO—the only time Eddie would fail to go the distance. Losing to a fighter like Charley Burley was no disgrace as history would prove him to be one of the greatest fighters of all time.
Undeterred by the setback in his first pro outing, Eddie came back the following month to win over Jackie Adragna at Duquesne Gardens; he then disappeared from the fight game for almost two years, before coming back to win two on the bounce (via TKO) before hanging them up for good in 1938.
In September 1939 Eddie married Leocadia Dalak, settled down into a 'regular' job—working at the Crucible Steel Mill in Lawrenceville—and started a family of his own. When the Crucible closed, he found work at the American Bridge Steel Company, also located in Lawrenceville. Work in the steel mills was tough, but Eddie stayed there the rest of his life, raising seven children and teaching his boys how to box, just as his brother Chester had taught him.
Ed Wirkowski JR. told me that he learned a number of valuable lessons from his dad, about boxing, about life and how to be kind, considerate, how to be a good husband and a great father. Ed Wirkowski JR. went on to become a cop in Pittsburgh, staying in the job over 18 years—he even got to work with one of his dad's old foes, Leo Sweeney.
Eddie 'Wirko' Wirkowski, died of a heart attack on July 22, 1981 while on vacation with his wife. He was buried at Saint Augustine Cemetery in Shaler Township. While there appears to be no photographs of Eddie in his amateur heyday his name—intertwined with the likes of Soose, Burley and Sweeney—will forever be stitched into the rich tapestry that is the history of a great fight town.
*Thanks to Ed Wirkowski , JR.  for providing his dad's boxing record.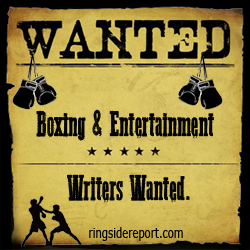 Contact the Feature Writers