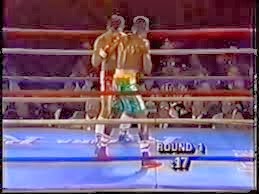 By Daniel Sisneros
New Mexico boxer Steve Barreras started his pro career on August 22, 1988 winning a Unanimous decision over Eddie Hernandez. He fought his first 5 fights on the road in California before returning to his home town of Albuquerque, NM and taking a 4 round decision victory over fellow New Mexican Danny Almanzar. His toughness made him a favorite opponent to test potential stars on their way up.
His record includes bouts against some great names including: David Sample, Robert Wangila, Skipper Kelp, and World Champions Ike Quartey, and Yori Boy Campas. Barreras never fought for a title and had his last bout on Aug. 3, 1994 ending on a winning note against Anthony Ayon. He ended with a record of 10-11, 3 ko's.
Purchase Dan's Hit Boxing Book Mat Tales: True Stories From The Bizarre, Brutal World Of Pro Boxing by Clicking the Image to ORDER it Now.