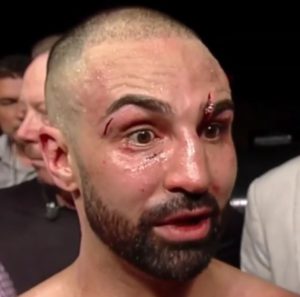 By Rich "Lite It Up" Lopez
As of lately, bare knuckle fighting has been causing some attention. For the most part, fighters participating in these events are former MMA fighters. So, when former pro boxer Paulie Malignaggi decided to come out of retirement to challenge Artem Lobov to settle a feud, it caught the interest of boxing and MMA fans. The boxing Vs MMA debate was talked about again, as the two fighters where going to compete in a bare knuckle fight which is an original form of boxing.
Both fighters squared off at the BKFC 6 event. Coming into the fight, Paulie Malignaggi was a former world boxing champion who had a record of 36-8, with 7 KO's. Artem Lobov was an MMA fighter with a 13-15 record and a 1-0 record in bare knuckle fighting but with no boxing experience. So it was quite obvious why Paulie was the clear favorite to win this fight.
After watching the fight, I did not agree with the scorecards. I had Paulie Malignaggi winning the fight 48-47. I gave Paulie rounds 1,2, and 3. Paulie clearly outboxed Lobov in these rounds just by landing the jabs. Lobov came forward but could not land any punches. I gave Lobov rounds 4 and 5. Paulie made the mistake of not throwing enough punches and Lobov was busier of the two fighters. At the end, I expected more out of Paulie. During the build-up, he was saying he was going to knockout Lobov. Paulie should've dominated the fight more considering he has boxed his whole career. I'm sure the two year layoff of Malignaggi had a lot to do with his performance but still it looked bad on him.
Final Thoughts:
Even though Lobov got the decision against Paulie in a bare knuckle fight which was the original form of boxing, a pro MMA fighter cannot beat a pro boxer in a boxing fight. If you look deeper, Paulie was off boxing for two years and was able to beat Lobov in my eyes. Still my hats off to Lobov for taking on a former boxing champion and doing the best he can.
Who was the biggest winner from this? No doubt about it, it was Artem Lobov.
At the end Lobov had nothing to lose. He was getting a big payday against a former two time boxing world champion and he walked away with a victory where he was a huge underdog. This also gains Lobov more attention in the combat sports world.
The biggest loser was definitely Paulie Malignaggi.
Paulie talked way too much during the promotion. He even spat on the face of Artem during a press conference. Even though I thought he won the fight, he was still disappointing. Sure Paulie got a big payday but he looked more foolish than anything else in this bare knuckle event. His plan of luring a fight with Conor McGregor failed. Even now he's still claiming he got robbed and still complaining. If you lose a close decision, it's not a robbery and it's time to move on.
Paulie was a good boxer in his day. I always respected the guy in boxing and he always showed toughness in the ring. I think Paulie needs to move forward and stop looking for attention. He's a good boxing commentator and he should just stick to that. I'm sure Paulie will stay retired now and not pick anymore fights.
Contact the Feature Writers