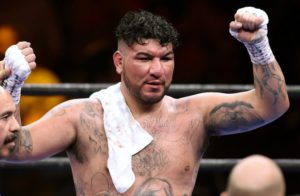 By Anthony "Zute" George
Chris Arreola has been fighting for a long time. As a boxer, he turned professional in 2003 but was involved in the sweet science long before that. Indeed, Chris, who is known as The Nightmare, had a unique introduction into boxing, when he met the legendary Julio Cesar Chavez as a child; being treated to watching JC Superstar train in Culiacan, Mexico. The ultimate fantasy for a young kid with Mexican roots. Arreola, who is Mexican American, was born in Los Angeles, California. He fell in love with what he saw in Culiacan and pursued boxing full throttle.
As an amateur, The Nightmare wreaked havoc up until the age of sixteen, where he took a hiatus until the age of twenty. Chris then won the National Golden Gloves. At six foot three inches, Arreola was filling out as a prospect for the heavyweight division, and indeed, became just that. The Nightmare strung together twenty-seven consecutive wins and did so in impressive fashion; stopping formidable competition such as Malcolm Tann, Travis Walker, and Jameel McCline.
Along the way, Arreola also built himself up as sort of a character in the boxing world. Presenting with a polished charisma, despite the fact his vocabulary consisted largely of expletives. Not easy to pull off.
This impressive string of victories earned Arreola a title shot against the WBC Heavyweight Champion, Vitali Klitschko. Vitali is now a member of the International Boxing Hall of Fame, and Arreola found out firsthand exactly why Vitali is Hall of Fame worthy. In a fight where Arreola was seeking to become the first Mexican American to become the heavyweight champion of the world, Arreola was never in the fight.
This less than desirable outcome for Arreola was repeated when Bermane Stiverne and Deontay Wilder both stopped him for that same, illusive, WBC heavyweight title.
The Nightmare last fought on March 16th of this year, stopping Jean Pierre Augustin in three rounds. If for nothing else, Arreola was impressive in this fight because he weighed under 240 pounds for the first time since 2015. Where he looked impressive against the tough Travis Kauffman. Chris was originally a split decision winner in that twelve-round fight, only to have it overturned to a no-decision after a failed drug test, testing positive for marijuana of all things; the second time Chris had done so in his career.
The Nightmare's saga continues on August 3rd, as he faces the undefeated upstart Adam Kownacki, at the Barclays Center, in Brooklyn, New York. Make no mistake about it, if in shape and motivated, Arreola, can present as a stylistic challenge for Adam. Having said that, the consensus feeling is that such an outcome is unlikely, and the matchmakers have put together this fight because it will be a coming out party for Kownacki against a respectable name. Make no mistake about it, Kownacki will have a huge fan base backing him, and the strong contingent of Polish fans will rename 620 Atlantic Avenue, Kownacki Street.
But buyer beware. Just when everyone thought the Nightmare on Elm Street had seen its better days, Wes Craven crafted the surprisingly good New Nightmare in 1994. In that film, Craven went back to the roots of what made Elm Street so successful, presenting Freddy Krueger as this mysterious figure with claws for fingers, rather than the sad slasher/molester caricature the later films portrayed him as. Does Chris Arreola have a New Nightmare in him for August 3rd?
Stay tuned…
Contact the Feature Writers