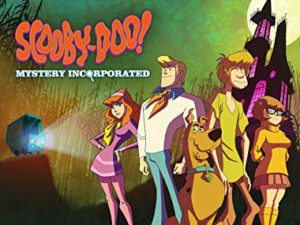 By Geoffrey Huchel
Zoinks! Break out the Scooby Snacks because everyone's favorite Great Dane and his mystery detective friends are celebrating 50 years of mystery solving fun. The cowardly but lovable Scooby-Doo, and those meddling kids; the always hungry and reluctant hero Norville "Shaggy" Rogers, the fashion conscious and danger prone Daphne Blake, the leader and master trap-setter Fred Jones and the brainy and logical Velma Dinkley have been cruising in the Mystery Machine for five decades. Fifty years since their first mystery, they're still investigating haunted places in Coolsville, USA, setting clever traps, being chased by monsters and un-masking villains while still finding time to hang out at the malt shop and get their homework done.
Scooby-Doo is an American animated franchise, comprising of many animated television series and has spawned four live-action feature films, produced from 1969 to present.
Television-The one that started it all, SCOOBY-DOO, WHERE ARE YOU? (1969) was a Saturday morning cartoon series featuring four teenage sleuths and their talking Great Dane, who solve mysteries involving supposedly supernatural creatures through a series of antics and missteps. Although it ran for only 41 episodes, the series proved successful and was the catalyst for future incarnations featuring these beloved characters. One of those future incarnations was THE NEW SCOOBY-DOO MOVIES (1972). This animated series featured real or fictitious guest stars helping the gang solve mysteries. Among the guest stars were Josie and The Pussycats, The Harlem Globetrotters, The Addams Family, The Three Stooges and Batman and Robin. Another reimagining of the series, A PUP NAMED SCOOBY-DOO debuted in September of 1988 as part of the Saturday morning TV lineup. This series followed Scooby-Doo and the teenage sleuths, who were instead depicted as younger versions of themselves. In 1998, Hannah Barbera and Warner Bros. released the direct to DVD animated movie SCOOBY-DOO ON ZOMBIE ISLAND. It was a hit. The release and success of ZOMBIE ISLAND inspired several more direct to DVD animated movies released over the last 20 years, including SCOOBY-DOO AND THE WITCH'S GHOST (1999), SCOOBY-DOO AND THE CYBER CHASE (2001), SCOOBY DOO AND THE LOCH NESS MONSTER (2004), SCOOBY DOO AND THE MONSTER OF MEXICO (2003), SCOOBY DOO! CAMP SCARE (2010) and many other great titles.
The series was brought back again for 2010-2013's SCOOBY-DOO: MYSTERY INCORPORATED! for a total of fifty-two episodes. The series didn't deviate too far from the 1969 original, except it was set in Crystal Cove and the characters were given a bit of an update in contrast to how they originally looked. A change that did occur was the families of the teens were featured in their storylines. Scooby and the gang recently turned up in the 2018 episode "ScoobyNatural" on the hit series SUPERNATURAL (2005). In this episode the Winchester brothers, Sam and Dean (played by Jared Padalecki and Jensen Ackles) are transported into the animated world of Scooby-Doo where they join forces with the gang to solve a ghostly mystery. This episode was highly praised by fans and was regarded as one of the best of the series.
The original voice cast included Casey Kasem as Shaggy, Frank Welker as Fred, Heather North as Daphne, Nicole Jaffe as Velma and Don Messick as Scooby-Doo. In recent years, the gang was voiced by several talented voice artists and actors including Neil Fanning, Scott Innes, Matthew Lillard, Grey Griffin, Kellie Martin, Mindy Cohn and Kate Micucci. Welker has remained the voice of Fred since the very beginning and currently provides the voice for Scooby-Doo in both the animated and live action productions.
Film- In 2002 Scooby and the gang were given the feature film treatment in the live action/computer animated adventure comedy SCOOBY-DOO. The plot revolves around Mystery Incorporated reuniting after a two-year disbandment to investigate a mystery on a popular horror themed resort. The film starred Freddie Prinze Jr. as Fred, Sarah Michelle Gellar as Daphne, Matthew Lillard as Shaggy and Linda Cardellini as Velma. The film grossed $275.7 million and was ranked number one at the box office. Two years later, the sequel SCOOBY-DOO: MONSTERS UNLEASHED (2004) was released. Each of the main cast members returned, and featured Alicia Silverstone, Seth Green and Peter Boyle in supporting roles.
As a diehard fan of the cartoon I was excited that these beloved characters were finally going to have live action versions of themselves, and I knew I would have my own personal opinions as to how they were going be depicted on the big screen. I was really hoping they were going to get it right. After seeing the film, I was satisfied with the plotline. I mean, it was decent, kooky and fun, and it did feel like it was something we'd see in an animated episode. In 2009 the direct to DVD action comedy SCOOBY-DOO: THE MYSTERY BEGINS was released as another incarnation for the franchise. In this film it is explained how the characters met, became friends and ultimately formed Mystery Incorporated. The film starred a new group of young stars including Nick Palatas as Shaggy, Robbie Amell as Fred, Kate Melton as Daphne and Hayley Kiyoko as Velma. The following year, the sequel SCOOBY-DOO AND THE CURSE OF THE LAKE MONSTER (2010) was released to DVD with each cast member reprising their role. Like the first two live action films, the plotlines were decent with enough comedy and hijinks that you'd expect from a Scooby movie. Next up, the iconic characters will return to the big screen in SCOOB!, the 3D computer-animated action/adventure comedy. The film will feature the voices of Will Forte as Shaggy, Amanda Seyfried as Daphne, Zac Efron as Fred, Gina Rodriguez as Velma, with Tracy Morgan, Ken Jeong, Mark Wahlberg and Jason Isaacs as other classic animated characters, and will hit theatres in May 2020.
Besides television and film, Scooby-Doo and Mystery Inc. are featured in many other forms of media including books, video games and live stage shows.
To commemorate its 50th Anniversary, Warner Bros. Home Entertainment will be releasing the classic series SCOOBY-DOO, WHERE ARE YOU on Blu-ray for the first time EVER. This limited edition 50th Anniversary "Mystery Mansion" gift set includes all 41 episodes of the series, plus bonus features both old and new, and some fun extras, including a mini Scooby-Doo Encyclopedia, and much more. Look for it when it hits stores September 3, 2019.
Contact the Feature Writers