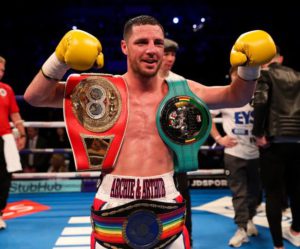 By Donald "Braveheart" Stewart
If world championships were given out for heart, guts and effort, Tommy "Boom Boom" Coyle, 25-5, 12 KO's would be a triple world champion in three areas, a superstar and widely admired. For many UK boxing fans, given his career he is all three.
His last fight, against Chris Algieri in Madison Square Garden proved, beyond any doubt that he had the bravery and the unrelenting desire to keep going. Had his trainer, Jamie Moore not thrown in the towel, like a toy bunny rabbit on a long serving battery, Tommy Coyle would still be swinging today.
There are rumors that he might now quit. There are theories that he might take one last swing at it and get a fight in Las Vegas to close his career. There are, however, certain facts surrounding this Yorkshire Terrier whose bark is just as massive as his bite.
A former Commonwealth champion, Coyle proved that losing should be nothing more than a learning experience. In 2012, Coyle entered the Matchroom Prize fighter tournament where it was quarter finals, semi finals and a final to find the winner. All fights, in one night, were to be over 3 rounds. Coyle faced Gary Sykes in his first fight and lost.
He then went into a battle with Derry Mathews, and lost in 2013, being stopped in the 10th.
Time looked to have given up on him. Then came 2014.
On the 22nd February, in a fight that won round of the year for The Ring Magazine and was a contender for the fight of the year by ESPN, Coyle got a final round stoppage win against Daniel Brizuela. Then he took on Michael Katsidis and knocked him out in the second round!
It allowed Coyle to get a fight with a British golden boy and former Olympic Gold medalist; Luke Campbell.
It was a fight between two fighters from the same city that turned sour. Coyle thought they were friends, Campbell claimed they were just acquaintances. Coyle was taken aback and started to sound very bitter. Coyle hit the canvas four times before he was stopped in the 10th, claiming in an after fight interview that maybe he was only domestic level as a fighter. It was a pity as he had been game enough throughout though the ending was never really in any doubt.
What followed was a domestic title fight with Tyrone Nurse and despite the fact that Coyle had Nurse down at one point, Coyle was not get his hands on a Lonsdale belt. The hinterland of the boxing scene beckoned for him.
But that was too small for the type of personality Coyle happens to be. There's a video online of Eddie Hearn's bare bum. Coming along an escalator, engrossed in his phone and just out the gym he does not see Coyle creeping up behind him but soon realizes he is there because the prankster grabs the waist of his jogging pants and yanks them down!
In the gym, he also hosed down his gym partner, former world champion, Carl Frampton's gym kit with a fire extinguisher.
With a reputation as a bit of a joker it would be easy to dismiss him as a bit of joke, a slugger. When Frampton got in the ring with Coyle and expected that slugfest he got a skilled and very complex boxing match. Despite the persona of a joker, the man in the ring is a studious member of the pugilist's club.
What has hampered Coyle is his confidence. For years, like that interview in the ring after his fight with Campbell, he doubted he could. Others around him couldn't see why that was. Especially after sparring with Carl Frampton, Frampton was convinced he was facing a guy who could win a world title; Coyle is THAT good as a boxer.
But let's go back to his heart. After losing to Algieri, Coyle returned to the UK for his businesses – he has a business in fruit and veg with his father – and his string of boxing gyms trying to get young kids off the streets.
Within hours of landing he was on twitter to thank his fans – putting 100 pints behind the bar for anyone who fancied it! He then discovered that a charity for the homeless, Raise the Roof in his local area had been burgled through their back door. Within an hour Coyle had agreed to cover the losses and pay for a new door – they never asked him.
So the heart is huge, that contest with Brizuela immense, the war with Tyrone Nurse memorable, the American debut against Ryan Kielczweski that stole the show that night remarkable, the win of his career against Sean "Masher" Dodds for the Commonwealth belt a highlight but the fight against a man who had only ever lost to Pacquiao, Khan and Spence was a step too far. It showed that his heart was never bigger than his head and I hope he does get that fight in Las Vegas because there is no bigger venue for a man who has given so much to the grass roots of this sport than Mr Tommy Coyle.
Contact the Feature Writers