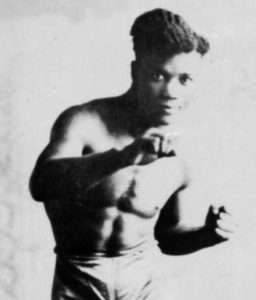 By "Hammerin" Harry Otty
Boxing, more than any other sport, likes to bestow nicknames upon its participants. More often than not the fighter becomes more recognizable due to their ring moniker— "Iron" Mike Tyson, Evander "The Real Deal" Holyfield, James "Lights Out" Toney, Arturo "Thunder" Gatti are some of the more recent examples, while "The Manassa Mauler", "The Brown Bomber", and "The Bronx Bull" evoke images of some of the more devastating fighters from boxing's golden years. Besides the epithet of "Sugar", the most popular 'nom-de-biff' surely has to be that of "Kid".
Boxing history is replete with champions, trial-horses, and fly-by-nights who operated behind the most anonymous of ring names. Kid Gavilan and Kid Chocolate immediately come to mind—both Cuban, both world champions, and both owners of real names which, on the roll-call of boxing greats, do not roll so well off the tongue (Genaro Hernandez and Eligio Sardinias Montalvo respectively).
While there are hundreds of boxers who, for one reason or another, have operated under the name of the 'Kid', there is a very select group of said fighters who, by the sheer volume of fights they had, have etched their names into boxing's record books—the select group of fighters with more than 200 fights to their name.
BoxRec lists 116 names that have achieved such a feat—Harry Greb, Fritzie Zivic, Archie Moore, Willie Pep, Maxie Rosenbloom, and Benny Leonard being the most recognizable names on the list to even casual boxing fans with Sam Langford, Benny Bass, Tod Morgan, Dave Shade, Tommy Freeman, Midget Wolgast and Len Wickwar being less well-known. But, out of this select group, only eight fighters are listed with the ring name "Kid".
Only two of them won world titles, one also made the record books for fighting across five decades, one fought in every division from flyweight to heavyweight, and one of them (for many years) was the 'losingest' fighter in boxing. For a little fun, and entertainment, I have taken these eight 'Kids' and have ranked them in the following categories: Number of fights, number (and percentage) of career wins, number (and percentage) of career KOs (based on wins and by total bouts). Points were allocated as 10 for the highest score, down to 3 for the lowest score.
The eight "Kids" (with more than 200 fights) are:
Kid Azteca (Luis Villanueva Paramo)—Welterweight—Mexico
Alabama Kid (Clarence Olin Reeves)—Light-heavyweight—USA
Kid Beebe (Frank Brono/Bono/Bieber/Frank Beaber/Isadore Bieber)—Featherweight—USA
Cocoa Kid (Herbert Lewis Harwick)—Middleweight—Puerto Rico
Ted Kid Lewis (Gershon Mendeloff)—Welterweight—England
Arnold Kid Sheppard (Arnold Alonzo Sheppard)—Lightweight—Wales
Kid Socks (George Joseph Stockings)—Featherweight—England
Kid Williams (Jonathon Gutenko)—Bantamweight—Denmark
Kid Williams, Kid Bebbe, and Ted Kid Lewis are the earliest operators on this list, the three of them fighting during the No Decision era. As a result, a decent percentage of their records consist of fights where no official decision was rendered—an issue which, ordinarily, complicates matters slightly when comparing win and KO percentages. However, (thanks to many dedicated boxing historians and researchers), BoxRec and the 1986/87 Ring Record Book lists the contemporaneous Newspaper Decisions for the bouts were a decision would not have been given by judges.
For the first part of this article I will present the Kid with the most fights and the Kid with the most wins. In the second part, I will continue with the remainder of the list of 'Kids'—including the one who scored the most KOs—and will present a table showing a final points tally and standings for the greatest 'Kid' with 200 or more fights.
MOST FIGHTS: 307 and MOST LOSSES: 171
Arnold "Kid" Sheppard
Arnold Alonzo Sheppard was born 14 May, 1908 in the docklands area of Cardiff, Wales. His father (Alonzo) was a ships cook from Barbados and his mother (Beatrice) was a local girl. Arnold was brought up in a tough neighbourhood where fighting was as natural as walking. He worked a demanding job down the mines in Ferndale—around 20 miles north-west of his birthplace. He started boxing in 1926 and in a 13-year career fought all over England, often engaging in a fight a week (sometimes two). His last recorded bout was June 29, 1939—a points loss to George Merritt at Mile End Arena. After boxing he joined the war effort and served in the Merchant Navy for the duration. Although never really considered championship material—his longest streak without a loss being 12 fights (8 wins and 4 draws between November 1927 and April 1928)—Arnold fought during the period of the colour bar in the UK. So, as a black fighter, he would not have been allowed to contest a title. He died at Claybury psychiatric hospital, Kent in 1979 after suffering eyesight problems and dementia, most likely caused by a long ring career.
With 155 recorded defeats, Kid Sheppard had more losses than any British boxer in history until Peter Buckley surpassed him in recent years—with 256 defeats from 300 bouts. For many years the Ring Record Book listed Sheppard as the record holder for most defeats. And, while Kristian Laight now holds that record with 279 (from 300 bouts), Arnold Kid Sheppard goes down in history as the 'Kid' with the most fights and the 'Kid' with the most losses.
MOST WINS: 234
Lewis (born Gershon Mendeloff in St. George's London, October 28, 1893) is generally credited with being one of the greatest fighters to be born in the UK. With a career stretching from 1909 to 1929 Lewis is perhaps best remembered for his marathon series against Jack Britton (another all-time-great who had amazing 350 fights). He is also considered to be one of the first (if not the first) fighter to use a mouth guard. Starting his career at 15 (with two losses), Kid Lewis was British and European champion by the age of 18—by which point he had taken part in excess of 130 fights.
In 1915 he won the welterweight championship of the world from Jack Britton in what was the second of their 20 meetings. Lewis would successfully defend the title eight times before losing it to Britton in April 1915. It would then take him three attempts to get it back from Britton—finally regaining the title via a 20 round decision in June 1917. It then took Britton three attempts to get the crown back—via ninth round KO in March 1919.
Lewis moved up in weight and, in September 1919, failed in attempt at the middleweight crown held by Mike O'Dowd. The fight going the 10-round distance to a No Decision. A middleweight title win at domestic level in the UK was as close as Kid Lewis got to a title above welterweight.
In November 1921 he lost a title challenge to Noel McCormick in London, this time at light-heavyweight. This was followed by a disastrous challenge for George Carpentier's light-heavyweight world title (May 1922)—Lewis being knocked flat in under a round by the Frenchman.
Ted "Kid" Lewis was still good enough, and light enough, to contest (and win) the British, European, and Commonwealth welterweight and middleweight championships between 1922 and 1924. The last three years of Kid Lewis' career was a bit of a mixed bag. Fighting in the UK, US, South Africa, and Canada he won two via decision, nine via KO, lost two inside the distance and fouled out five times. His last fight was a third-round KO of Johnny Basham in London (December 13, 1929). He died October 20, 1970 in London, a week shy of his 77th birthday.
Ted "Kid" Lewis was was inducted into the Ring Boxing Hall of Fame in 1964, the Jewish Hall of Fame in 1983 and the International Boxing Hall of Fame in 1992.
Contact the Feature Writers