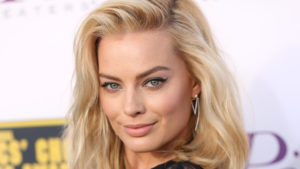 By Geoffrey Huchel
What do Harley Quinn and Tonya Harding have in common? Besides being notorious figures, they've both been portrayed by the same person-Margot Robbie. By now, I'm sure you've heard the name Margot Robbie- the incredibly talented and beautiful Aussie actress has appeared in many acclaimed films and starred opposite some of Hollywood's biggest stars. A working actress since 2007, Robbie has built a prolific body of work, earned several major award nominations and has built a legion of faithful fans.
Margot Elise Robbie was born on July 2, 1990, in Dalby, Queensland, Australia, where, at age seventeen, began acting professionally. While in her native Australia, Robbie starred in two feature films, I.C.U. (2009) and VIGILANTE (2008). Robbie impressed the director of I.C.U. with her audition, she won the lead role without an agent. In addition, Robbie also appeared in commercials and won guest-starring roles in THE ELEPHANT PRINCESS (2008) and CITY HOMICIDE (2007). A guest spot on the series NEIGHBOURS (1985) turned into a regular role for the actress. Robbie left her role on the series to pursue an acting career in Hollywood.
Margot Robbie called, and Hollywood answered! After arriving in Los Angeles for pilot season, Robbie auditioned for the new series CHARLIE'S ANGELS, but was preferred for a role in the ABC drama series PAN AM (2011), alongside Christina Ricci. Robbie landed the role of Laura Cameron, a flight attendant. The series, however, was cancelled after one season (a total of 14 episodes) due to falling ratings. Following PAN AM, Robbie began winning roles in feature films. She was cast in the romantic comedy ABOUT TIME (2013), with Domnhall Gleeson, Rachel McAdams and Bill Nighy. Her next role was as Naomi Belfort, the wife of Jordan Belfort in Martin Scorsese's THE WOLF OF WALL STREET (2013), starring Leonardo DiCaprio. Critics praised Robbie's performance and led to a nomination for the MTV Movie Award Breakthrough Performance and won the Empire Award for Best Newcomer. Her next role was in the sci-fi drama Z FOR ZACHARIAH (2015), with Chiwetel Ejiofor and Chris Pine. Her next film was the comedy crime drama FOCUS (2015), playing Jess, an amateur con artist opposite Will Smith. The following year, Robbie starred as British TV journalist Tanya Vanderpoel in WHISKEY TANGO FOXTROT, with Tina Fey, Jane in THE LEGEND OF TARZAN, with Alexander Skarsgard, and brought the iconic comic book villain Harley Quinn to life in SUICIDE SQUAD. The film reunited her with Will Smith and costarred Jared Leto and Viola Davis.
In her next role the actress starred as notorious American Olympic figure skater Tonya Harding in the biographical comedy drama I, TONYA (2017). Robbie was phenomenal in her portrayal of the controversial Harding, known for her involvement in one of the most infamous and talked about controversies in American history. The film, Golden Globe nominated for Best Picture-Musical or Comedy, costarred Sebastian Stan and Oscar winner Allison Janney. Robbie's portrayal of Tonya Harding earned her an Oscar nomination for Best Actress in a Leading Role and a Golden Globe nomination for Best Actress. Also, in 2017, Robbie starred as Daphne Milne in the biographical drama GOODBYE CHRISTOPHER ROBIN, focusing on writer AA Milne's relationship with his son, Christopher Robin, and how this became the inspiration for Winnie the Pooh. Robbie's costars were Domhnall Gleeson and Kelly Macdonald. Robbie's next film was the crime drama TERMINAL (2018), starring Simon Pegg, Mike Myers and Max Irons. She provided her voice for the role of Flopsy in PETER RABBIT (2018) and portrayed Queen Elizabeth I in MARY QUEEN OF SCOTS (2018), with Saoirse Ronan.
Robbie's next film, Quentin Tarantino's ONCE UPON A TIME…IN HOLLYWOOD (20 19), will hit theatres July 25. In ONCE UPON A TIME Robbie portrays slain actress Sharon Tate, and co stars Oscar winner Leonardo DiCaprio and Brad Pitt. In the coming year, Robbie will star in BIRDS OF PREY (AND THE FANTABULOUS EMANCIPATION OF ONE HARLEY QUINN), where she'll return as Harley Quinn, and the live-action BARBIE. Robbie has several films in the works including THE SUICIDE SQUAD, RUIN, QUEEN OF THE AIR, MARIAN, GOTHAM CITY SIRENS, and BAD MONKEYS.
I'm still holding out hope that Margot Robbie will star in a movie with Michelle Pfeiffer- in any genre, in any character combination…It just NEEDS to happen!!
Essential Robbie:
THE WOLF OF WALL STREET (2013) SUICIDE SQUAD (2016) THE LEGEND OF TARZAN (2016) I,TONYA (2017) GOODBYE CHRISTOPHER ROBIN (2017) ONCE UPON A TIME…IN HOLLYWOOD (2019)
Contact the Feature Writers