[AdSense-A]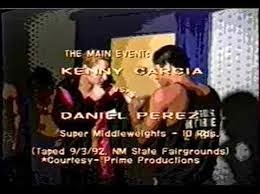 By Daniel Sisneros
After going 89-12 as an amateur, Daniel Perez of Albuquerque, New Mexico turned professional on Feb. 17, 1989 and scored a tko in round 1 over Javier Hurtado. He ran off a string of impressive victories leading to an NABF Super middleweight title shot, losing by decision to Champion Warren Williams in Cancun, Mexico. He then ran off a string of 4 big wins, including an impressive decision over undefeated Gerry Payne.
He got his World Title shot against Nigel Benn, and even though it was on very short notice, he took the challenge and faced the Champion in Wembley Stadium. After rocking the champion early in the fight, Benn eventually stopped Perez in round 7.
Purchase Dan's Hit Boxing Book Mat Tales: True Stories From The Bizarre, Brutal World Of Pro Boxing by Clicking the Image to ORDER it Now.