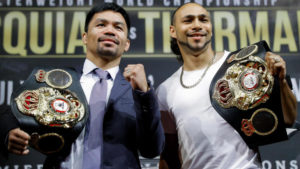 By Anthony "Zute" George
Manny Pacquiao, 67-7-2, 39 KO's, takes on Keith Thurman, 29-0, 22 KO's, Saturday night at the MGM Grand, in Las Vegas, Nevada. The contest is for the WBA Super World Welterweight Title. The fight can be seen on PBC pay per view.
This fight will be One Time Thurman's first time headlining a pay per view event. Indeed, there will be a lot of pressure on Keith, not only to win but to produce big pay per view numbers. For Manny Pacquiao, just the fact that he is willing to take on such a young thoroughbred at the age of forty is a victory for him. However, moral victories are not what Pac Man is seeking. Expectations for this fight range anywhere from Pacquiao will school Thurman, to the Old Man having little chance.
What else is interesting about this fight is that neither one of these fighters are considered the best welterweight by most boxing pundits, even though a big title is at stake. Both Terence Crawford and Errol Spence, JR. are typically ranked higher than both combatants Saturday night. Keith Thurman takes umbrage with this mindset. As he should. How many people would give Pacquiao a chance against either Crawford or Spence, while quite a few people give Manny a chance Saturday night? It might be an annoyance, but it is not anything Keith Thurman will change. Which makes this fight a massive risk for him. If he wins, he beat an old man, and chants of, he would never have beaten a prime Pacquiao, would ring out. If he loses, well…
Can Keith Thurman lose this fight? Let us take a look at the fighters.
Manny Pacquiao:
The Pros:
Throws a high volume of punches with power in both hands; a rare trait. Cuts off the ring excellently. Deceptive, comes at you with angles, when it appears that he is coming straight in. Can use the ring effectively when need be Good inside fighter. Battle-tested; he has seen it all. Will be a huge crowd favorite, giving him the edge in close rounds.
The Cons:
Does not appear to have that power anymore, save for Lucas Matthysse, who was doing his best imitation of Sean Penn, Manny has not had a stoppage win since 2009. Vulnerable to the counter right hand. Does not appear to have a plan B, while Pacquiao is a decent boxer. If his opponent neutralizes his swarming style, he has no other way to win, everything Pacquiao does is to set up his volume punching.
Keith Thurman:
The Pros:
Great one punch power with the right hand. Has faced strong competition. Great boxer, he can fight backing up, on the inside and lead from distance. Fights tall despite being under 5'8; a rare trait. Creative when first. Better than average defense. Accurate and economical with his punches.
The Cons:
Is vulnerable to body shots. Has had a long layoff from a bad injury. While he looked much better than what was the narrative in his comeback fight, he was not taken to the trenches in that fight in a way Pacquiao might be able to take him. If he is taken to those trenches, will the surgeries hold up? Not admired, for whatever reason, therefore, will have a hard time winning a fight that is close on the scorecards.
Will a hyped-up crowd be enough for Manny Pacquiao to prevail? Probably not, as even if Manny drinks from the fountain of youth for this fight, Keith Thurman is always going to be a bad matchup for him. For anyone for that matter. Why a lot of people still do not see this is puzzling. Perhaps their eyes will open a bit wider Saturday night.
Prediction:
Manny Pacquiao has two paths to victory, Thurman's body failing him, and winning a close fight where he steals more rounds than actually wins them; I would say there is about a thirty percent chance of happening. Otherwise, we are going to see a legend fall hard. The biggest story of this battle is that what Manny Pacquiao is vulnerable to, a counter right, Thurman does very well. While what Keith has been susceptible to, body shots, is Manny's strengths, not even close. The fact that Manny is a southpaw does not mean much in this fight either, as Thurman was electric against Robert Guerrero and Marcus Luck, both southpaws.
Also, Thurman will be in a unique position of fighting against an opponent who is significantly shorter than him. The equivalent of giving a kid the keys to the candy store. Unlike against Danny Garcia, Keith Thurman will not ease off the pedal after getting off to a fast start, by doing so, the fight against Danny was much closer than it needed to be. A cerebral man, Thurman must know the judges are not going to do him any favors, and he will fight as such and stop Manny Pacquiao around the eighth round.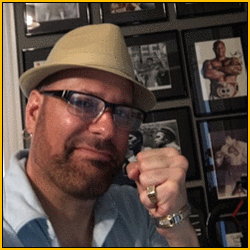 Contact the Feature Writers