Loading ...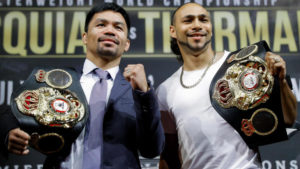 By Rich "Lite It Up" Lopez
It's fight week in Las Vegas once again and Manny Pacquiao is back again. From what I'm gathering this fight is split between who's going to win. The odds favored Keith Thurman at first but now that it's getting closer to the fight the slight favorite is Manny Pacquiao. This might be due to Manny's desire to train hard and show that he really wants to win. Also due to the inactivity and last performance of Thurman, this might have swung fans into believing Pacquiao will win this fight.
Manny "Pacman" Pacquiao, 61-7-2, 39 KO's, is a legend in the sport. It's quite impressive that he can still perform at a top level today. Let's face the facts, Pacquiao has not clearly lost a fight since he got knocked out by Juan Manuel Marquez back in 2012. That was almost seven years ago. Sure he lost to Floyd Mayweather, JR. in their super fight in 2014 that turned into a dud, but the fight was very even.
Neither fighter did much in that fight. Pacquiao threw less punches than usual and Floyd did more running than usual. The other loss on Pacquiao's record was to Jeff Horn back in 2017 and we all know he got robbed in that fight. The 40 year old Pacquiao will be fighting his 71st professional fight in a long hall of fame career. I have heard fans and even some critics say he should retire or they are tired of seeing him. I'm the complete opposite. I enjoy his fights and he brings excitement to boxing. So far I have not seen anything from him that shows that he truly aged. Even though Pacquiao was expected to beat Adrien Broner earlier this year, he did it with ease. However Keith Thurman is no Adrien Broner.
Keith "One Time" Thurman, 29-0, 22 KO's, is in the prime of his career at the age of 30. He recently came back earlier this year with a majority decision win over Josesito Lopez. Thurman was coming off almost a two year layoff and looked rusty in the Lopez fight. He was even hurt in round seven and seemed in the verge of being knocked out. Thurman fought through it and won the fight. Prior to the layoff Thurman was the top welterweight of the division and we should acknowledge that. He has big wins over Shawn Porter and Danny Garcia. What makes him dangerous, is that he has the ability to brawl and box.
I believe the fight will be competitive with some back and forth action. Thurman will have an aggressive start to make a statement and will try to knockout Pacquiao. Once Pacquiao gets going and Thurman feels the speed and power, I believe Thurman will be more defensive. I also see Pacquiao being cautious, as he will be aware of Thurman's power. Pacquiao will take the lead in the fight in the mid rounds. As we get into the late rounds, Thurman will try to rally back to catch up in points, but I think it will be too late. Thurman does have power to knockout Pacquiao, but I think if Manny gets hurt, he will recover and stay in the fight.
My final prediction: Manny Pacquiao wins by majority decision. To sum it up, I feel Manny has something left and will prove it on Saturday night. It won't be easy for Manny though. Keith Thurman only wins the fight if Manny's age finally shows up.
In the end, Keith Thurman has everything to lose in this fight. Thurman was the number one welterweight before his layoff but Terrance Crawford and Errol Spence, JR. have taken over the division. A win over a big name like Pacquiao would put Thurman back as the number one welterweight in the division. A lost to Pacquiao could set his career back even more. Manny Pacquiao has nothing to lose. He is already a first ballot hall of famer and will go down as one of the best fighters of all time.
Questions going into the fight. Will Keith Thurman prove why he is the best welterweight in the division? Will father time finally catch up to Manny Pacquiao? Will Manny Pacquiao add another win to his legendary career?
We will find out this weekend what's in store for us.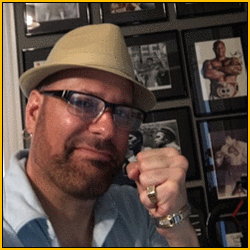 Contact the Feature Writers