[AdSense-A]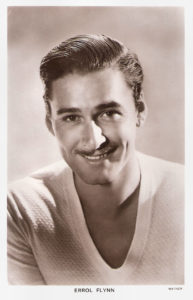 By Geoffrey Huchel
Australian-born American actor Errol Leslie Thomson Flynn, known as Errol Flynn, was born on June 20, 1909 in Battery Point, Tasmania, Australia. With over 60 credits Flynn achieved worldwide fame for his romantic swashbuckler roles in Hollywood films and his frequent partnerships with screen legend Olivia de Havilland.
Before becoming one of Hollywood's leading men, Flynn began acting in Britain. He was cast as an extra in the film I ADORE YOU (1933), produced by Irving Asher for Warner Bros. Soon after he secured a job with the Northampton Repertory Company, where he worked and received training as a professional actor for seven months. Northampton is home to art-house cinema named after him, the Errol Flynn Filmhouse. Asher cast Flynn as the lead in MURDER AT MONTE CARLO (1935). The movie was not widely seen but Asher was enthusiastic about Flynn's performance and cabled Warner Bros. in Hollywood, recommending him for a contract. Executives agreed and Flynn was sent out to Los Angeles. When he arrived in Los Angeles, Warner Bros. publicly described him as an "Irish leading man of the London stage."
Flynn's first appearance was a small role in THE CASE OF THE CURIOUS BRIDE (1935). His next film was the crime drama MURDER AT THE MONTE CARLO (1935), followed by DON'T BET ON BLONDES (1935), a B-picture screwball comedy. Warner Bros were preparing a big budget swashbuckler, CAPTAIN BLOOD (1935). The role of Peter Blood went to Flynn, and marked the first time he was cast opposite de Havilland. Flynn's next role was as Major Geoffrey Vickers in the action adventure THE CHARGE OF THE LIGHT BRIGADE (1936), again starring opposite Olivia de Havilland. The following year Flynn appeared in four films; THE PRINCE AND THE PAUPER, with Claude Rains, the comedy THE PERFECT SPECIMEN, with Joan Blondell, the drama GREEN LIGHT, with Anita Louise, and ANOTHER DAWN. Flynn was cast opposite another screen legend, Bette Davis, for the drama THREE SISTERS (1938). The same year, Flynn starred in the war drama THE DAWN PATROL, with Basil Rathbone and David Niven.
Flynn followed with his most famous movie, THE ADVENTURES OF ROBIN HOOD, playing the title role opposite Olivia de Havilland's Maid Marian. The film was a worldwide success. It was the 6th-top movie grosser of 1938. Flynn's last film of the 1930s was the romantic comedy FOUR'S A CROWD, with Olivia de Havilland and Rosalind Russell. Flynn made his first Western DODGE CITY (1939), playing Wade Hatton, and costarring de Havilland and Ann Sheridan. Flynn was reunited with Davis, Curtiz and de Havilland in THE PRIVATE LIVES OF ELIZABETH AND ESSEX (1939). In 1940, Flynn was voted the fourteenth-most popular star in the U.S. and was the fourth-biggest star in the U.S. and the fourth-biggest box office attraction overseas as well. This was the era when Errol Flynn was one of Warner Brothers' consistently top stars. He was cast in another Western, VIRGINIA CITY (1940), a follow-up to DODGE CITY. For his next film, THE SEA HAWK (1940), Flynn was cast as Geoffrey Thorpe, a buccaneer hired by Queen Elizabeth I to nag the Spanish Armada. The film costarred Brenda Marshall and Claude Rains. He starred in the Western SANTA FE TRAIL (1940), with de Havilland and Ronald Reagan, followed by the drama THEY DIED WITH THEIR BOOTS ON (1940), playing George Armstrong Custer, and costarring de Havilland, making this the last of twelve movies they made together. Flynn starred as Flight Lt. Terrence Forbes in the war drama DESPERATE JOURNEY (1942), with Ronald Reagan.
A hit for Flynn was his next film, EDGE OF DARKNESS (1943), playing a Norwegian resistance fighter. He had a cameo in Warner's all-star THANK YOUR LUCKY STARS (1943), singing a song. In UNCERTAIN GLORY (1944), a war-time drama set in France, Flynn played a criminal who redeems himself. Flynn took a break from dramas and tried comedy again in NEVER SAY GOODBYE (1946), a comedy of remarriage opposite Eleanor Parker. 1947's CRY WOLF was a thriller with Flynn in a seemingly more villainous role as Mark Caldwell opposite Barbara Stanwyck. His next film was the Western SILVER RIVER (1948), with Ann Sheridan. Flynn returned to swashbucklers with the result being ADVENTURES OF DON JUAN (1948). He was borrowed by Metro-Goldwyn-Mayer to appear in THAT FORSYTE WOMAN (1949), which made $1.855 million in the U.S. and was the 11th-biggest hit of the year for MGM. After a three-month holiday he made two Westerns for Warners, MONTANA (1950) and ROCKY MOUNTAIN (1950). He returned to MGM for KIM (1950), one of his most popular films from this period and MGM's 5th-biggest movie of the year and 11th overall for Hollywood.
In 1951, he signed a one-picture deal with Universal, in exchange for a percentage of the profits for AGAINST ALL FLAGS, a popular swashbuckler. While in England, he made another swashbuckler for Warners, THE MASTER OF BALLANTRAE (1953), making this film his last with Warners, who ended their contract with him and their association that had lasted 18 years and 35 films.
Flynn relocated his career to Europe. He made the swashbuckler CROSSED SWORDS (1954), THE STORY OF WILLIAM TELL – not completed (1954), THE DARK AVENGER (1955), and KING'S RHAPSODY (1955). Flynn received an offer to make his first Hollywood film in five years: INSTANBUL (1957), for Universal. He made a thriller set in Cuba, THE BIG BOODLE (1957), then had his best role in a long time in the blockbuster THE SUN ALSO RISES (1957) for producer Darryl F. Zanuck. Toward the end of his career Flynn appeared in the crime drama ISTANBUL (1957), the drama TOO MUCH TOO SOON (1958), the adventure drama THR ROOTS OF HEAVEN (1958), and CUBAN REBEL GIRLS which was his last movie (1959).
Flynn also made a few TV appearances on THE RED SKELETON HOUR (1951) and GOODYEAR THEATRE (1957).
Flynn was never nominated for any major awards during his lengthy career however, he received a Star on the Hollywood Walk of Fame for Motion Pictures and Television.
Errol Flynn died on October 14, 1959 in Vancouver, British Columbia, Canada of a heart attack at the age of 50.
Essential Flynn:
THE ADVENTURES OF ROBIN HOOD (1938) FOUR'S A CROWD (1938) SANTA FE TRAIL (1940) THEY DIED WITH THEIR BOOTS ON (1941) EDGE OF DARKNESS (1943)
THE SUN ALSO RISES (1957)
Contact the Feature Writers