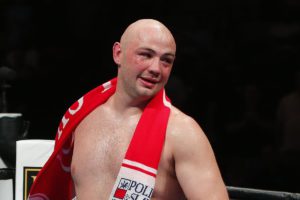 By Anthony "Zute" George
Heavyweight contender Adam Kownacki, 19-0, 15 KO's, faces grizzled veteran Chris Arreola, 38-5-1, 33 KO's, on August 3rd, at the Barclays Center in Brooklyn, New York. It is a significant fight because Adam is putting his top-five ranking in both the WBC and IBF on the line, and this is also a fight where 'Babyface' will be featured on the FOX network, a dynamic that has not been lost on Adam, "Fighting for the PBC is great because you get national exposure on FOX. It is great to have all eyes on you," Adam stated.
The fruits of Adam's labor have been rewarding yet laborious. Adam indicated that he "started boxing at the age of 15," and watching fellow Polish heavyweight Andrew Golota really got his juices flowing. That experience set the groundwork for what Adam really wanted to do. "I won the New York Golden Gloves as an amateur and turned pro, I am having a career doing what I love," Adam indicated.
Indeed, Adam was able to make his boxing bones in the Big Apple because he moved from Poland to Brooklyn at a young age; a borough that has its own set of hard knocks. "Growing up in Brooklyn is great, you learn how to be street smart and how to survive," is how Adam described the diverse borough that has produced heavyweight talent such as Mike Tyson, Riddick Bowe and Michael Moorer, although Double M was raised in Pennsylvania.
The streets of Brooklyn are not the only place Adam has been tested, as he already has had his fair share of tough fights inside the squared circle. In 2017, he battled fellow Polish star, Artur Szpilka, who was also a southpaw, rare in this division. Adam stopped Artur in four rounds, of that fight, Adam said, "It proved I was for real and the best Polish heavyweight." Adam's exposure to a tough southpaw helped prepare him to also defeat another tricky southpaw, Charles Martin. "My trainer Keith Trimble helped me get ready for southpaws, and I sparred with southpaws in camp," Adam explained.
But neither Szpilka nor Martin is credited by Adam as his toughest fight, "Every fight is tough. But my hardest was probably Charles Ellis. It was at crossroads of my career. Just started with a new trainer and it was a fight for me that was to be or not to be," Adam indicated. He did manage to stop Charles Ellis in five rounds. In indicating this fight, Adam brings up an essential aspect of the boxing game, his advice to youngsters looking to box, "Find a good coach. I think that is very important."
Indeed, once Adam found the right coach, he has progressed nicely. So much so that when Jarrell Miller literally pissed away his big opportunity against heavyweight king Anthony Joshua, it was Kownacki's name that surfaced all over social media as a possible replacement before Andy Ruiz, JR. But was there a real offer to fight Joshua? "No real offer was ever made, and I was not in shape to take the fight," was how Adam answered that question. After Joshua succumbed to Ruiz, JR., did Adam wish there was a serious offer that he was in shape to take, "No. Because I know my time will come," Adam answered.
That time will start with a big win over Arreola. A fight that Adam describes as one that "will be a very exciting fight." Adam highlights a very productive 2018 as a significant reason why he will prevail on August 3rd, "I think my biggest strides were made in the last year. Where all those hours of training and learning clicked together." Adam says he wants to come into this fight weighing around 260/265 pounds, as that is a weight, he feels good at; against Szpilka he weighed 242 pounds, for Martin, Adam tipped the scales at 263 and ¼ pounds. Adam is also looking at this fight through an ambitious lens, stating, "I want to stop Arreola faster than Wilder did." Against Wilder, the Nightmare did not answer the bell for the ninth round.
Only an impressive win over Chris Arreola in invigorating fashion will help push the envelope for Adam Kownacki. The harsh reality of the situation is this is a fight, while it should be exciting and competitive while it lasts, Adam is supposed to win, all things being equal. Only a performance beyond expectations, one that creates social media buzz and water cooler talk; if such a thing still exists, will push the needle in Adam's favor for a title shot this year. As the heavyweight division is quite congested.
The good news for Team Kownacki is that the kid seems aware of this fact and is approaching August 3rd as a 'daring to be great' moment. At the same time, Babyface presents as levelheaded enough to know he has an impressive waiting line to stand on in the heavyweight division, and if need be, he is willing to put in the work beyond one year for that coveted title shot. For now, all his focus is on a still dangerous old pro.
Stay tuned…
Check out "Zutes Boxing Talk", which airs every Wednesday live from 7PM to 9PM ET. The show is dedicated to discussing the sweet science straight up with no twists. "Zute" has interviewed boxing legends such as Carlos Palomino, Mike McCallum, Pernell Whitaker, Jeff Fenech, Buddy McGirt, Mark "Too Sharp" Johnson, Marvin Camel and Eddie Mustafa Muhammad. As well as today's stars like Danny Garcia, Sergey Kovalev, Regis Prograis, Teofimo Lopez and Gary Russell, JR.
Follow the link to listen live or catch archived shows
Contact the Feature Writers