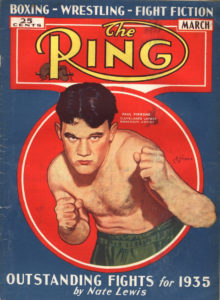 By "Hammerin" Harry Otty
Cleveland, Ohio has produced some of the toughest and most talented boxers in the history of the sport. From world champions like Joey Maxim to avoided contenders such as Jimmy Bivins and Lloyd Marshall. Some of the lesser-known fighters from the city also managed to make their mark, be it contending a world title or by virtue of being a stern test for any up-and-comer.
Paul Pirrone, who grew up on Plymouth Ave., was your typical, rough, tough, no nonsense fighter—and a stern test for anyone.
According to earlier records he started out in 1928, but according to his record on Boxrec.com he initially joined the pro ranks as a fresh-faced 16 year-old in 1926. If this is correct, he gave away four years in age plus two years and 30 fights experience to Jimmy Trannett—little wonder he lost. The shaky start seemed to have put him off fighting for a living as it was two years before he was back in the ring.
Like most of the good and great fighters from Cleveland, 'Poison' Paul Proone, as he came to be known, started out the hard way, but by the end of 1928 he was showing some promise. Between February and November that year he went 10-3, 7 KO's—two losses being on points over six rounds and one for a DQ (for a low blow). In October of the same year he married Antoinette Faya—who, like Paul, was born in Cleveland to an Italian father. Married life seemed to agree with him, he closed the year with two quick wins and opened 1929 in a similar fashion.
Pirrone's started out so well that there were expectations of him emulating fellow Cleveland legends Johnny Kilbane, Carl Tremaine or Johnny Risko. Due to the aspirations of his management—Joe Lewis and Eddie Mead—and the increased demands of being a family man, he was rushed along early in his development. In his 17th fight he was put in with the experienced Jimmy Goodrich. The Scranton Pa. born lightweight, having in excess of 170 fights (107-40-22, 11 KO's), was too good for the relative newcomer and won over 10-rounds. The young Clevelander bounced back by defeating the more experienced Russie LeRoy and Billy Drako before he was injured when working out with Joe Dundee in June 1929. Dundee was in training for his NBA welterweight title fight with Jackie Fields—booked for Detroit (July 25, 1929). During a sparring session, Dundee accidentally struck Pirrone on the spine. Paul was forced to take three months off from training—something which his managers felt did him more good than harm—before coming back to defeat novice Joe Bezenah (in what could only have been a trial bout). The enforced hiatus also provided Paul quality time with his daughter, Anna Marie, who was born that May.
Around this same period, Eddie Mead went off to manage Buck McTiernan of Pittsburgh, leaving Lewis to carry on with Pirrone. Lewis was still convinced that his charge had the goods, and his faith appeared justified as Pirrone started to chew through the opposition. Jack Zivic, Dorey Shimar, and Andi DiVodi (amongst others) were defeated before the invigorated Italian gained revenge over Goodrich in Cleveland (8 April, 1930). According to the Cleveland Plain Dealer, Pirrone won every one of the 10 rounds.
However, Pirrone suffered another down-turn in his career when he lost six out of his next 12 fights. To be fair, he was still mixing in excellent company and the losses were to the likes of Sergeant Sammy Baker, Bucky Lawless, Jackie Fields, Young Corbett III, Gorilla Jones and Lou Brouillard. With the family increasing in size, Paul continued to take a pay-day wherever and whenever he could get one. 12 wins, two defeats and one draw—between September 1931 and August 1932—put Pirrone on the up again. Again, the two defeats came against experience opperators—Lou Brouillard (lost DQ) and Sammy Slaughter (LKO5). Wins against Alabama Kid and Marty Simmons provided a glimmer of hope that he was once again headed in the right direction. However, another inside-the-distance loss to Sammy Slaughter and a strange TKO defeat to NYSAC World Middleweight champion, Ben Jeby, in Cleveland took the shine off recent progress.
Against Jeby, Pirrone was dropped nine times in the first five rounds and appeared to have quit at the start of the sixth stanza when he remained seated for an additional nine seconds. At the bell, Jeby advanced to Pirrone's corner and demanded he continue. After a few seconds of confusion, Pirrone advanced to the center of the ring, but Jeby's seconds insisted their man be declared the winner. It took the boxing commissioners present 15 minutes to agree with them.
Although he had recently acquired sole ownership of Pirrone's contract from Joe Lewis—for $3,500—Eddie Mead felt that the beating from Jeby was enough and that Paul should maybe consider getting a proper job. Pirrone refused to pack it in, he was still only 23 and felt he could still make something of his chosen profession. A first round KO of Patsy Pollock in Cleveland (a mere three weeks after the drubbing from Jeby) appeared to justify Pirrone's position but, as was typical of his roller-coaster career, the high was not to last too long. A loss to Jack Dempsey's protégé, Carl Montabano in Pittsburgh, a win against Young Johnny Burns, a loss to Antonio Dominguez (in a six-rounder at Madison Square Garden), a revenge win against Montabano and a loss to Teddy Yarosz established a now familiar pattern in Pirrone's career.
At the end of 1933 the Clevelander was 47-19-3 in total and decidedly mediocre 4 wins (3 KOs)—4 losses (1 KO) for the year. These numbers are indicative of Pirrone's career—win some, lose some, but always in a good scrap. A first round KO of Tony DeMarco (January 22, 1934) and a TKO win over Tait Littman (just four days later) got the year off to a great start, but losses to Alabama Kid (February) and Frank Battaglia (March) were—as Yogi Berra may have put it; 'Deja-vu all over again'. The Clevelander just couldn't get any kind of a winning streak together.
Then, on April 30, 1934, fortune seemed to smile on Paul Pirrone. Ben Jeby didn't show for a scheduled 10-rounder at the Convention Hall in Philadelphia and the promoter was frantically searching for an 11th-hour replacement. Eddie Mead was asked if Pirrone was available, Mead said he was—for $250 plus travelling expenses. It didn't seem to matter that the opponent was Ken Overlin—a payday was a payday. While his team preached caution, Pirrone was full of confidence. He told Mead that he would 'Go in and stop him"; he almost did. According to the Philadelphia Inquirer, Overlin (47-7-2) was down twice in the second, once in the seventh and was hurt in the fifth and the tenth. Pirrone came away with a unanimous points win and a decent scalp.
Just five weeks later, Overlin won a rematch in Norfolk, West Virginia over 10-rounds. Despite that loss, Pirrone—who told his management he had "found himself"—seemed to have turned a corner. Between the loss to Overlin in June (1934) and the end of that same year, Pirrone went 12-0. He won six via the short-route, with four of those coming against Jimmy Smith, Young Terry, Bucky Lawless, and Mickey Walker (whose record was 125-22-6, 56 KO's). The stoppage victory over 'The Toy Bulldog' was Pirrone's second win over the middleweight great. According to the Philadelphia Inquirer, Walker won the 8th, 9th and 10th rounds, but had been down in the 2nd and was bleeding from cuts over both eyes. Pirrone applied the finisher—a left hook to the jaw— in the 11th. The two victories over Walker topped off a year which saw Pirrone leap to third spot in the middleweight rankings (topped by Marcel Thil as champion and Teddy Yarosz as number one contender).
A familiar, rocky-start to the year (1935) saw the invigorated Pirrone lose decisions to Vince Dundee and Babe Risko. He followed those with nine wins on the spin—including a revenge win over Risko—before hitting the skids again. He closed 1935 with Losses to Frank Battaglia and Erich Seelig. Perhaps the highlight of the year was him making the cover of RING magazine (March); an honor few Cleveland fighters could claim.
1936 brought more of the same as the roller-coaster continued on its merry way. Six wins (four of them by KO) were balanced out four losses (three of them inside the distance); the murderous-punching Harry Balsalmo (16-0, 11KO's) stopped him in under a round. 1937 saw a steeper decline as he recorded four wins (two KOs) and four defeats (four KOs). One of the knockouts came in a fight against another kayo artist, Freddie Steele (116-2-11, 53 KO's). Steele had knocked over Gus Lesnevich, Swede Berglund, Fred Apostoli, Bucky Lawless and Johnny 'Bandit' Romero (among others) and was NYSAC Middleweight champion at the time. After being stopped by Ben Brown in Coral Gables, Florida (November 16, 1937) Paul Pirrone retired.
The decision to quit lasted about 19 months as he was enticed into a comeback against up-and-coming Freddie Lenn of Pittsburgh. The veteran Clevelander was expected to be a stern test for Lenn (20-3-0, 7 KO's), who had recently lost a couple on points to local rivals Billy Soose and Al Quail. The test proved too much for Lenn and Pirrone won via KO in the seventh. It was to be his final ring victory. A points loss to the aforementioned Soose on November 11 and a KO loss to Joe Sutka a week later were all she wrote for the career of Paul Pirrone. His final tally—over a 13-year career—was 84-27-3, 55 KO's.
In his book, Cleveland's Greatest Fighters of All Time (Arcadia, 2002), boxing historian, Jerry Fitch (who had the privilege of meeting Pirrone during his retirement years) said, "When talking to the fans who saw Paul fight the one thing they always mention is how exciting his fights were, and how many times he appeared on the famous Cleveland News Toyshop Fund Shows, held every December."
Paul Pirrone, a fighting man with a kind heart, died July 20, 1988.
Contact the Feature Writers