Andy Ruiz, JR: His Path To The Championship
[AdSense-A]
By Anthony "Zute" George
Andy Ruiz, JR. did not start at the top. Not entirely anyway. While he had a stellar amateur career, a record of 105-5, he fell short of becoming an Olympian by losing to Oscar Rivas of Columbia. The Destroyer soon put that disappointment in his rearview mirror, as he became a highly-touted prospect under the Top Rank Boxing umbrella. Having Top Rank on your side is like winning the golden ticket in boxing. Despite Bob Arum's sometimes murky reputation, as he has been ridiculed for things he has said and done over the years, his reputation for being the boss of a company that builds fighters with an impeccable approach is baked in the cake. And that is the truth.
For Andy, it was no exception. Top Rank secured fights for him that were sure to build him up and hone his skills. Andy had a bit of a head start in the skill set, however; as he possessed fantastic hand speed and the ability to put accurate combinations together early on. Never was this more evident than in Andy's fight with fellow undefeated prospect Joe Hanks, arguably his first big test. The Destroyer dismantled Hanks and stopped him in the fourth round. Indeed, the writing was on the wall early on just how skilled Ruiz, JR. was, yet so many people seemed to miss the memo. Why? Perhaps because they were fixated on his large girth rather than his boxing skills. It also does not help when so many boxing scribes bypass the kind of undercard fights Andy was fighting in early on. Some writers refer to them as 'who cares fights.'
It was not until December of 2016 when The Destroyer was in a very high-profile main event when he faced Joseph Parker for the vacant WBO heavyweight championship. Andy fell short in that fight, dropping a majority decision in Parker's residence in Auckland. Despite being handicapped by the crowd, Andy has insisted that he lost that fight because of things he did not do, and nothing else. It is also worth mentioning that this fight has taken on a false narrative of being boring. It was anything but. Parker and Ruiz traded solid, crisp combinations throughout the bout. Sometimes, boxing pundits need to watch more than listen.
Had more writers practiced that, perhaps yours truly would not have been virtually alone on an island when picking Ruiz to beat Anthony Joshua back in June.
Before we get to that fight, it is worth mentioning that after the loss to Parker, Andy Ruiz, JR. made the calculated decision to take a year off, so he can lay the groundwork for life after boxing. When he returned, his relationship seemed to go stale with Top Rank, and after two comeback fights, Andy bought out of his contract with Top Rank, out of his own wallet, and quickly signed with Al Haymon and PBC Boxing.
It was not in the cards for Andy to secure a title shot as swiftly as it happened, but sometimes the best-laid plans cannot be written. Not until an enormous mistake like the one Jarrell Miller made anyway. Indeed, it was Big Baby who was fixing to upset heavyweight king Anthony Joshua, but a failed drug test collapsed that dream.
While Andy Ruiz, JR. was not the first choice to face Joshua as a replacement fighter, he was the most eager candidate. You see, Andy was telling anyone who would listen that he saw flaws in Anthony Joshua's technique, and he knew he would be a bad matchup for him.
After watching an ample amount of film on both fighters, yours truly determined Anthony Joshua's only chance was a punchers chance. And that chance almost occurred in round three, when Joshua dropped Ruiz with a ferocious shot. Although the impact of the punch did indeed put Andy on the seat of his pants, he was very clear-headed. And got right up. When he did rise, his legs were there, and he went back to work. Dropping Joshua twice in that epic third round. Andy does not get enough credit for bouncing back against a punch from Joshua that would have ended most fighters' nights.
As the fight resumed, Joshua landed some more terrific shots, but this time, Andy did not fall, and he proceeded to pick Joshua apart with tactical brilliance.
When the fight was over, the sheer uncensored joy celebrated by Andy and his team was one of the most refreshing moments in boxing history.
Now that he is the heavyweight boss, Andy Ruiz, JR. is very calculated about what his next step will be. And why not? Such an approach has taken him all the way to the heavyweight championship of the world.
Check out "Zutes Boxing Talk", which airs every Wednesday live from 7PM to 9PM ET. The show is dedicated to discussing the sweet science straight up with no twists. "Zute" has interviewed boxing legends such as Carlos Palomino, Mike McCallum, Pernell Whitaker, Jeff Fenech, Buddy McGirt, Mark "Too Sharp" Johnson, Marvin Camel and Eddie Mustafa Muhammad. As well as today's stars like Danny Garcia, Sergey Kovalev, Regis Prograis, Teofimo Lopez and Gary Russell, JR.
Follow the link to listen live or catch archived shows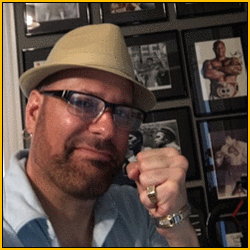 [si-contact-form form='2′]