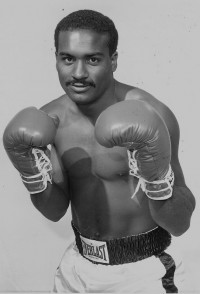 By Donald "Braveheart" Stewart
Growing up Jaws was a film for me. Scott Blacklock and his family took me to see it when I think I was far too young to be able to appreciate the subtleties of the genius onscreen. All I remembered afterwards was the fright when the shark appeared below water. I lived by the sea. Nobody swam in the ocean that summer…
In the ring Jaws was an entirely different kettle of fish. Ossie Ocasio, 23-13-1, 12 KO's, is a Puerto Rican former cruiserweight world champion whose nickname came from biting an opponent during a sparring session.
Though he later claimed it was because of his fishing and the film…
Ocasio was brought up in a very tough Puerto Rican suburb. It provides many of his fights a background against which he ought to be judged. He had grown up, legend has it with no fewer than 21 siblings. He had dropped out of high school to become a road worker under the tough Caribbean sun and he had survived without much of an amateur pedigree to get into a ring with world champions – of such stern stuff legends can be forged.
Add to that the fact that he apparently played with a yo-yo constantly and the legend becomes more newsworthy and odder…
In the late 1970's he was making a name for himself and got not one but two wins against Jimmy Young – both points victories – one on the Larry Holmes/Ken Norton undercard in 1978 and then at home in Puerto Rico later that same year.
It earned him a crack at a world title and at Larry Holmes a year later on the 23rd March 1979 at the Las Vegas Hilton. He was trying to become the first Hispanic heavyweight champion but could not get past the 7th round against a fighter at least one level above him.
Of all of the fights he had this is the one most commented upon. At a press conference before the fight Holmes had treated Ocasio with disdain, pouring water over him. Sometime afterwards, Ocasio commented, "I wanted to kill him, to pick up the pitcher and break it over his skull. In my country, people do not do such things as he did. But I knew it would be stupid to kill him before the fight. I decided to let him play the part of the fool."
It was not a fight that caught the imagination as it got downgraded from Caesars Palace to the Las Vegas Hilton Pavilion. Less than 6,000 watched it there.
Ocasio came to the ring undefeated but only after 13 pro fights. His purse though was a reputed $250,000. Ocasio's manager was one of the major doubters and advised Ocasio to constantly crouch and duck as much as possible… His advice was based on clear concern, allegedly, "If he tries to stand up against Holmes, he'll get killed," said Daly. "Making Holmes punch down will reduce his power."
By the 4th round he was tiring and by the 6th down on the ground. By the 7th it was all over.
As we turned into the 1980's Ocasio had two fights against the prospect that was Michael Dokes. He got a draw in the first round prompting calls for a rematch that, once granted Occasio got knocked out on the 28th June in San Juan – it was a 1st round demolition.
We Brits got to see him in 1981 when he came over to fight John L Gardner. He was hugely disappointing, and bizarrely collapsed in the 6th without even being hit! Gardner's career was never even to get to the heights of Ocasio's…
1982 opened things up for him as the cruiserweight division was created and Ocasio saw an opportunity. It was one he grasped with both gloves. The vacant WBA title was on the line in 1982 when he went to South Africa to take on Robbie Williams. It was a 15 round points victory and he was the world champion at the new weight, though it was a split decision victory.
He was to defend his title on 3 occasions. Eddie Taylor AKA Young Joe Louis (on points), Randy Stephens (on points) and John Odhiambo (by knockout in the 15th and final round) came to wrest his title from him and all failed. His failure to defend came in 1984 and in South Africa when he took on Piet Crous in Sun City and lost on points. One month before that final world title defense he had lost a brother who had been murdered
His career was not over and after a short acting stint the lure of the leather gloves was never far away. In 1986 he got a win over former world champion, Dwight Muhammad Qawi and this was followed by a fight against Evander Holyfield on the 15th August 1987 for the IBF and WBA cruiserweight world titles. It lasted until the 11th round and Holyfield knocked him out.
He moved back up in weight in 1988 managing to add a few well known names to his resume. He beat Pierre Coetzer in 88, before losing in a rematch, Ray Mercer, Tyrell Biggs, Bruce Seldon, Mike Hunter and of course an 8 round loss to Lennox Lewis in the splendor of the Royal Albert Hall in London. He was no longer anything more than a yardstick for other boxers by now.
In 1992 his career came to an end with 13 losses on it; 10 of those in his last 12 fights. Though it included some gaps between fights there was little doubt that for a period of time, from his debut in 1976 to the final professional fight on the 23rd November 1992 in Inglewood, Ocasio was a significant member of the pugilist's fraternity.
Contact the Feature Writers