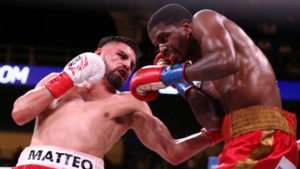 By Anthony "Zute" George
Saturday's showdown between Jose Ramirez and Maurice Hooker on DAZN conjured up thoughts of some classic 140-pound fighters and fights. This fight also added some spice to an already simmering pot that is the 140-pound division today. It was a fight that all die-hard boxing fans marked on their calendar, and they were not disappointed. Jose Ramirez, the partial WBC 140-pound champion, made a bold move by agreeing to face Maurice Hooker, the WBO champion, in Hooker's hometown. And odd move, considering that Ramirez has proved to be a much better draw in his home state of California, compared to what Hooker draws in Texas. Indeed, it was a gutsy and calculated move by Ramirez and Top Rank Boxing that paid off immensely.
There were also plenty of calculated moves inside the ring. In a fight that presented like more of a brawl, the high-octane action the fans were treated to could only be pulled off by high-polished professionals. Both pugilists were trying to maneuver the fight to their advantage. Hooker wanted the real estate in the middle of the ring, where Ramirez was determined to give Hooker rope burns on his back. Both fighters were able to do what they wanted to do in spots, but it was the strength of Jose Ramirez that was the deciding factor. As the undefeated Californian was too strong to be held at bay by Hooker. The work Jose was able to do when he had Maurice on the ropes softened him enough to be vulnerable at range, which is where the knockout sequence for Ramirez began.
With that said, Jose Ramirez's boxing skills also went a long way in this fight, and perhaps unnoticed given the intensity of the action. But if it were not for Jose's subtle defensive moves in the pocket, that prevented Hooker's missile right hand from finding a flush target of his chin, the fight might have gone in a different direction. Proving you can showcase good defense in the pocket and still be an offensive fighter.
Of course, this fight was for the partial unification of the 140-pound title. The hope is that Jose Ramirez will face off against the winner of the highly anticipated Regis Prograis, Josh Taylor showdown. If that happens, there will be an undisputed champion at the weight class. Now that we know that when a formidable Top Rank fighter fights on DAZN, the world will not fall off its axis, there is indeed hope.
The 140-pound division may not have a long history, but the history that does exist is vibrant. It was not that long when Terence Crawford, an all-world talent, unified this division, albeit it can be argued that Bud did not face anyone as good as the current crop of 140-pound champions now. Other great champions at this weight include Jack Kid Berg, Tony Canzoneri, Barney Ross, Carlos Ortiz, Duilio Loi, Eddie Perkins, Nicolino Locche, Wilfred Benitez, Edwin Rosario, Erik Morales, Hector Camacho, Greg Haugen, Pernell Whitaker, Floyd Mayweather, JR. and Juan Manuel Marquez. Just to name a few.
The cream of the crop at 140-pounds is Julio Cesar Chavez, Aaron Pryor, and Antonio Cervantes. These fighters participated in some of the greatest fights at the weight. Who could forget Chavez's dramatic win over Meldrick Taylor? JC Superstar also toppled Roger Mayweather, Hector Camacho, Greg Haugen, and Terrence Ali at this weight. Pryor, who many believe is the best at the weight, gained worldwide recognition, as well as a controversy when he destroyed beloved legend Alexis Arguello at 140-pounds. Antonio Cervantes' impressive resume consists of defeats over Nicolino Locche, Esteban De Jesus and Hector Thompson. While Kid Pambele may be best known for dropping a split decision over Wilfred Benitez, it is essential to note that Benitez opted to move up in weight to bypass a rematch with Cervantes.
Exactly where this current crop of 140-pound champions will find their way in history is unclear, but they are fighting each other, and for that, we should celebrate.
Check out "Zutes Boxing Talk", which airs every Wednesday live from 7PM to 9PM ET. The show is dedicated to discussing the sweet science straight up with no twists. "Zute" has interviewed boxing legends such as Carlos Palomino, Mike McCallum, Pernell Whitaker, Jeff Fenech, Buddy McGirt, Mark "Too Sharp" Johnson, Marvin Camel and Eddie Mustafa Muhammad. As well as today's stars like Danny Garcia, Sergey Kovalev, Regis Prograis, Teofimo Lopez and Gary Russell, JR.
Follow the link to listen live or catch archived shows
Contact the Feature Writers